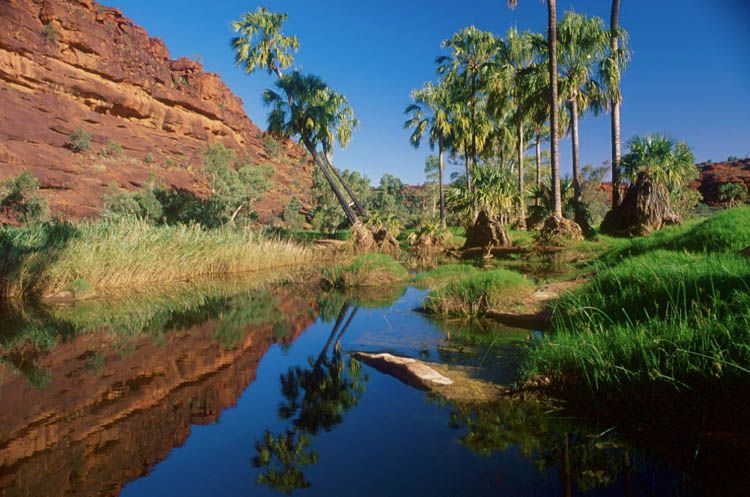 Water is, without question, the one resource we can't do without. When caravanning, the ability to carry the appropriate amount of water is therefore particularly important.
It's a balancing act. Caravans have a limited payload capacity, typically 300kg for a single-axle van and 400kg for a tandem-axle van. These figures, however, are becoming outmoded. More and more caravan manufacturers are seeing the wisdom of certifying their caravans (and accordingly fitting them with the appropriate hardware, such as properly rated axles) with a greater payload capacity.
The thinking here is obvious. Water weighs 1kg per litre. Two 90L water tanks filled to the brim on a typical tandem-axle van will leave a 220kg weight allowance for items such as clothing and food, and don't forget about the weight of the gas in the cylinder(s).
The point is, when assessing the amount of water to cart along, it needs to be balanced against a range of factors.
[If you like this article, Like Go RV on Facebook!]
Ask yourself, will there be water at my destination? If so, perhaps you don't need to fill both water tanks, and could therefore save some fuel. After all, the weight reduction will allow your tow vehicle's engine to take it a little easier.
If you're heading into remote areas, it would be wise to store as much water as possible, within the confines of your caravan's load carrying capacity as well as the Gross Vehicle Mass and Gross Combined Mass (GCM) of your tow vehicle.
Many caravans, particularly offroaders, can simply draw water from a creek or similar. It's just a matter of running a hose to the water source, flicking a switch, and letting a pump do the rest. Naturally, this water is pumped into an isolated tank and used for purposes such as washing dishes, rather than being mixed with the drinking water supply. The benefit, of course, is that precious drinking water isn't wasted on mundane activities.
GREY WATER TANK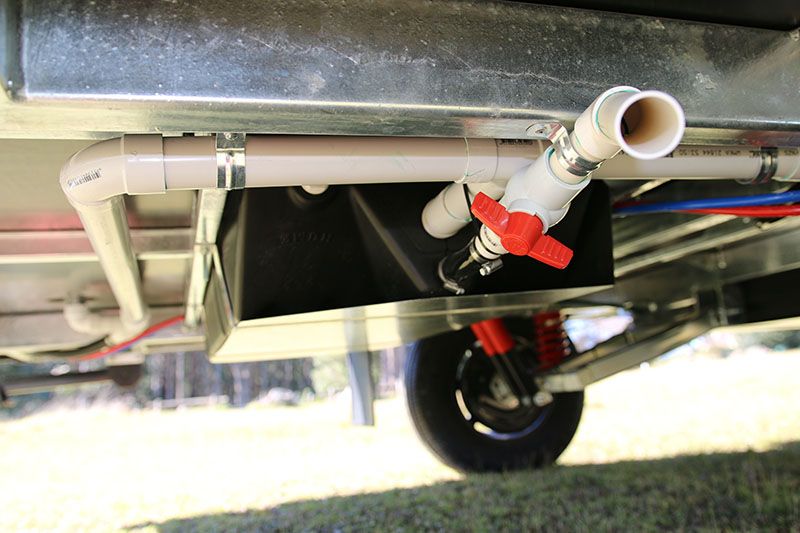 Australian caravans are beginning to catch up with Aussie motorhomes in the grey water department. It's the offroad brigade that's leading the charge, unsurprisingly, with the likes of Sunseeker and Trakmaster offering a grey water tank in equivalent capacity to the fresh water tank. So, if the van is fitted with 100L of fresh water, the grey water tank would usually (but not always) be 100L too.
Even little rigs, such as the compact offroad Karakampa, are being fitted with grey water tanks, either as standard or as an option.
While having a grey water tank on a caravan is a fantastic idea, there are a couple of points to keep in mind. First, it might not be wise to have one retrofitted to your caravan, unless you have the payload capacity to match. Imagine carrying 100L of fresh water to your destination, and then 'harvesting' that 100L in your grey water tank. All well and good. But before setting off, you fill your fresh water tank while, for whatever reason, being unable to dump the grey water. The result: your van is carrying twice the amount of water than it was originally built for.
COLLECTING WATER
A number of manufacturers, such as Sunland and Trakka Motorhomes, have inbuilt rainwater harvesting systems. Essentially, the systems involve a 'gutter' moulded into the roofline that feeds into a dedicated water tank. This is a great idea that really should be adopted by all caravan manufacturers.
Lowering one end of the caravan awning and catching the run-off in a bucket is a popular method, too, but let's face it: in a downpour, the bucket will fill so quickly that you'll soon find yourself with more water than you can manage! Here's a tip: to keep your campsite as dry as possible during torrential weather, rig up an impromptu plumbing pit by fitting a sullage hose or similar to about 50mm from the bottom a bucket. Seal it up, position the bucket underneath the lowest corner of the awning, and run the hose away from your campsite. Voila! An instant campsite drainage system.
COMMON SENSE
Ultimately, determining the correct amount of water to carry when caravanning is a common sense matter. Carry as much as legally possible and practically feasible if heading remote, and have a good think about what you really need if not. Do you really need to have that 2m length of 100mm PVC pipe on the 4WD's roof rack filled with water? Sure, it's a nifty idea, but what's that extra 20kg doing to your fuel consumption?