The Bathurst Off Road Series by Halen Vans… well, having never spent much time with any of Halen Vans' rigs, I wasn't quite sure what to expect. We met up with Halen Vans co-director Jason Francis and his wife, Bec, with the van hitched to a Nissan Patrol and the closer I looked, the more it became clear that this was no run-of-the-mill caravan.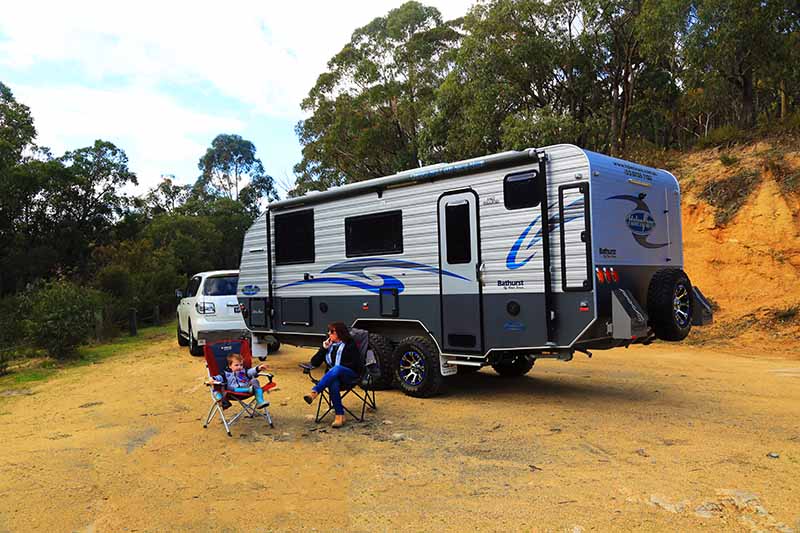 I'm not talking about space-age materials or secret construction methods. I'm talking about features and technical solutions that will keep you out bush much longer than the average caravan.
OFFROAD EXTERIOR
Halen Vans is a custom manufacturer based in Lilydale, Vic. Jason and Bec are keen caravanners, too. In fact, they had just returned from a trip with our review Bathurst Off Road Series and four Halen Vans customers in which they tackled the Tanami Track.
"We did about 11,000km in three weeks," Bec said. "We built this van for ourselves as a show van as it has been a popular size and layout. I wanted a van with plenty of bench space and storage both internally and externally."
It's this kind of real-world experience that informs their caravans. Here's an example: the wiring loom that connects to the tow vehicle can be entirely disconnected from the caravan via a plug on the drawbar – a simple but perfect anti-theft system. Just take the cable with you when you leave your campsite for the day and there's no way anyone could tow that van away because hitched behind would be a 3000kg-plus unbraked dead weight. Having said that, this system relies on thieves having a modicum of common sense.
The drawbar is also equipped with a Hitch Ezy offroad coupling, dual 9kg gas cylinders, the actuator for the Dexter disc brakes, and even a custom diesel tank for the onboard diesel heater.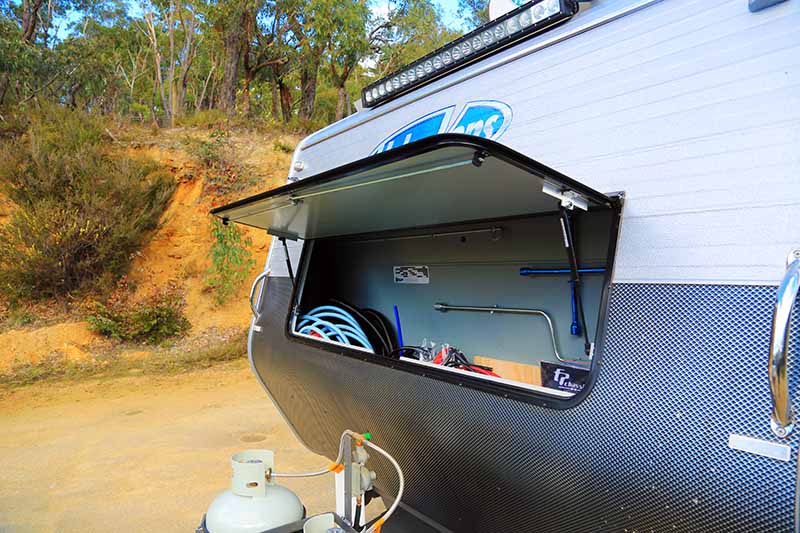 What's that material used for the front stone guard? you might ask. It's sure not checkerplate. In fact, it's stainless steel – one of the many upgrades fitted to our Bathurst Off Road Series.
At the front nearside, you'll find a slide-out kitchen incorporating a cooktop and benchspace. I particularly liked that the bayonet connection was integrated with the wall of the van, rather than hanging off the chassis rail.
The van also gets a reversing camera, not to mention a couple of jerry can holders on the rear bumper. On the roof is a satellite dish, Dometic air-conditioner, and five 150W solar panels. These, coupled with the upgraded 600Ah lithium battery system, not to mention the 3000W inverter with 120A charger, mean your power needs are taken care of. Want to run the microwave, toaster or the air-conditioner with not a mains outlet in sight? That shouldn't be a problem.
"We have been using lithium batteries since 2014 and wanted to continue with this van as they make it very self-sufficient and we can use many appliances while away," Bec said. "We mainly free-camp and I am the first to admit I still use a hairdryer when I am away, even on the Tanami. When stopping, it was great to use the air-conditioner in the van to cool it down as we had quite warm days."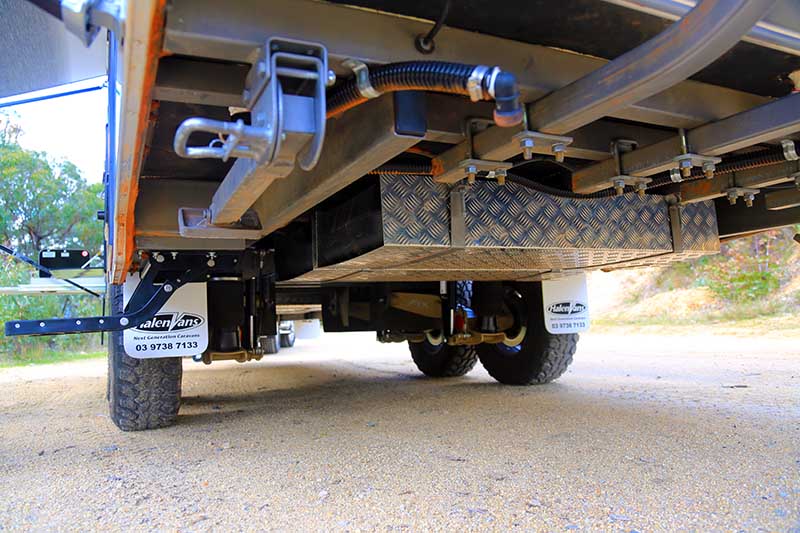 The Bathurst Off Road Series employs aluminium cladding and a timber frame built on a SupaGal chassis with upgraded independent trailing arm Cruisemaster ATX airbag suspension with twin air tanks and twin compressors onboard. Naturally, this means you can level the van east-west on uneven campsites.
Ultimately, the exterior of this caravan leaves very little to be desired. A big front boot with LED light bar above, a full-length roll-out awning, a TV box with antenna point, a hot/cold shower on the offside, five water tanks, a locker to accommodate a generator (though I'm not sure you'll need one), and an extensively protected underside… the list goes on.
HAND-BUILT HALEN VANS INTERIOR
The interior is bright, modern and the layout is effective. The fit and finish is up there with the best of them, too. And this is all the more impressive considering Halen Vans does not use CNC machinery to build its cabinets or locker doors. In fact, the company makes the flat-panel cabinetry by hand.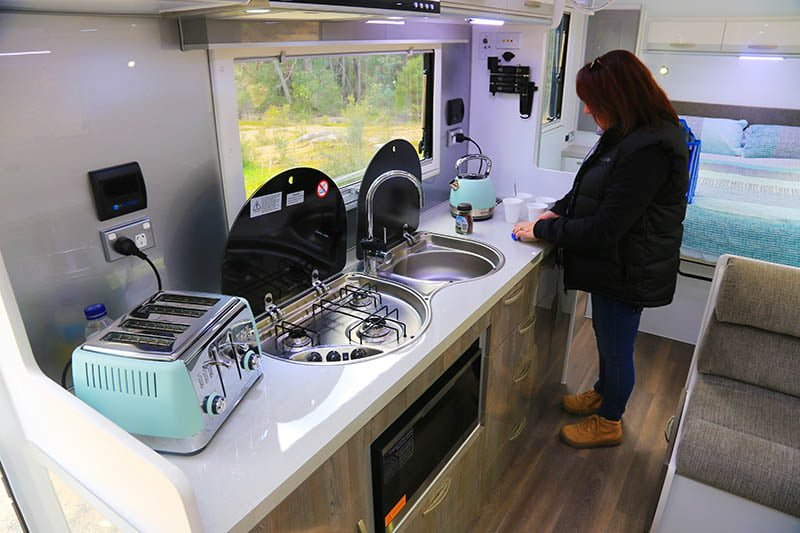 Up front, the bed sits nice and high. Although the external kitchen impedes the space beneath the pillowtop mattress, there still seems to be a reasonable amount of storage space here, and I particularly liked the special timber holder to keep the TV safe when the van is under tow.
The dinette has a tri-fold table, a USB charging point (there are a number of these scattered throughout), overhead lockers, and storage beneath the lounges, though beneath the forward lounge is where the lithium battery system is kept.
The kitchen, meanwhile, is thoroughly modern, with a decent amount of cupboard/pantry space and lockers above, a microwave neatly integrated with the cabinetry, a wine cooler, a number of 240V powerpoints nearby, and a large Dometic three-way fridge-freezer. Aside from the microwave, a three-burner cooktop is the only cooking facility in this van. Personally, I'd prefer a four-burner/griller combo but I acknowledge not everybody needs a griller and/or an oven.
The rear bathroom, with its nearside shower, central vanity and offside cassette toilet, manages to pack in a lot of storage space – there's even a front-loader washing machine in the cabinetry next to the toilet. Access to the hot water system in the bottom cabinet, below the washing machine, is impeded by the cassette toilet, though you can still snake a hand in.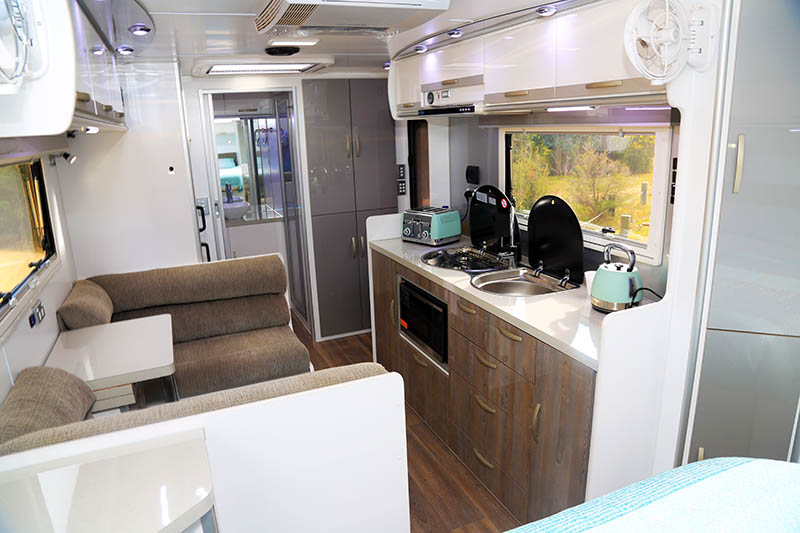 I've only scratched the surface of what's on offer in this fully-specced Bathurst Off Road Series. The interior has a lot to offer, and even the well-placed LED downlights add to the already-pleasant ambience.
GORV'S VERDICT
Undoubtedly, this is a serious caravan, and even though it sports a host of features, the design remains cohesive – I didn't get the sense that any of these items were simply bolted on as an afterthought.
Weight-wise, it is a heavy rig. Unladen, it's 3000kg, with an ATM of 4400kg. That's an available payload capacity of 1400kg – you'll need a Dodge Ram, Chev Silverado or some such to use it all. Failing that, you might be looking at a 3500kg-rated Land Cruiser or Nissan Patrol, but you'd need to load carefully. For example, filling each water tank would bring the loaded weight of the van close to the Cruiser's maximum towing capacity.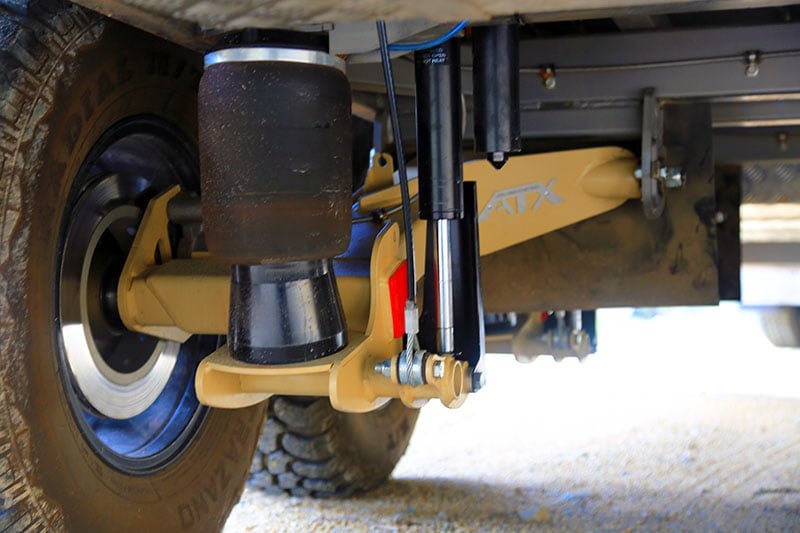 All of that notwithstanding, this is a van built for genuine offroad touring, with water and power capacities to match. Matched to the right tow vehicle, there'd be very little that could get in your way.
THE SCORE
FIT AND FINISH –

LAYOUT –

INNOVATION –

HITS & MISSES
[/vc_column_text][/vc_column][/vc_row]