Australis Caravans is a relatively new caravan manufacturer, opening at the start of 2021 with an expanding range of vans on offer. The company is headed up by Mark Chadwick, who has been in the industry for about 16 years with a focus on sales and management, as well as Aleksander Nastevski, who has about 11 years of experience in caravan drafting and design.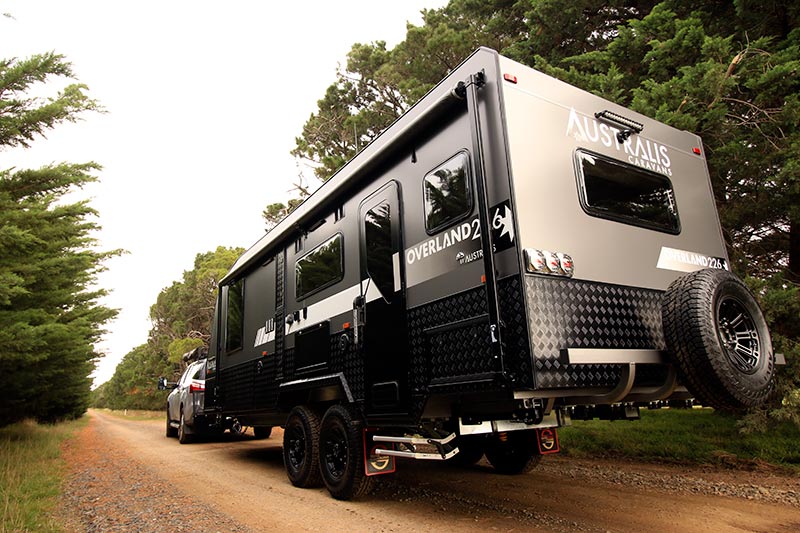 The 22ft 6in Overland is the latest van to come off their production line. This is the 'flagship' in the Overland series – it's the largest van on offer and it's fitted with as much gear as Mark and Aleksander could manage.
It's so new that our review van was the first of its type, and we were given an exclusive first look – hours before the van was on a truck bound for the Queensland Caravan & Camping Show.
LIVING LARGE
Being a large rig – 22ft 6in is its internal length – Australis Caravans had a great deal of space to work with. And the company has not been shy about making the most of it. It's the only van in the Overland range to have a rear club lounge and a split bathroom (amidships). The bed sits in the nose of the van.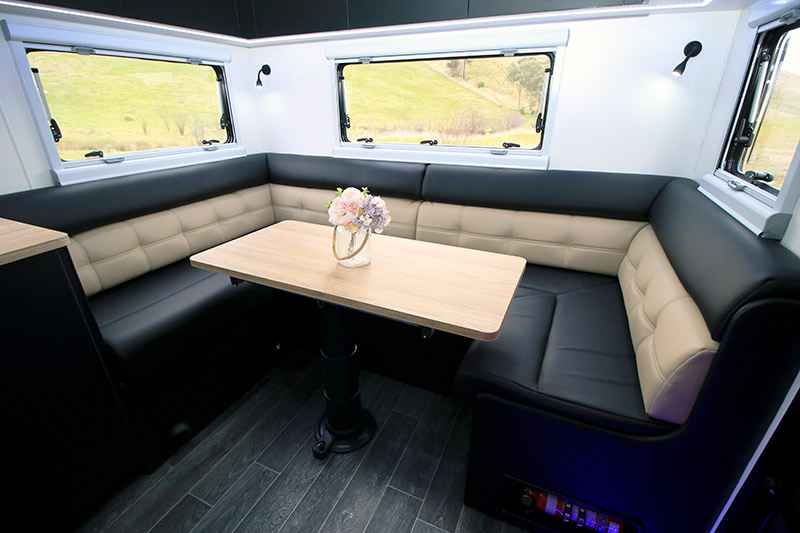 The lounge, with its 'vinyl leather' upholstery, is particularly comfortable. The table can slide forwards and backwards, there's a range of overhead lockers, reading lights, as well as the vents for the supplied diesel heater – the heater's controller is nearby.
The main living quarters is certainly luxurious, with loads of bench space courtesy of an offside cabinet between the dinette and a full-height pantry. This pantry is separated into three sections and it uses every possible bit of space available, so much so that there's barely a millimetre of clearance between the top section and the air-conditioner when opened.
Inside one of the kitchen's overhead lockers, Australis has fitted a BMPRO Battery Plus35-II-HA battery management system with Odyssey Link, a device that broadcasts things like battery state of charge and the water levels to an app on a smartphone as well as the Trek digital display, which is mounted overhead next to the sound system.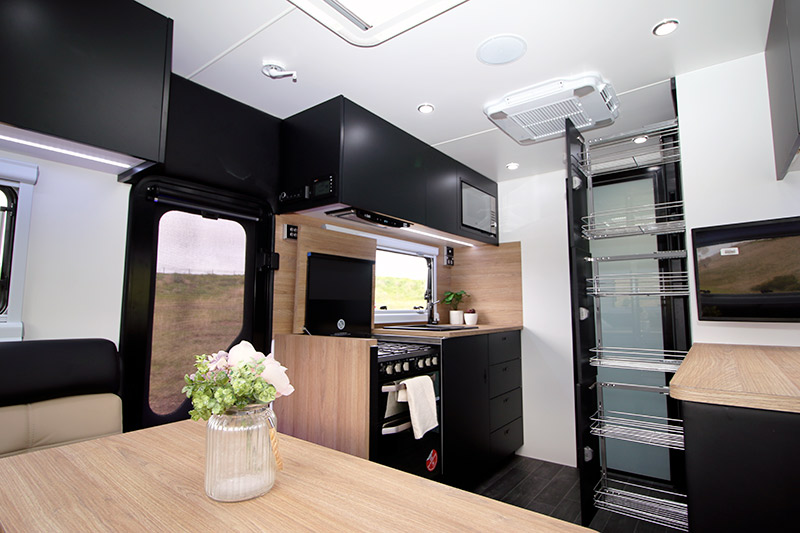 The nearside kitchen bench is equipped with a cooktop, griller and oven, a stylish black sink with separate tap for filtered drinking water… and even a 'waterfall' benchtop – it's the only van in the Overland range available with this classy addition as standard.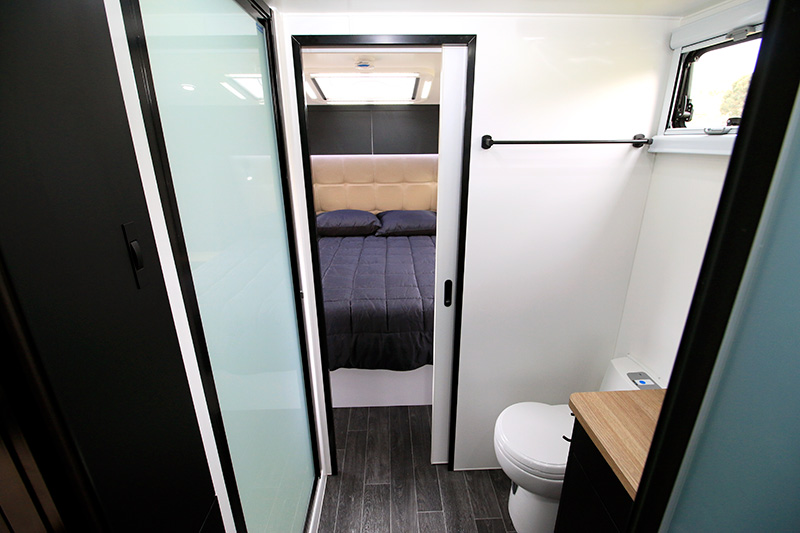 Often, layouts such as this will have a washing machine under the offside bench. However, Australis Caravans has sensibly moved this van's front-loader to the bathroom's vanity. Nice. The bathroom is particularly spacious. There's even a generous linen cupboard! I loved the shower and the presentation of the vanity, too. And let's not forget, split bathroom such as this one create a sense of privacy between the main cabin and the bedroom.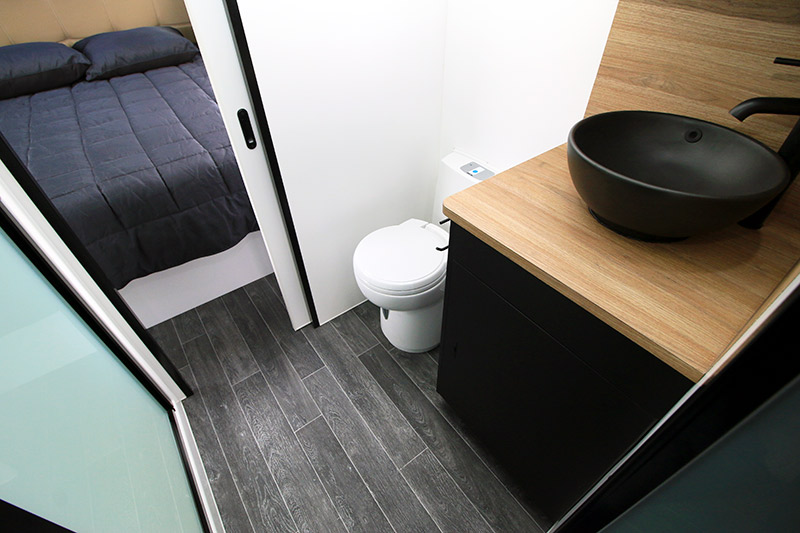 The bedroom presents well, too. Space is a little tight at the foot of the bed, but it's acceptable either side. No wardrobe niches were fitted to our review van; however, we were told that future models in this range would have them. Nonetheless, Australis had included 240V and USB charging points either side.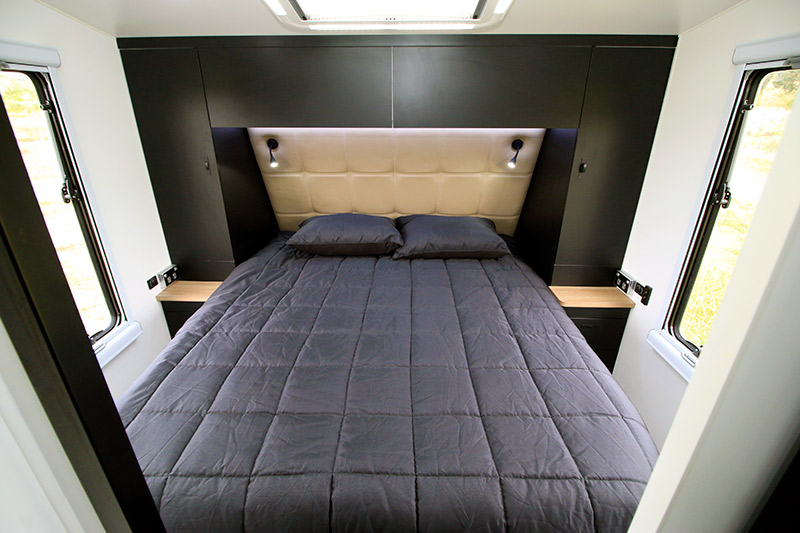 The other essential equipment hadn't been forgotten either – there are reading lights, and a TV mount and relevant connections. I also liked that the gas struts that lift the bed base were secured to reinforcing checkerplate, rather than directly to the laminated ply. 
There is a generous amount of equipment on this van – even an RV Wi-Fi system – and the fitout has been done to a high standard. For couples who like to entertain, and for whom bedroom privacy is important – it's a real winner. Love the LED strip lighting, too.
AUSTRALIS CARAVANS OVERLAND STORAGE
The exterior is just as generously equipped, but a few things really stood out to me. First, the amount of storage space.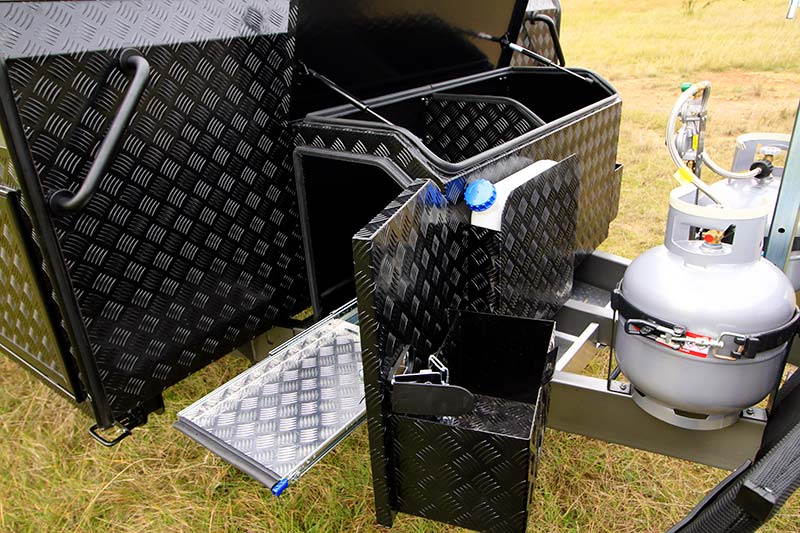 There's a large toolbox on the A-frame complete with jerry can holders and an offside slide-out tray to suit a 2kVA generator. The fuel tank for the diesel heater is also stored here, behind a shield of black checkerplate. 
The heater itself is mounted inside a huge rear tunnel boot, on the offside, but there's a large amount of space left over for just about anything you care to pack (within the limits of your tow vehicle, of course).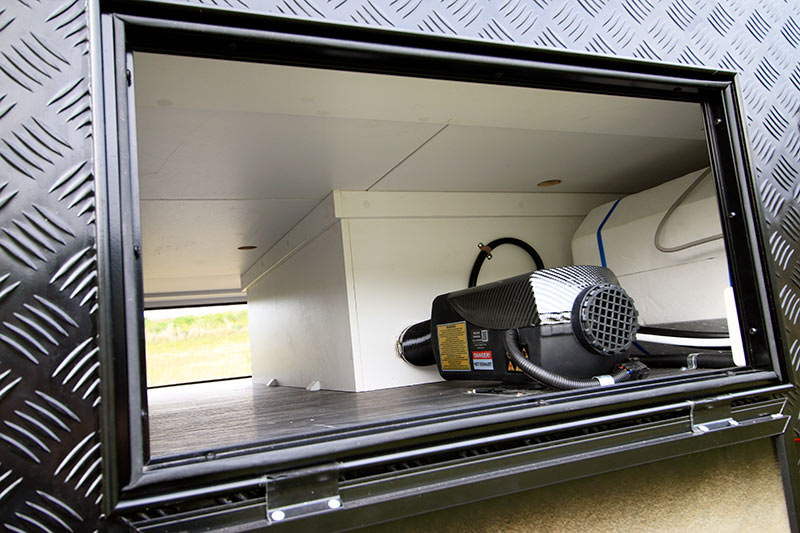 Speaking of tunnel boots, there's one in the front as well (complete with nearby gas bayonet in case you decide to later fit a tray for a barbecue), while a unique storage solution has been fitted near the fold-out picnic table. This is comprised of two separate vertical lockers, each with their own door, that makes use of the space directly behind the internal linen cupboards – very clever.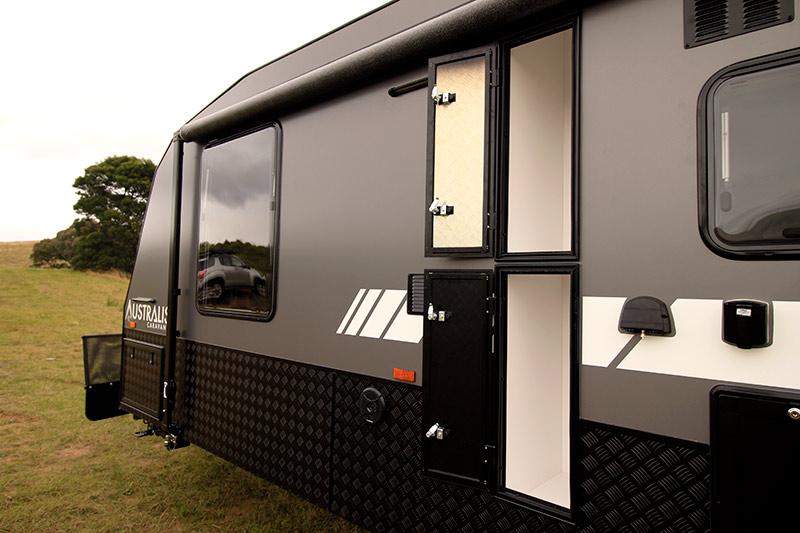 The A-frame-mounted bike rack seen in the images is optional, but just about everything else is standard.
The 12V system is certainly adequate. As standard, there are two 105Ah AGM batteries mounted to the offside chassis rail, inside a checkerplate box. However, you could consider upgrading to lithium later, since the battery management system is lithium-capable. Two 210W monocrystalline solar panels are standard fare, too.
The van has a 6in A-frame with 4in main chassis members, along with a 4in raiser, so ground clearance is very good. As standard, it comes with 3.5-tonne-rated Tuff Ride independent suspension, a couple of 95L water tanks mounted forward of the axle set, and a 95L water tank to the rear.
At the back of the van, you'll find a rearview camera, bumper-mounted spare wheel, and an LED light bar (there's one up front too).
The Australis Overlander has a meranti timber frame clad with smooth aluminium and checkerplate, while the roof is fibreglass. Styrene is used for the insulation.
Our van had a Tare of 2880kg. As such, I should point out that our tow vehicle, while legal for this exercise, was by no means. The vehicle that we had arranged fell through at the last moment. Given this van's ATM of 3500kg, you're looking at a Cruiser, Grand Cherokee, etc., as a much more realistic proposition.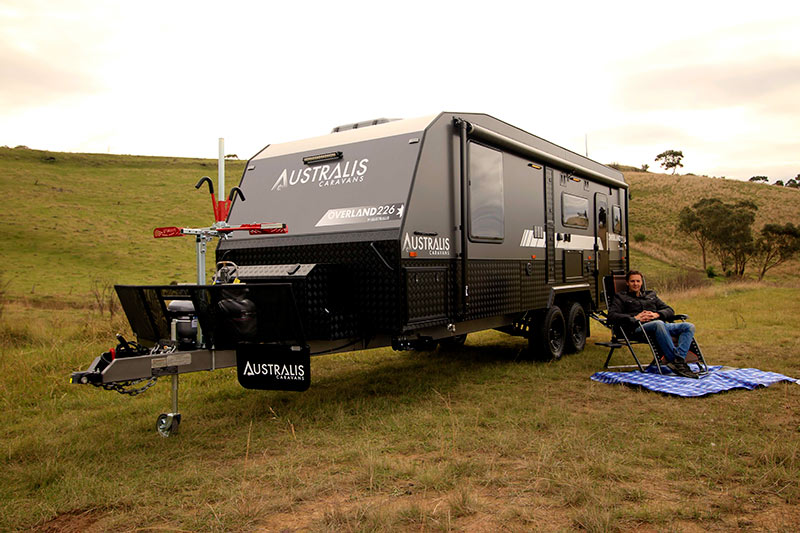 Having said that, the van towed well – anti-sway control is standard fitment to all of Australis' caravans.
GORV'S VERDICT
It's large, lovely and luxurious. The 22ft 6in Australis Overlander is all about doing the big lap in complete comfort and it has the equipment to match. Australis Caravans calls this its flagship for good reason.
Coupled with a suitable tow vehicle, it should prove to be a very faithful companion, whether you're pulling into caravan parks or freedom camps at the end of a rough road.
THE SCORE
FIT AND FINISH –

LAYOUT –

INNOVATION –

HITS & MISSES