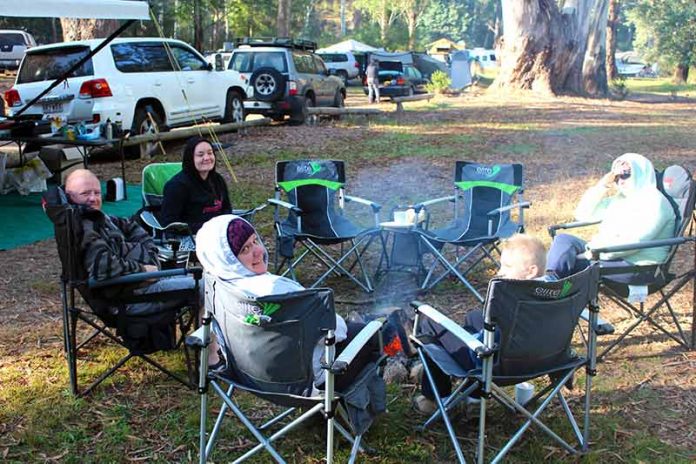 Being on the road full time, we often lose track of times such as Easter, school holidays and public holidays. We freedom-camp at these times as this means we can avoid taking up space that could be used by a family who just want to get away for the weekend at an all-inclusive environment.
This will be our third Easter on the road. The following tips are how we survived the last two Easters and how we will survive this year…
1. GET THERE EARLY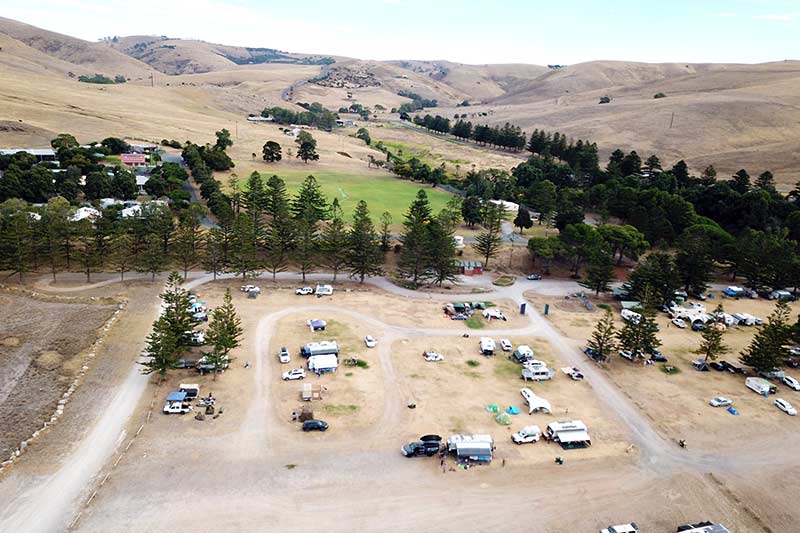 We ensure that we arrive a few days earlier than the crowds. As Easter officially starts on the Thursday (this year on March 29), with the first public holiday being on Good Friday, we ensure that we are set-up in our camping area by the Tuesday.
This ensures that we avoid the following:
Fatigue: Let's face it, the kids are always up early and over tired due to the excitement, so we need to be well rested and prepared for the afternoon meltdowns. It is never fun to see an adult meltdown, but kids we can laugh at.
Setting up in the dark: This is never fun, and when it is really busy you will have to drive around and around the camp area before finally finding that little bit of space you can squeeze into, by which time you will not be a happy camper. You are then hated by other campers because this leads to tapping in pegs at midnight, which is the best way to meet your neighbour in a very unfriendly way, and even worse if they have had a few too many sherbets.
You eventually get to bed, grumpy, tired and exhausted. See, now you have fatigue. You sleep it off, only to emerge the next morning and suffer from camper envy. Now, this is a real illness and generally sets in when you see that not only is your space so tiny you can just fit your swag, but you are also next to the dump point or toilet, and everyone else has a view of the ocean or river as well as more space.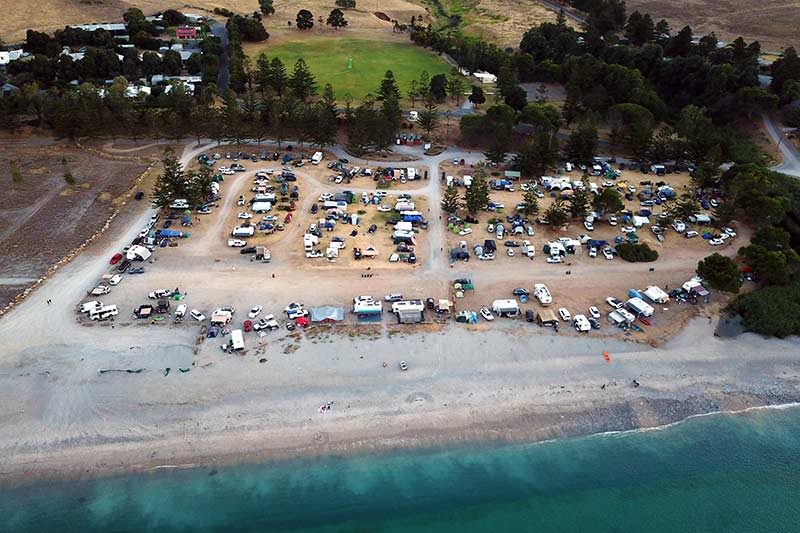 Essentially, do not turn up to a camping area at 10pm on the Thursday night and expect there to be a camp spot for you. You will drive around for about half an hour (trying to avoid children, adults, pets and who knows what else) and then drive out and probably home again. This will not make for a happy Easter at all.
2. LEAVE YOUR GRUMPINESS AT HOME
Space is at premium and people will walk through your camping area. It is not because they are being rude; it may just be the simple fact that it is the only way to get to where they need to go.
Noise is also going to be loud. There will be music, loud conversations, and as the sun goes down and the drinking increases, sometimes the noise will as well. We have never experienced excessive noise past midnight but you might hear a few people chatting and laughing into the early morning hours. Ignore it, go to your happy place, and enjoy your weekend. Ear plug are a great help here!
3. IF TAKING A PET…
We travel full time with our Diga Dog. He is quite happy to lay about and people-watch; however, he loves other dogs and does get a bit excited when he sees them. He barks and carries on a treat, not realising that this scares people. Did I mention he was a chocolate labrador?  Therefore, he forgets his manners and is a puppy for life.
This being said, keeping him quite is important to us, as we know it can upset our neighbours to hear a dog barking. So our only advice here is to make sure you attend to your dog and control the barking as soon as it starts.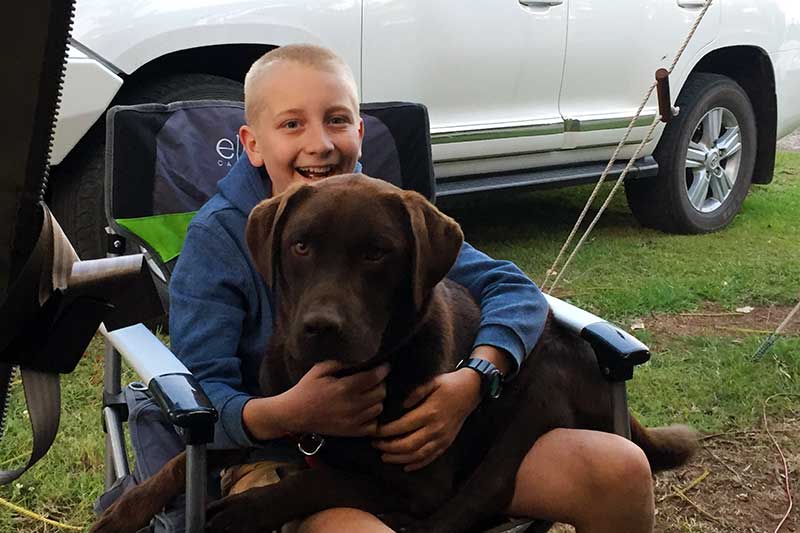 Being responsible for your pet and their business is also a necessary part of taking your dog with you. Take doggy-doo bags with you and carry them with you when walking your dog. Picking up their business means that no-one is going to walk in it, and it means you are not destroying another person's weekend away. This includes the beach. Seriously, kicking sand over it is not going to stop a child from digging it up for their sandcastle.
Please keep your dog tethered when at the campsite and on a lead when walking through the camping area. Most campers understand when a dog gets off their lead once and maybe twice, but after that it is no longer tolerated. Some people are scared of dogs. We cannot change this, no matter how friendly our dog might be.  Also, if you have a food-driven dog like ours, people really hate to have them invade their dining experience.
4. SAFETY AND EQUIPMENT CHECKS
It goes without saying but make sure you have what you need to enjoy the weekend. The shops are closed on Good Friday and the last thing you want to be doing on Easter Saturday is hitting the shops.
Make sure:
Vehicle oil, water and fuel have been checked;
Wheel nuts on cars and vans/campers are checked and tightened;
You have gas for cooking;
You have enough groceries to get you through the whole weekend;
That you have your alcohol if required;
That the tyres on vehicles are roadworthy, including the spare;
That if you are going 4WDing that have the required recovery gear;
You have packed your phone chargers; and
You have a power source such as solar panels and batteries or a generator.
5. SECURITY OF BELONGINGS
We often see bikes, barbecues, fishing rods and myriad other items lying around campsites. Unfortunately, there are some very light-fingered people who camp among us, and the best way to destroy your memory of a great weekend or a location is to have your gear stolen.
It is easy to secure your items with padlocks — some are even alarmed these days — and long pieces of steel rope. We give the job of bike security to the kids but we make sure to check.
6. ENTERTAINMENT FOR THE KIDS
We are freedom camping, so there might not be a swimming pool, playground or other source of entertainment for the kids. Bikes are always a winner, as are scooters. Take them as well as other equipment, such as cricket sets and football (just play well away from caravans and cars) and remember those quiet entertainment items, such as colouring pencils and paper, cards and board games.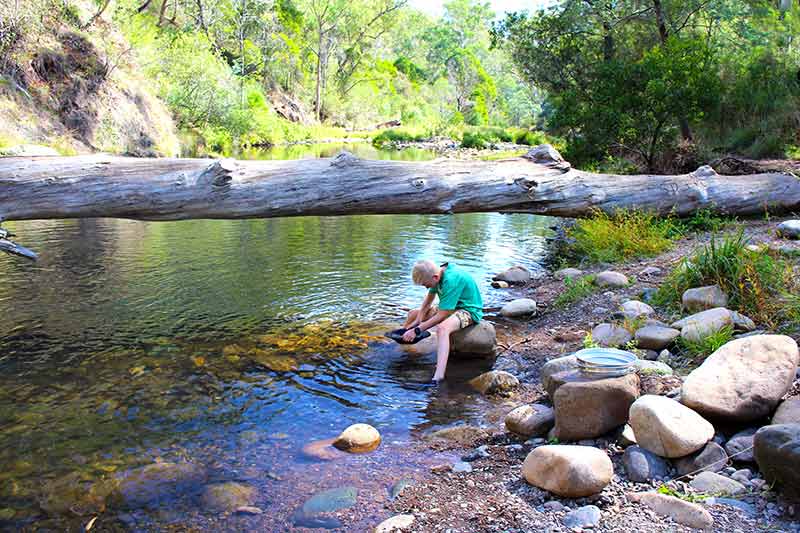 Another great idea is to find some rocks and get the kids to paint a picture on one side and a message on the other to a post a picture when found on your favourite caravan and camping Facebook page. Plant the rocks around the camping area and await the excitement in a few weeks' time (or even that weekend) when someone posts a picture of one on that Facebook page.
7. KNOW STATE FIRE REGULATIONS
We all love a good fire, and as Easter is traditionally cold it is nice to have one to keep warm by at night. This year, Easter is early and therefore some areas may still have a fire ban in place.  A simple web search for the council area or state will make sure you are following the rules.
8. CHECK THE WEATHER AND BE PREPARED
This is important, as we all know this time of the year can be surprisingly hot, or very cold. There rarely is a happy medium at Easter time, and I seriously think it rains more often at Easter than it doesn't.
Pack the correct clothes, make sure your camper or tent is waterproof, that it will withstand any wind that is forecast and that you will be warm. No one can sleep when they are freezing their bits off, and frozen ice-block feet might get you kicked out of bed.
9. EASTER GIFTS THAT DON'T MELT
I discovered early on, prior to hitting the road full time, that Easter meant an overload of chocolate. It doesn't matter where we are camped, I can guarantee that my parents will send a box full of chocolate to the kids. I decided that it was a great time to invest in new winter pyjamas, track suit pants or even a nice jumper for the kids. This, with a small amount of chocolate made, an excellent gift from the Easter bunny.
In saying that, my parents have a need to supply enough chocolate to last at least six months.  So we ensure that not only will we make it to the post office before Easter, and prior to setting up, we also make sure it is stored where it will be the least affected by heat. In our caravan, under the main bed, is the best spot. If you have an extra fridge in the car, that might a great place to hide that chocolate as well.
10. MAKE SURE THE EASTER BUNNY CAN FIND YOU
The first year we camped at Easter, our youngest was seven years old. She ensured that there was a note at our parents' and siblings' places that informed the Easter Bunny as to exactly where we were going to be. This reduced her anxiety and meant that she knew the Easter Bunny would not forget he.
Four Hands in a Tin Can wish you all a very happy camping Easter. Stay safe on the roads and in the campgrounds. I think we will be spending our Easter on the Nullarbor!
Readers can follow the adventures of the Four Hands in a Tin Can on social media at: