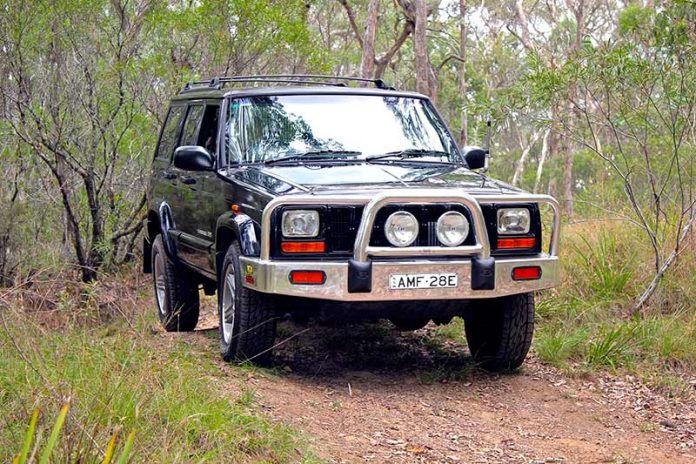 While I've spent the last 15 years tow-testing all manner of vehicles with a caravan behind, from a Fiat 500 (yes, really) to a RAM 2500, I have also owned a few tow vehicles, from a Fiat Panda (again, yes, really) to a 2001 Range Rover Vogue.
While I always admire a good, strong 4WD tow vehicle no matter what it is, often they end up too big to be practical when towing. I have always loved towing with the Toyota Land Cruiser 200 Series, but can't say I've enjoyed parking the things in the city – or try to climb a narrow bush track in one. Let alone actually afford to buy one.
My all-time favourite 4WD tow vehicle is a far more humble model, but one that was a great jack of all trades.
LOVE AT FIRT SIGHT
When I started my motoring journalism career, the XJ Jeep Cherokee had just been released in Australia. It was 1994, a good 10 years after the vehicle had been released on its own turf, and the magazine I worked for had an XJ Cherokee for 12 months as a long-term tester.
I loved that Jeep. For a 4WD of its time, it went like stink, handled well, was compact for the city and could be knocked around offroad with the best of them. Sure, even back then it was very 1980s retro, the 4L six was agricultural and the coolant got hot working hard on sand. But it was also a good medium-duty tow vehicle.
By 2013, I was looking for a good 4WD tow vehicle on a budget, and found a black 2001 XJ Cherokee Classic on eBay. It had done 125,000km, was just out of rego, needed tyres and had a rusty roof. It was just $750.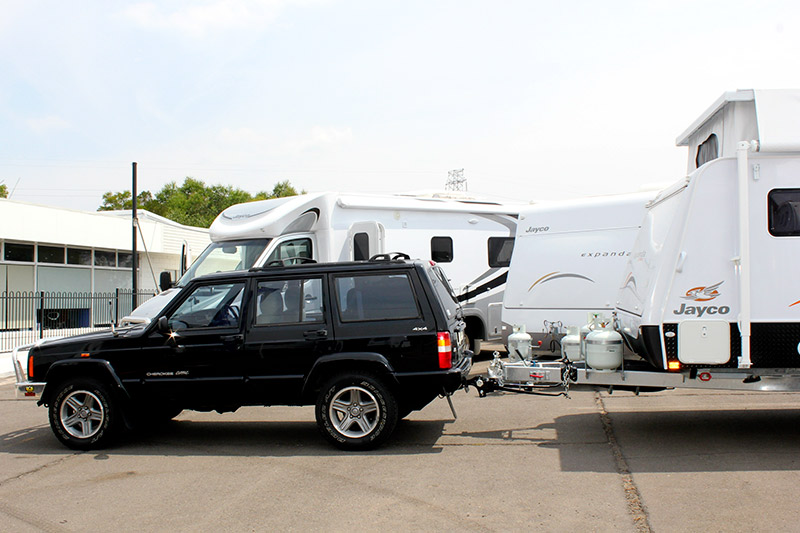 Sure, its 2250kg towing capacity meant it was never going to be the go-to tow vehicle for an offroad family ensuite tandem van. But for my then 1600kg Windsor on-road tandem van, and a few light vans I reviewed at the time, it was perfect.
The XJ Cherokee, like many vehicles built in the USA, was pumped out like sausages and not to a particularly high standard. But it wasn't as crook as later Jeeps got a reputation for, and the fact they made millions of the things meant that later, when buying a second-hand one, parts were plentiful – and if you knew where to look – cheap.
The XJ was very popular here when it first arrived. In its first full year on sale (1995) it sold nearly 5000 units. Sure, the Toyota Land Cruiser 80 Series cracked 12,000 sales the same year, but the Cherokee was certainly more than just a bit player. Sales tapered off from until 2001, its last year on sale in Oz.
CHEROKEE REPAIRS AND MODS
For my black 20001 XJ Classic, I did spend money on bushings, bearings and sensors straight away to keep it trouble-free, but it was cheap for most parts and very simple to work on.
About $2500 in parts later (mostly bought direct from the US), the cooling system was renewed, the troublesome (after a certain age) engine sensors replaced, most suspension bushes were replaced and a new exhaust system and cold-air intake were fitted. The biggest cost was the rear Dana D35 rear diff.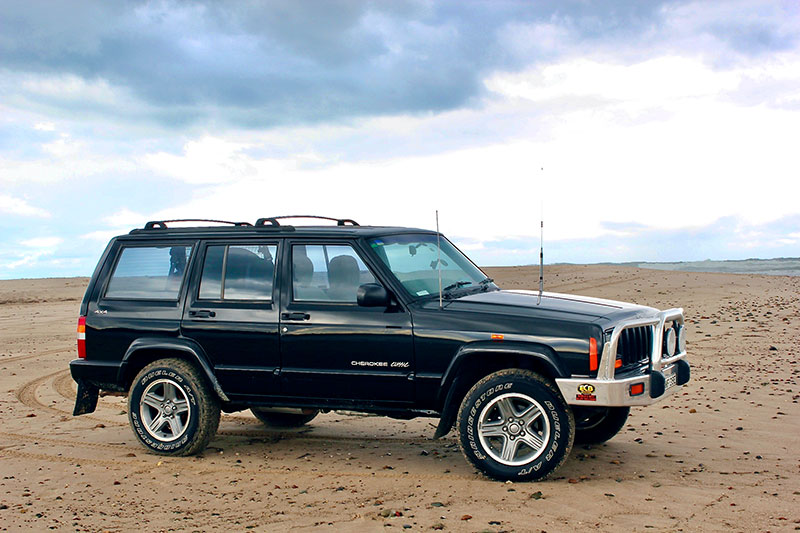 Known for having problems, mine was getting noisy. So $1500 for a new axle (the bearing chewed though the hardening of the old one) and a re-built centre (the spider gears had all but self-destructed) and the noise went away.
With lots of long-distance towing planned, a Long Range Automotive 125L replacement fuel tank and ECB bull bar were fitted. That tank was great – it was ruggedly built (I'd grounded it on offroad tracks a few times) and it didn't splash back fuel like the standard, 76L tank did. Of course fuel range was much better, up to nearly 1000km when driving unladen, or 550km when towing.
I owned the Jeep for about two years and did about 20,000km, most of that long-distance towing. It was stable, had pretty good towing performance and I actually found it comfortable. The interior was a practical shape for loading gear, too.
Even better was when I'd arrive at a location, dropped off the van and went adventuring, all the compact offroad goodness came to the fore. Not only could it be parked almost anywhere, even in bigger towns, it would cope easily on narrow bush tracks.
RUSTY ROOF
Travelling up to Airlie Beach, Qld, one winter, I noticed that the engine did get on the warm side and while it never overheated, its cooling system never seemed a totally well-engineered design.
Ultimately, the rusty roof was the let down, even though I had cleaned up the rust and filled with body filler. The body filler cracked, and water leaked in when it rained. I got sick of patching it. It really needed new metal welded in or the roof replaced. While I never got the job quoted, I had a feeling it would not be cheap. Soon after, I sold the XJ.
I always missed that great all-rounder, so in 2018 I bought another XJ. It was a really original vehicle, the exact same model, but this time in Patriot Blue. I made sure there was no rust at all.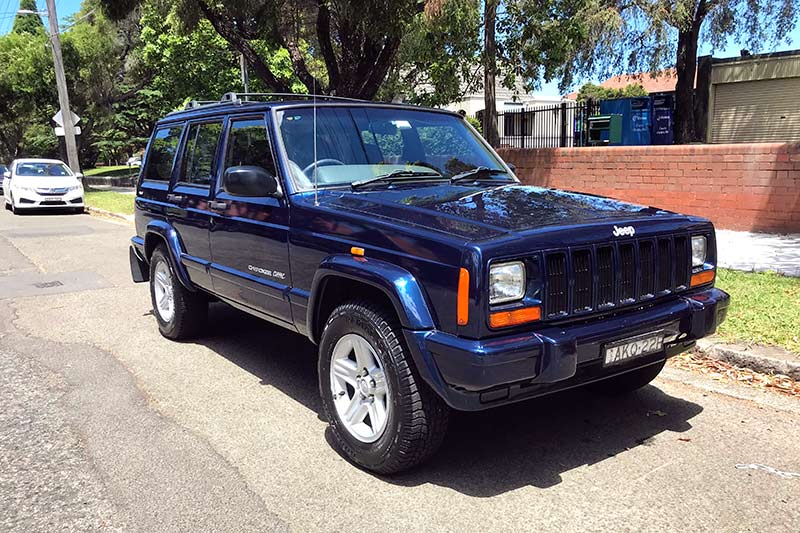 But in the five years since I'd sold the black XJ, things had changed. Even though it had only done 160,000km and was as stock as a rock, the blue XJ just didn't feel as tight to drive, and with the el-cheapo shocks someone had fitted, the ride quality wasn't nearly as good as the stock offroad Up Country shocks on the black XJ.
Even though in some ways driving it felt like slipping on a pair of old comfortable shoes, this car was different. I tried to change things, such as the shocks, to improve it, but the magic had gone. I sold it after six months, in the end having never actually towed with it.
Now I just have to wait patiently for Max Taylor to retire his Isuzu MU-X, the next-best modern-day all-round 4WD tow hauler to the XJ Cherokee…