While the mainland of Australia has enough highlights to keep any RVer happy for several years of continuous travel, you should not overlook Tasmania. Assuming that one would travel with their camping rig, it makes sense to stay a while, given the cost of getting there on the Spirit of Tasmania, travelling between Melbourne and Devonport (as of spring of 2022, the Victorian terminal will be in Geelong).
SPIRIT OF TASMANIA
Having been across the Tasman to Tassie several times, I think that the night sailings, as opposed to the less frequent day sailings, have a lot going for them. Some research is required, along with bookings, of course. A night sailing gives you plenty of time during your departure day to stock-up on supplies and to arrive at the terminal at least 90 minutes before an approximate 7.30 pm departure.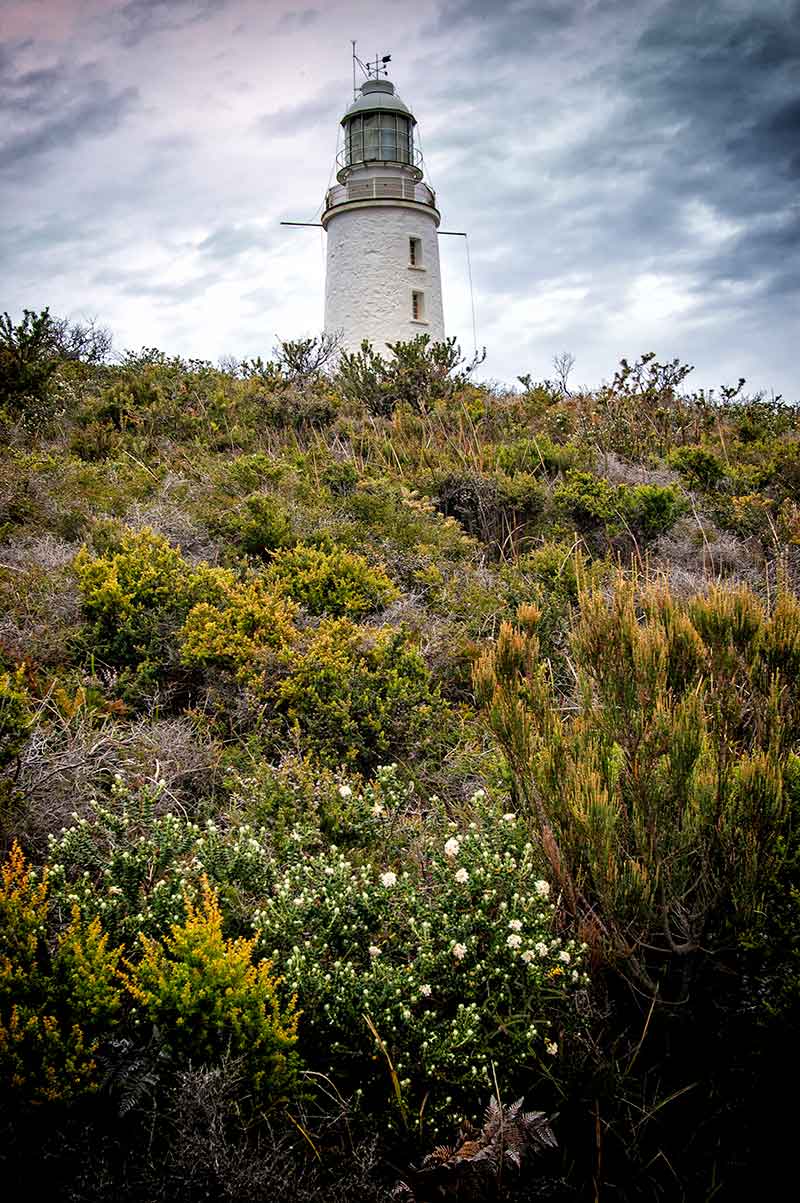 Once your rig is safely loaded on board, you can head to your cabin, which is much more comfortable than sitting in a recliner all night. Meals are available onboard; check the ship's brochure for details. For travel information, maps, and to purchase a parks pass, be sure to drop by the Tourism Hub.
In the morning, you are (hopefully) refreshed and ready to begin your adventure. If you choose a day sail, you arrive in the evening, and after the ship unloads, you must find the caravan park you booked in advance, which will not be fun. The same is even more so for arriving in Victoria at night. Those who suffer from motion sickness are advised that suitable medication may be required!
NARAWNTAPU NATIONAL PARK
So, where to go first? If you stocked-up before sailing, you are free to head off straight away. Tassie has highlights galore, and therefore any direction is a good direction, but if you want an immediate hit of nature and wildlife, head east on B71 and then north on C740 to wonderful Narawntapu National Park. The visitor centre has facilities and information, and the Springlawn campground is nearby, with three additional campgrounds catering to most camping needs.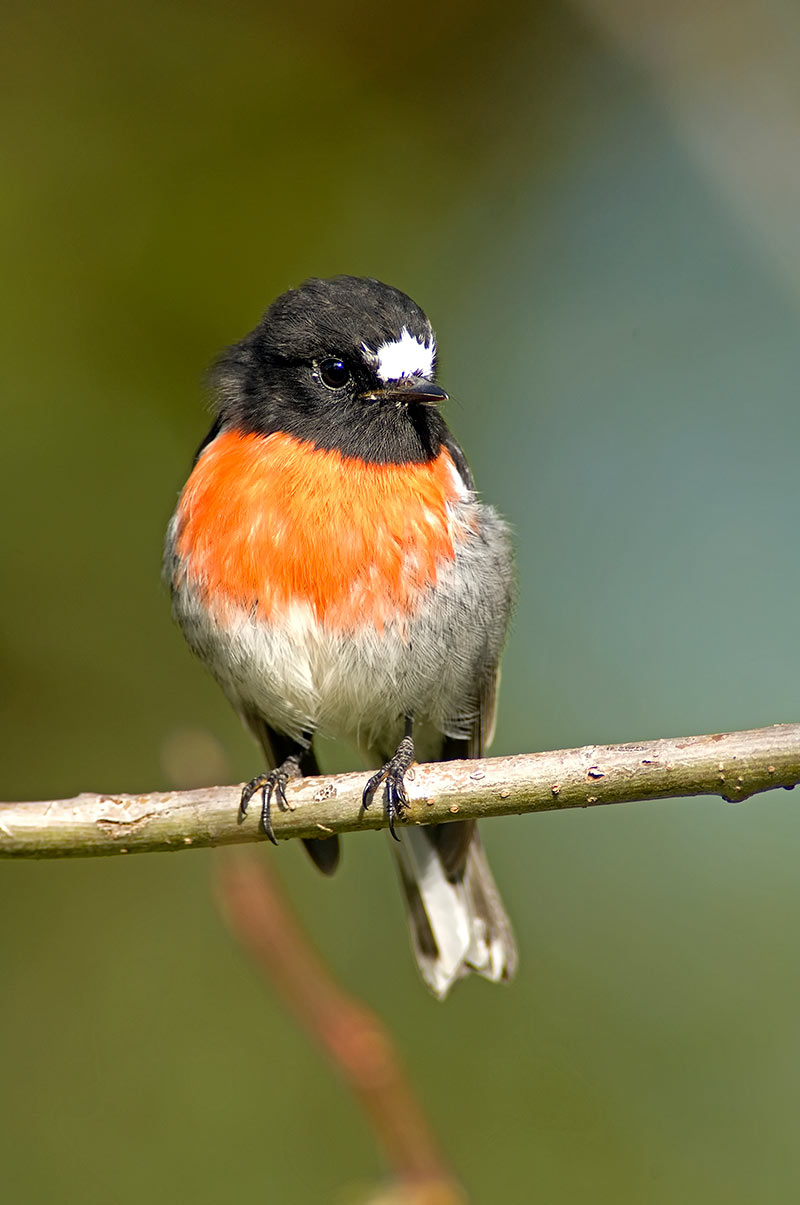 This park is all about the wildlife, with birds galore that can be spotted through the day and Tasmanian marsupials that come out to forage in the evening and night. Please do not feed the wildlife, and always use caution when driving across the entire island as it would be tragic to injure or kill any of these unique animals.
Narawntapu (formerly known as Asbestos Ranges National Park) is best experienced on foot. There are several walks, such as the Springlawn Nature Walk to choose from; the rangers at the visitor centre can supply you with information and advice.
LAUNCESTON AND TAMAR VALLEY
Continuing east, Launceston and the Tamar Valley regions are worth exploring if you have time. The Tasman Highway will deliver you to Scottsdale on a rollercoaster road that spirals on to St Helens. This is a 'must-stop' in Tassie because to the north are the 'must explore' delights of Binalong Bay, the Bay of Fires Conservation Area and Mount William National Park.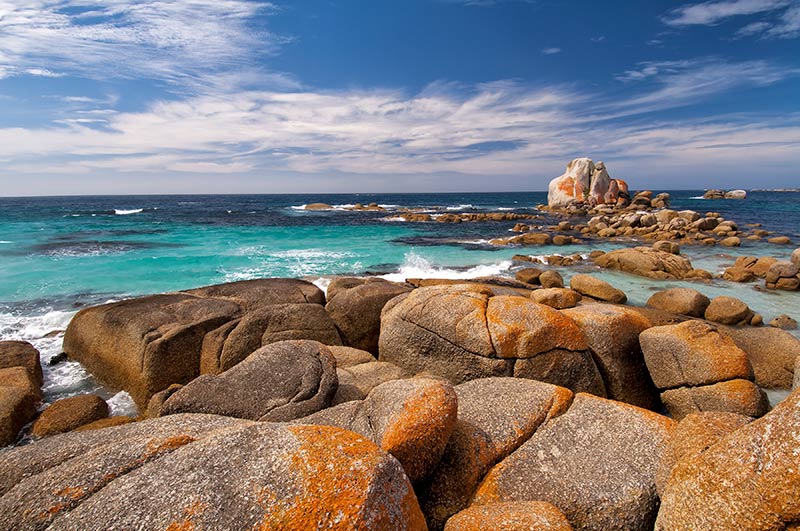 There is an alternate route to Mount William NP if you would like to camp there for a few nights (suitable for tents, camper trailers, small vans and small motorhomes). Like Narawntapu, the coastal scenery is magnificent, and the wildlife is abundant.
From A3, head north on B82 to Gladstone, then east on C843 and C845 (17km of unsealed road) to arrive at the northern entrance of Mount William NP and its five campgrounds. In the south of the park is the 1889 Eddystone Lighthouse; a thorough look around will reveal a tiny cemetery with the 1898 gravestone of a baby boy. Life is so easy for us now, and it is worth taking a moment to remember that once it was tragically harsh. 
This entire stretch of coastline is set in sugar-white sandy beaches studded with granite boulders draped in orange lichen and lapped by azure waters. It is impossibly beautiful. The Bay of Fires includes a number of free, beachside campgrounds; these are most easily accessed from Binalong Bay Road just north of St Helens (C850) and then Gardens Road (C858).
The tiny community of Binalong Bay sits beside Grants Point and offers the Dora Point Camping Area right next to the calm waters of Georges Bay. With a bit of research in advance, you can choose from eight camping areas stretching north to Policemans Point, where you are almost back at Mount William NP. Free camping does not get any better than this.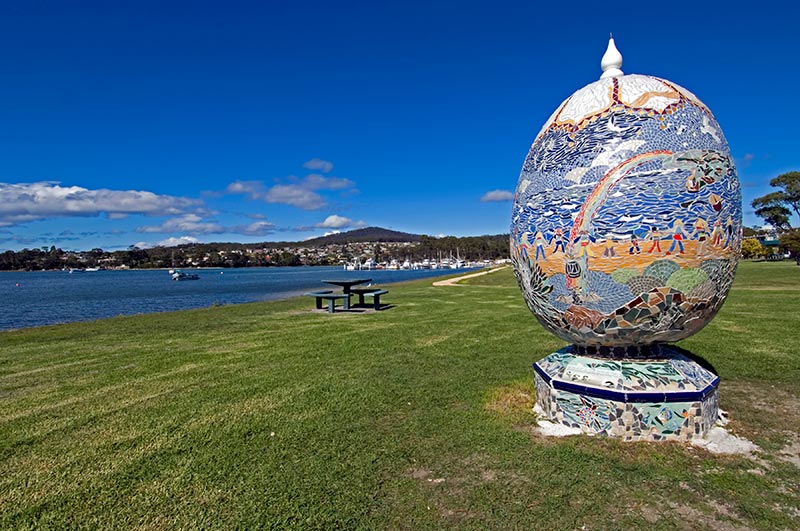 St Helens itself makes a good base if you prefer to settle in one of its caravan parks. Most supplies are available, and then, of course, there is more of that stunning scenery with a dune system in the St Helens Conservation Area. St Helens is also the northern end of The Great Eastern Drive.
The Tasman Highway continues south, hugging the coastline with some forest reserves to the west. Along the way, a few coastal towns offer caravan parks and free campgrounds, such as Lagoons Beach near Chain of Lagoons.
Bicheno is a great place to spend a few nights before heading to Freycinet National Park. There are Penguin Tours on offer, and birdwatching-bushwalkers will enjoy a hike in neighbouring Douglas-Aspley National Park.
FREYCINET NATIONAL PARK
About 11 km south of Bicheno, you really should turn south on C302 (Coles Bay Road) for a 27km drive to Coles Bay and magical Freycinet National Park. There is camping in the park with bookings year-round (phone the visitor centre on [03] 6256 7000) and a ballot system in place over Christmas and Easter. If you have a larger rig or prefer more facilities, there is also a caravan park not far from the entrance to the national park.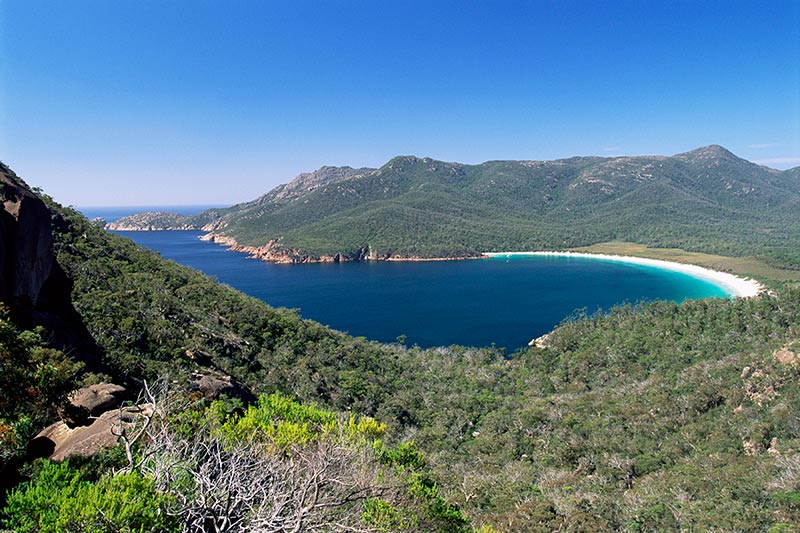 Few would argue that what makes Freycinet famous is that view from on-high looking out over Wineglass Bay. For reasonably fit walkers, you can't beat the Wineglass Bay track; check at the Visitor Centre for more information. From the lookout, it is about a 1000-step descent to Wineglass Bay where a picnic on the rocks is in order.
Crossing the Isthmus Track to Hazards Beach is a worthwhile side trip; return the same way for the quickest path back (remember, what goes down must go back up again). You can continue on Hazards Beach Track, but this adds another 5km to your journey. 
MARIA ISLAND NATIONAL PARK
Return to the Tasman Highway the same way you came and continue south through Swansea and Triabunna. Triabunna is the gateway to Maria Island National Park; check into the Cabin & Caravan Park for a few nights so that you can take the ferry across to the island.
You can tent-camp or bunk at the old penitentiary on Maria Island, but the logistics of getting all your gear (plus all food and water) across are somewhat daunting, so this would best suit someone who wants to stay several nights. Packing a lunch and going for the day makes sense for most RVers, and there is nothing to stop you from doing this a few days in a row.
There is plenty to do on Maria: plan your day on the national park website and the Encounter Maria Island website which operates the ferry service between Maria and Triabunna. This is a visit you won't soon forget. It is hard to fathom that this peaceful, quiet little island was once a penal colony from which there was no escape.
PORT ARTHUR
A short drive south brings you to Orford, the southern end of The Great Eastern Drive. The Tasman Highway swings to the west, but since one of those numerous Tassie highlights is to the south, you should head down to the Tasman Peninsula.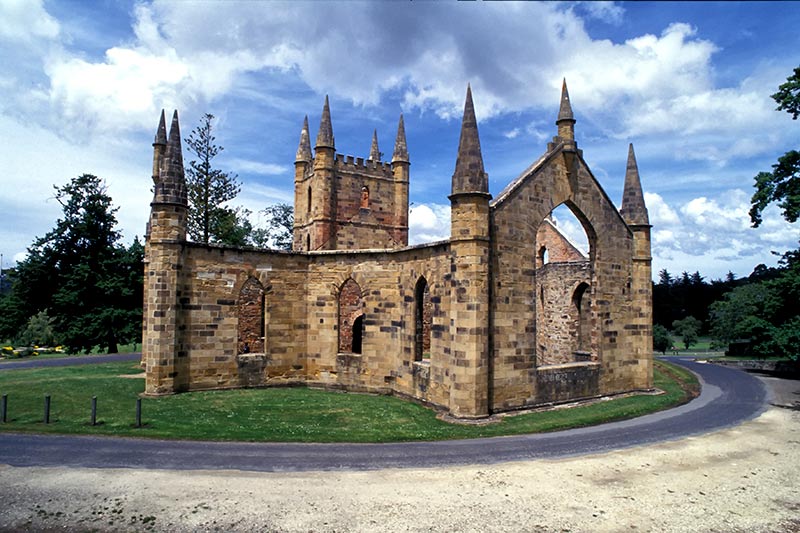 The quickest route is via C20 to Wielangta Road, then C336 to C335 to join the Arthur Highway (A9), which delivers you to the Port Arthur Historic Site. Once operated under the cruellest and most unimaginably harsh conditions, this former convict colony is a place that every Australian should visit. Even if you don't like tours, this site demands that you join at least one. The two-day pass entry fee covers the fascinating interactive gallery, a 40-minute guided walking tour and a 20-minute harbour cruise.
Other tours include The Isle of the Dead Cemetery Tour and the Port Arthur Ghost Tour (in the dark). You can easily spend a couple of days here, and the nearby NRMA Port Arthur Holiday Park or the White Beach Tourist Park a bit further away give you two options for a stay. 
TASMAN NATIONAL PARK
Don't rush off yet though, because there is more in neighbouring Tasman National Park with dramatic scenery, walks that will take your breath away in more ways than one, and two campgrounds at Fortescue Bay via a 12km unsealed road. You can also access the Tasman Blowhole, Tasman Arch and Devils Kitchen from Eaglehawk Neck.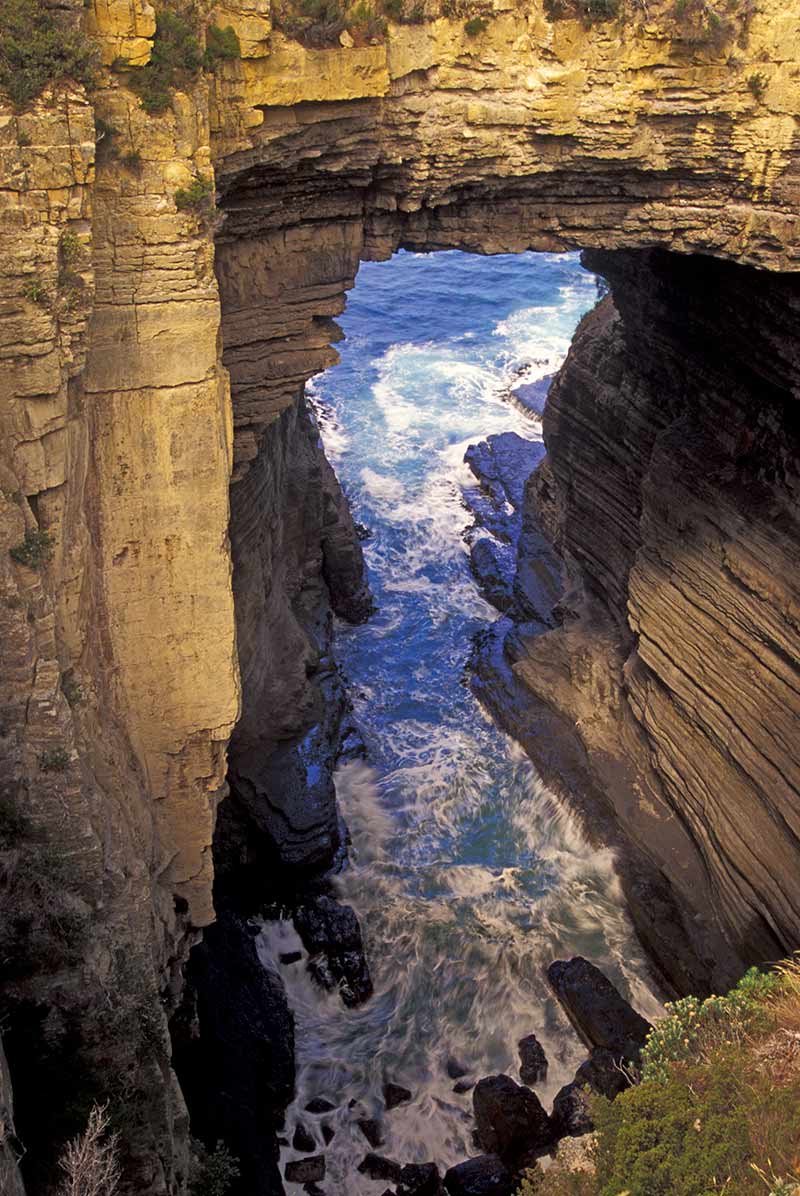 Last but not least, at the south-east tip of Tassie, is Bruny Island. Make your way to Hobart and head south on A6, then B68 to Kettering. A short ferry ride on SeaLink to North Bruny followed by a drive south to  Adventure Bay on South Bruny can have you set up at the Captain Cook Holiday Park right across from the beach. For more basic camping dotted around the island, check South Bruny Camping and the Parks websites. South Bruny National Park hugs the coastline to the south and the east, along with the Labillardiere Peninsula.
With bushwalks short and long, forest drives, wildlife and birdlife viewing, and a historic lighthouse, there is much to do. To experience the wild, dramatic Tasman Sea from a boat that will thrill you, try Bruny Island Cruises; they produce a short video that will give you an idea of what you can expect. This cruise is highly recommended (if the budget allows).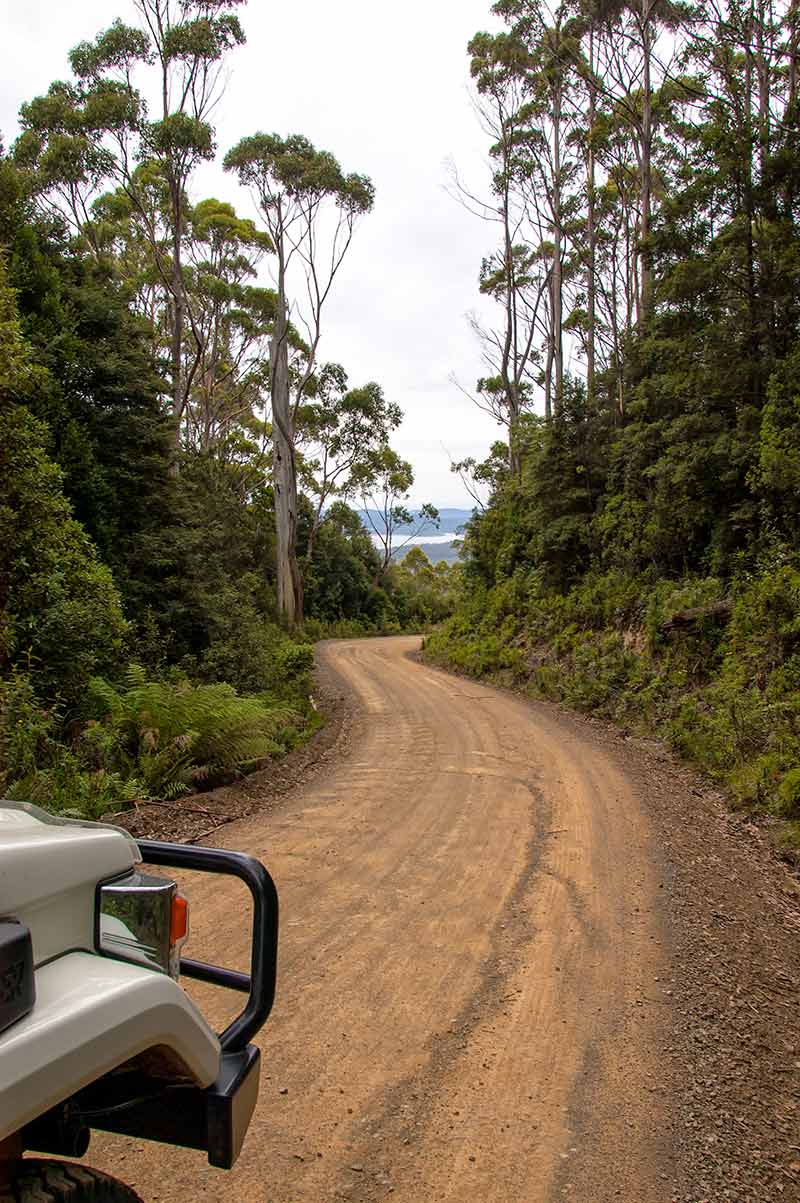 There is so much more to explore through the centre of Tasmania, along with a section of the west, and all the north-west. However, we will have to leave that for another time. Meanwhile, I am seriously thinking about the Three Capes Track in Tasman NP, a four-day backpacking journey with comfortable huts to stay in over three nights. After all, the best part about RVing is that it gets you to places where only your feet can lead to the next level of exploration.
No place proves that more than Tasmania.
– Images: Steven David Miller / Natural Wanders
MORE INFORMATION
Camping Tasmania with a Campground List
If you do hit an animal, or find one that has been injured, please contact Bonorong Wildlife Rescue on 0447 2​64 625 (all hours). For further information, visit Tasmania Wildlife Management.
Carry plenty of cash for national park camping fees, etc., since some places (like South Bruny) do not have ATMs.