I was browsing through some old stuff on my computer when I came upon something incredible. My first Sprinter motorhome had written a story about a round Australia trip we did some years ago. Here's the first chapter…
MEETING YEMMY
I was sitting in a car yard feeling a bit low. Rain was drumming on my roof, my battery was flat and my number plates had been taken away.
Suddenly, my sliding door rolled open and a man with an umbrella climbed in to the back. I didn't know it at the time but this man was going to buy me and we would travel all over Australia together for the next four years.
His name was Lionel and he came back the next day to give me a test run. They had to get jumper leads and another battery to start me up but once I'd fired up I ran smoothly and Lionel was impressed.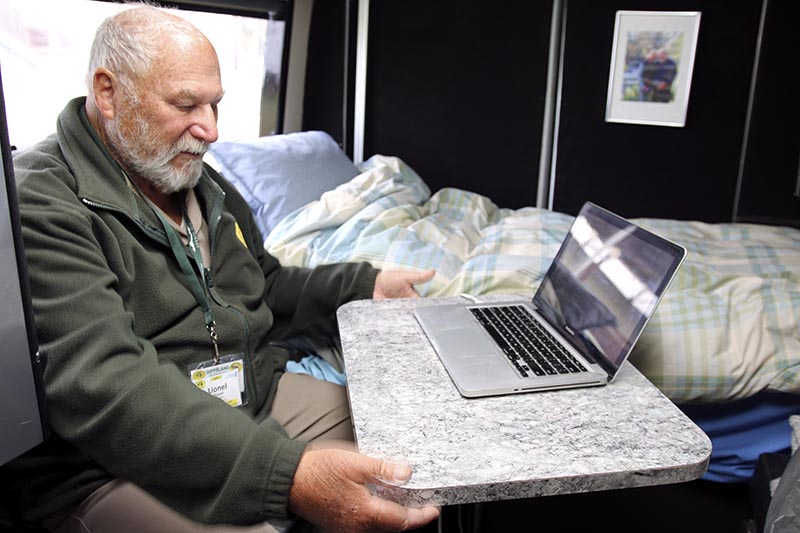 He took me to his home in Mornington and was going to get me re-registered the next day. Sadly, I wouldn't start, although I did my best. An RACV man came and connected me to another battery that brought me to life. Lionel wasn't happy and rang the car yard to ask for another battery and they offered him a second-hand one. But because I'm a diesel and my engine needs a battery with plenty of power, he decided to buy me a lovely, new battery instead. It must have been a good one because it was still going strong four years later. 
When we got to the VicRoads place, they issued Lionel with shiny new number plates for me – YEM 471. Lionel immediately named me Yemmy and there are lots of people who know me through Lionel's column, The Wallaby Track, in GoRV magazine.
What he didn't tell me was that he travels with some bloke called Murphy who makes things go wrong at the most difficult times, but I soon found out about him. It seems he's had this Murphy fellow hanging around for years and he even wrote a book about living with him once.
I laughed when one of Lionel's friends suggested I write a book but the idea grew, as my travelling days are over and I've lots of time to spare. 
I'd spent the first part of my life as an ambulance and still had all the ambo fittings in the back. Lionel was going to use me for camping so he and his friends set about removing most of my ambo stuff and then fitting things like a sink, water tank, hot water unit, a single bed and mattress, plus a refrigerator. 
They pulled out lots of wiring that my ambulance drivers had used to operate their equipment – I was a bit disappointed that they had taken off my flashing lights and siren as I had enjoyed racing along to get to accident scenes.
(More from this book next month.)
 

A FABULOUS PRESENT

When a huge box arrived before Christmas, we wondered what it could contain, but when we opened it we were amazed to see it contained wall pictures in frames from my grandson Cam and family.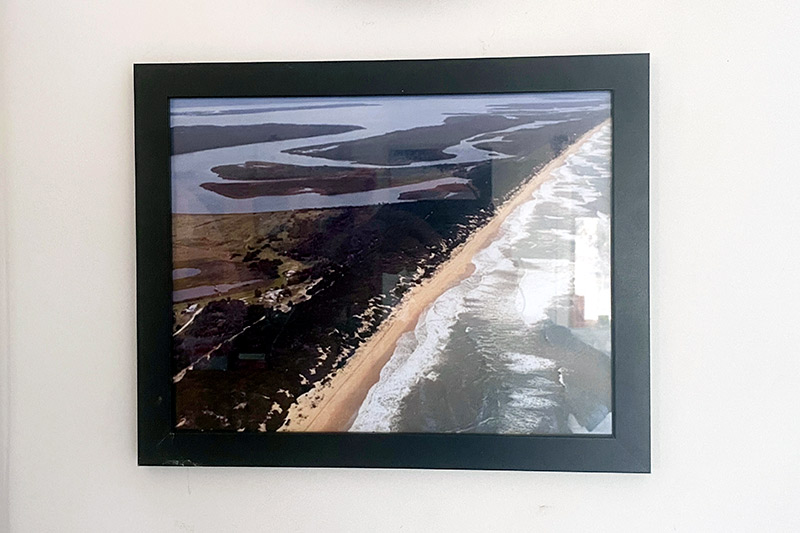 A drone shot he took of Sue and Shaun's home,  including my place, a pic of Jackie's little granddaughter Saoirse and a shot of the 90 Mile Beach and the Gippsland Lakes that I took during my recent helicopter trip from Lakes Entrance.
OUR CHRISTMAS LUNCH
There were only five of us sharing our Christmas lunch but as I was the cook I went a bit overboard by printing a fancy menu. I put the menu on Facebook and it caused a flurry of replies and Christmas wishes. One of my English friends even wanted me to send a doggie bag over to him – but it would have been very stale when it reached the UK!
The meal turned out well but the entree and main course dulled our appetites, so we saved the desserts for later. 
ANOTHER FEAST!
New Year's Eve saw an incredible 'grazing table' over at my daughter Sue and hubby Shaun's place. Sue had done a huge amount of research and with Shaun's help had come up with a wonderful feast!

Fortunately there were plenty of us to share the banquet but even so there was enough left over to feed us again next night.
MY DARWIN PLAN
I believe that I've told you about my plans to visit Darwin in May to attend the 50th Apex 40 gathering. I was the first chairman of Apex 40 all those years ago and at Darwin we will have me – the first chairman – and Mark who will be elected as the current Chairman.
LOOK OUT, KIWIS, HERE I COME!
I toured the North Island of New Zealand doing a tag-along trip with a group of Australian Caravan Club friends some years ago. It was a wonderful trip with 18 motorhomes carrying 17 couples and me!
Some of my friends had toured the South Island the previous year and their tales of their trip left me with a desire to do that myself one day.
The day is coming soon as a windfall came to me unexpectedly recently and I have decided on a nine-day self-drive tour of the South Island in March this year – covid  willing. The itinerary for the tour starts and ends at Christchurch and sounds fantastic. It includes accommodation in motels, a boat trip on the famous Milford Sound, as well as a train trip in the high country before returning to Christchurch.