When we can spend a lot of time touring the country, it's not uncommon to be asked what specific tools we carry in our toolkit. Apart from the obvious spanners, screwdrivers, sockets and some basic hand tools, we also carry a mix of 240V and 12V tools.
On the 240V front, we've always been the type to use a 240V soldering iron to help get us out of problems with the electrics in our vehicle, caravan and trailer. But this solution wouldn't have been at all possible if we didn't have access to 240V in the bush. And even then, we still needed to carry a long extension lead for those soldering jobs that weren't close to the inverter.
Knowing there were far easier solutions going around, we recently swapped out our old 240V soldering iron with a 12V unit from Tradeflame. Besides being a 12V version, this one is also cordless and rechargeable. It looked the goods in the packet, but it would all come down to how well it performed on the road.
TRADEFLAME FEATURES
While soldering irons aren't a heavy accessory, this unit is extremely lightweight. It's only 225mm long from the cap to the base, so it takes up next to no room in our tool bag. The unit's body comprises hard plastic and the indented grip handle looks like it could take a bit of a beating. That said, it's not something we'd test by dropping it from height onto hard concrete floors.
The Tradeflame 12V soldering iron comes with a removable plastic cap that protects the screw-on soldering tip from being damaged when not in use. And the cap has a neat feature which prevents the sliding on/off button from being left on.
Talking about the sliding switch, it actually performs two functions. While it's been designed to turn the soldering iron on when pushed forward, it also turns on a small LED work light that shines light to the end of the tip at the same time. It's a great feature as it illuminates the soldering tip for the times when you're working in dark areas, such as under a vehicle's dashboard.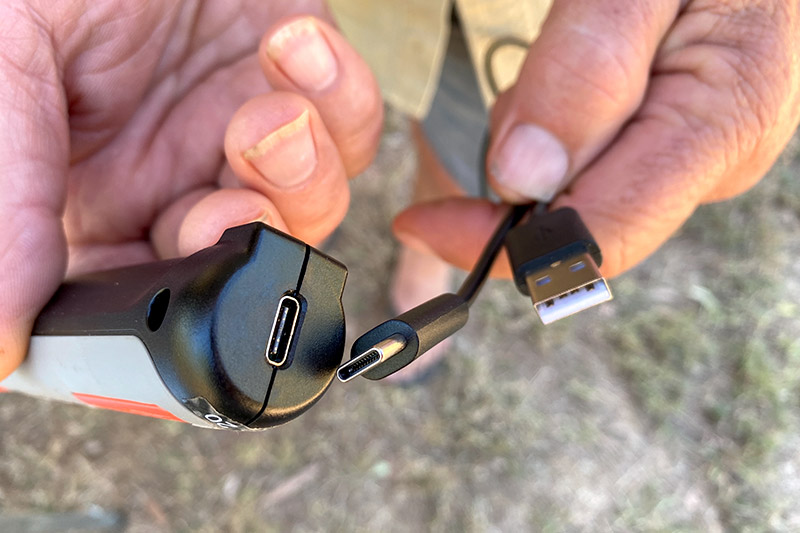 There's a small port located in the soldering iron's base to plug in the USB cable (supplied) for recharging the lithium 4.2V battery.
Out of the packet, we found the unit's battery needed to be charged, which took about two hours. We thought it clever that the soldering iron could be used during the charging process, so there was no need to wait around for the charging to be completed before we got going.
While the Tradeflame's instructions state the soldering iron battery will last around 45 minutes with continual use before needing recharging, our soldering jobs were finished much sooner.
The soldering iron has two small lights that illuminate and indicate the status of the unit. One light displays when the soldering iron is plugged into 12V power and recharging.
Another light flashes during the heating-up stage and changes to a solid colour when the unit is at its maximum temperature. We found this can take anywhere between 30 seconds and a couple of minutes.
TESTING IT
As a cordless and rechargeable unit, there's little doubt we now have a much more flexible soldering solution. No longer do we need an inverter specifically for using the soldering iron, while that long extension lead we were carrying has now found another use in the shed at home.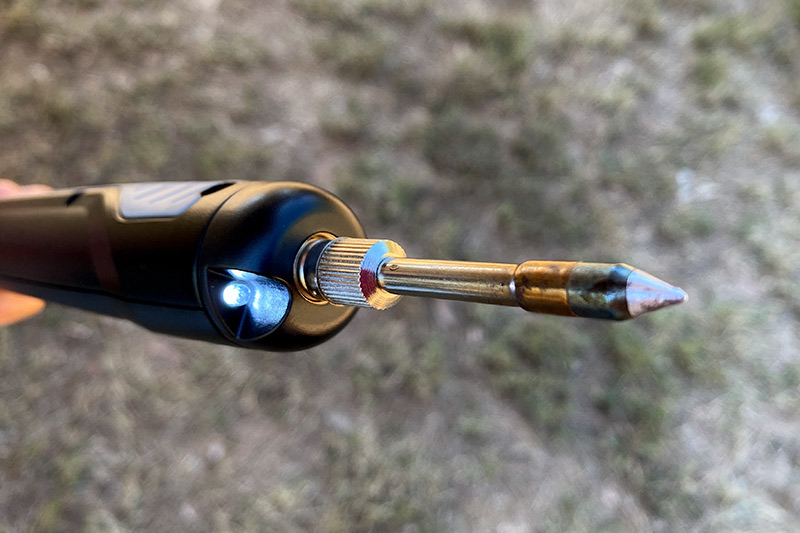 The Tradeflame 12V soldering iron is also perfect for those hard to reach places for wiring installations, and we can easily see what the job is at hand when the unit's light shines directly on the wires.
We've tested it on a few occasions to repair damaged wires and when a circuit joint came loose. To clean it, we simply used a wet rag on the tip to remove excess solder.
As far as soldering irons go, we don't expect this version to tackle major repair jobs, like a radiator, but it's been more than adequate for detailed work and small to medium wiring jobs.
You never really know when something needs to be repaired to get things going again, so having access to an easy-to-use cordless, rechargeable soldering iron means we won't be left stranded.
TRADEFLAME 12V RECHARGEABLE SOLDERING IRON
RRP: $90
More information: www.tradeflame.com