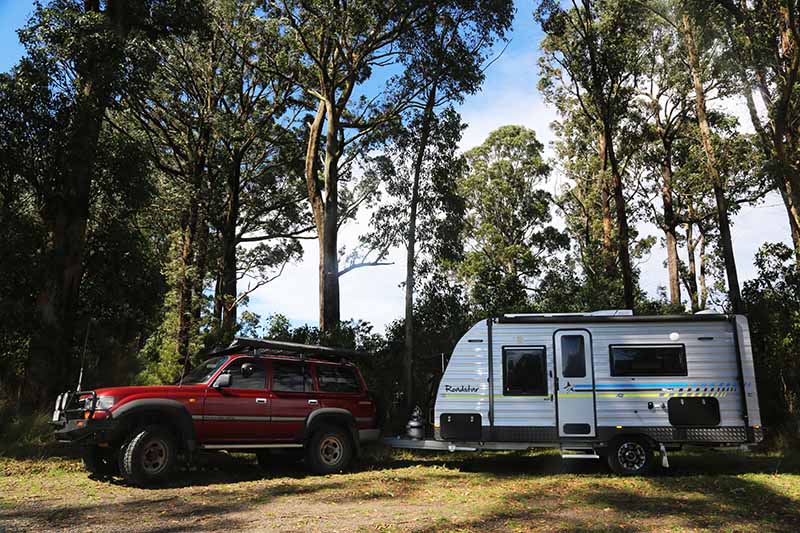 Traditional timber frames clad with ribbed or smooth composite aluminium. Aluminium frames and aluminium composite. And fibreglass sandwich panels. These are the principal forms of caravan construction in Australia, with some variations in method and quality. Conventionally, a caravan manufacturer commits itself to one style, be it fibreglass or 'stick and tin'. But can you name a caravan manufacturer that can build a van out of each type of material, depending on the needs and wants of the customer?
No?
You obviously haven't heard, then. Roadstar Caravans, headed by Ken Nizam, has quietly worked to develop the capability and know-how to build vans with fully-welded aluminium frames and fibreglass sandwich panels, while continuing to offer meranti timber.
The GT Sport Mk2 was the prototype for fibreglass sandwich panel construction. And, having developed the relevant production processes, fibreglass is starting to roll out across the range. Simultaneously, Roadstar has invested in the ability to build aluminium frames clad with composite aluminium, with the Roadstar Little Rippa, a compact off-roader, the first beneficiary of both. In fact, it was on display at the 2017 Victorian Caravan, Camping and Touring Supershow in both aluminium and fibreglass formats.
"We want our customers to have the choice, whatever they prefer, we can do," Ken said.
INSIDE THE GT SPORT
You might think, therefore, that the single-axle Roadstar GT Sport (in basic 'Touring' spec), with its meranti frame and ribbed, shallow-form aluminium cladding, feels like a step backwards. Not true. We hitched it up for a test tow and it garnered a number of admiring glances. Though its construction techniques remain traditional, the single-axle GT Sport has a distinctly modern aesthetic and, no doubt, the interior is as modern as it gets. And don't forget: if you want it framed with aluminium, you can have it framed with aluminium.
Up front, the queen-size bed is surrounded by storage options, from wardrobes to overhead lockers. As with the rest of the van, the cabinetry is CNC-cut – it looks great.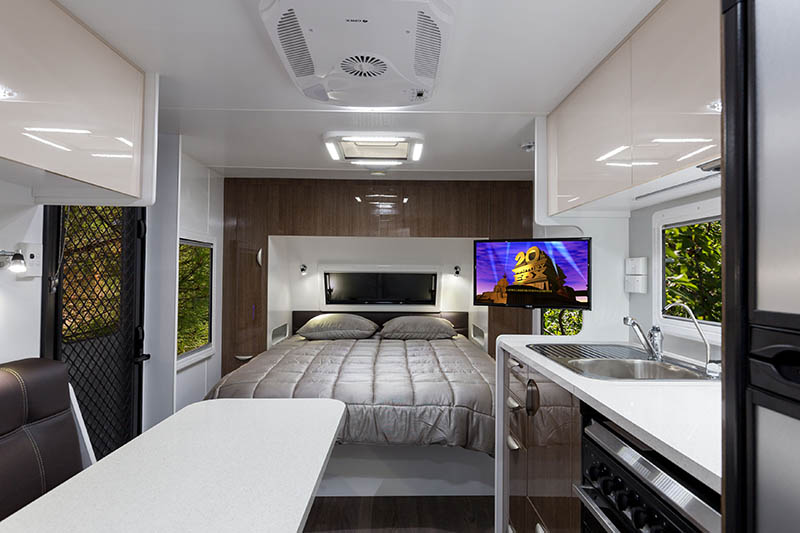 The bed lifts on gas struts to reveal a storage space that is partially taken up by the tunnel boot as well as the hot water service. Both the tunnel boot and water service, however, are neatly partitioned. One more point about the bedroom: to maximise usable space, this van does away with a cut-out step at the entry, with a fold-out external step provided instead. A good move, in my opinion.
Across the nearside, the dinette is particularly classy. Upholstered in Annahide, the seats are comfortable and the cushions can be removed fairly easily to access the storage space beneath, as well as the 100Ah AGM battery, 12V fuses and the regulator for the 150W solar panel on the roof.
Opposite, the kitchen is fitted with a Swift four-burner cooktop and a griller, and the microwave has been sensibly fitted beneath. The benchtops throughout are made from laminated ply, rather than chipboard or MDF, and there's no shortage of cupboard space here. A three-way Thetford fridge-freezer completes the picture in the kitchen.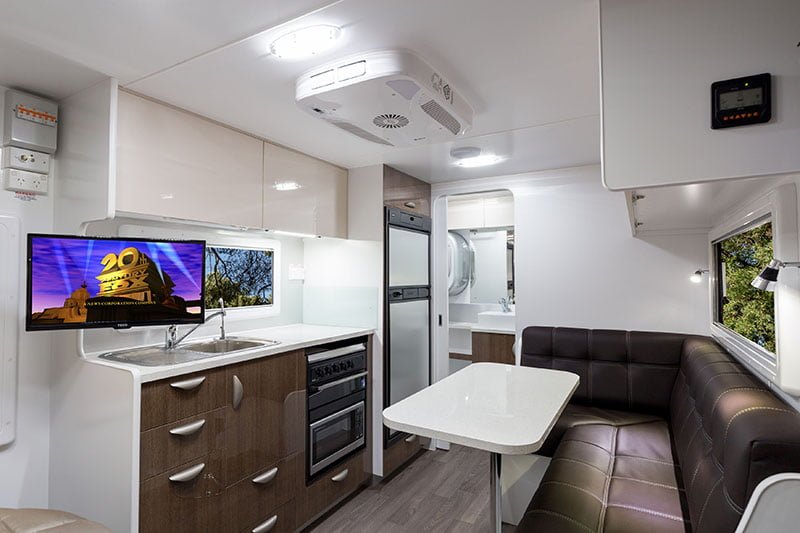 And that leaves the bathroom. No, it's not the largest bathroom ever fitted to a caravan but it is neatly presented and includes a wall-mounted washing machine. Obviously, considering the overall narrow space, a top-loader fitted beneath a wide bench just wouldn't work; however, these front-loaders work well, in my experience.
With a Thetford cassette toilet, fully moulded shower, washbasin with flick-mixer tap, and some shelves and cupboards, the bathroom addresses all of the essentials. The door is fitted with a sturdy bolt to keep it open or closed – I towed this van across some sharp corrugations for a couple of hours and nothing rattled free, including the shower door!
Overall impressions of this GT Sport are very favourable. The decor, the furniture and the layout are cohesive, while the attention to detail is typical Roadstar. Naturally, there are other features and comforts, such as a roof-mounted air-conditioner, 22in high-definition TV with integrated DVD player, LED lighting throughout, and steel drawer runners.
WEIGHTS AND SUSPENSION
In this guise, with timber frame and ribbed aluminium cladding, the single-axle GT Sport weighs in with a very respectable Tare of 1770kg. To put that in perspective, that's in the same weight vicinity as some camper trailers and many pop-tops.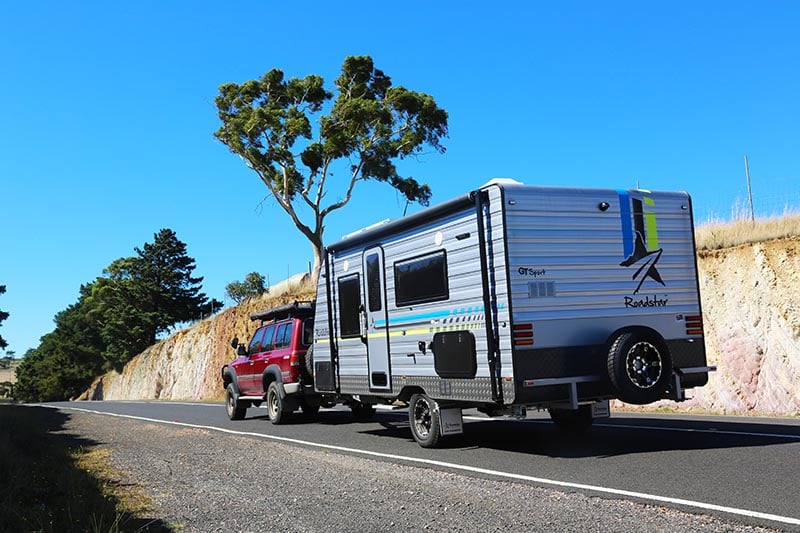 The van's payload – 400kg – is slightly better than the industry standard, too. Having said that, the 190L of onboard water storage capacity and18kg of gas do demand that extra payload.
Our review GT Sport was fitted with Dexter Torflex independent rubber suspension, a system that utilises four rubber elements or 'cords' and a steel torsion bar within the axle tube.
The underside of the van is neatly presented. For example, I make a point of checking each van I review for loose, dangling wiring and terminal blocks at the brake hubs, and I was pleased to note that the GT Sport's electric brake wiring is as secure as possible. And while there is some grey water plumbing across the back of the van, it is high out of the way and shouldn't be vulnerable to stone-strike. As you'd expect, the water tanks are protected by galvanised metal sheeting.
Other external features include a Carefree roll-out awning, a stoneguard for the front window, a picnic table, rear-mounted spare wheel, and a Safety Dave reversing camera. This van also gets an external 12V point and a couple of speakers.
GO RV'S VERDICT
This single-axle GT Sport is a good value, honest caravan for two. It is equipped for long-haul touring and the fit and finish is of a high standard.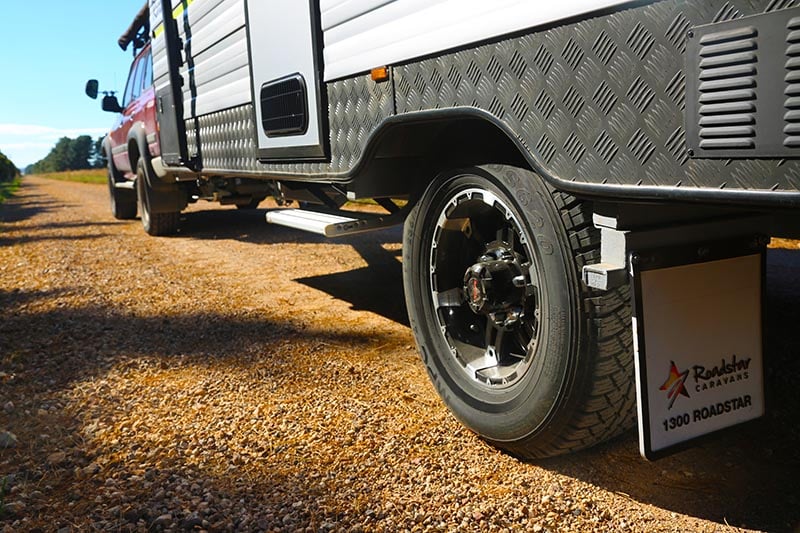 The only questions is, timber or aluminium frame? Or perhaps you'd like your GT Sport built with fibreglass sandwich panels. Each construction type has its benefits but, ultimately, it comes down to personal preference and budget. A well-built timber caravan frame should last decades if the van is properly sealed, and Roadstar Caravans uses a special MS polymer adhesive sealant known as Novatio, which binds as soon as it's applied. In fact, this sealant, and how it's applied, is a point of pride for Roadstar.
All of that notwithstanding, this single-axle GT Sport deserves a good, hard look.
THE SCORE
FIT AND FINISH –

LAYOUT –

INNOVATION –

HITS & MISSES