On the way to the outback… that's the claim of Trangie Caravan Park, and it's quite true. I was on the way to Brewarrina in north-west New South Wales when I spotted that I was passing through Trangie and I had heard such good reports about the park from members of the Australian Caravan Club that I had to stop and have a look.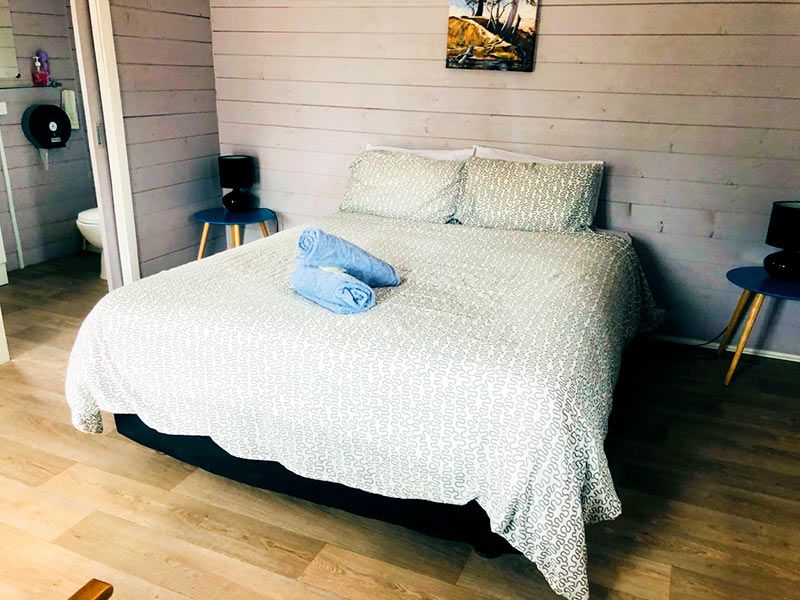 I called first at the other park in town and the manager had never heard of the ACC and said it must be the other park! Until then I didn't know there were two parks and my Tom Tom only listed one!
A quick phone call to a mate and I had the proper directions. I was greeted at Trance Caravan Park with a big smile from Andrew who, with wife Debbie, own the park.
"Do you want free wifi? It's NBN," was the first thing Andrew asked before guiding me to a nice spacious site near the toilets. "Let your grey water run on the grass."
Why do some places make such a fuss about grey water?
TRANGIE CARAVAN PARK SITES
The spacious, grassed sites are separated by flower beds planted with small shrubs and there are taps and a drain.
The amenities are quite modern and spotless; the customers using the four-single bed cabins have to use the amenities as there are none in the cabins, but those people in the double-bed cabins have an ensuite.
All the cabins have air-conditioning – essential in summer.
CABINS CAME A LONG WAY
I was surprised when Andrew told me the cabins all came from Lithuania and were assembled onsite. They have a distinctive and pleasing look – quite different to the ones usually seen in caravan parks.  Four of them were assembled in one day! Wow, how's that for precision workmanship?
PIZZA NIGHTS AND COTTON TOURS
Thursday night is a good night to stay at the park because they cook free pizzas for all guests.
As I drove here, I saw lots of traces of cotton along the roadsides but I never thought that I'd see it growing in the caravan park! Andrew runs a free cotton tour every day and starts by showing the cotton growing here, followed by a talk in the camp kitchen. Then the tour moves to the nearby cotton gin to see the cotton being processed.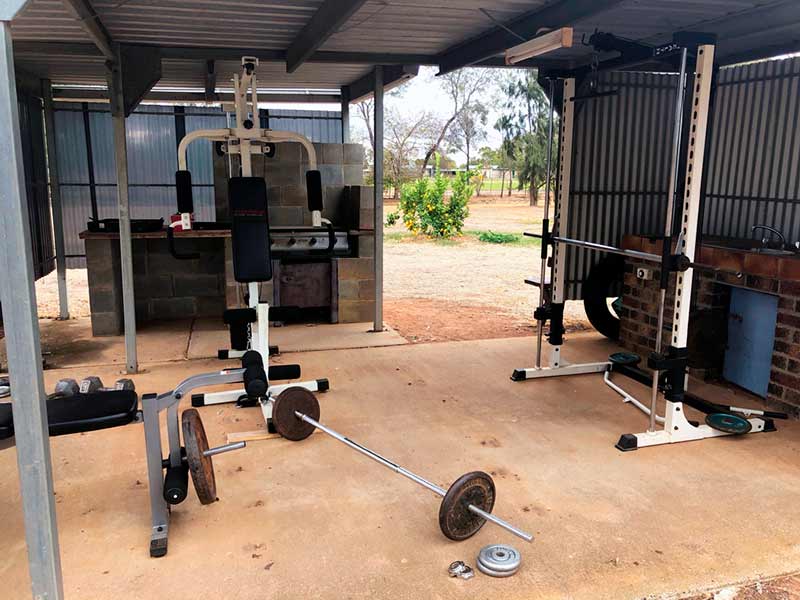 The camp kitchen is a hub for visitors as there is happy hour there every night and a heater to keep everyone warm in the cooler nights. They have a lovely fire outside to sit around as well for some happy hours and as soon as I sat down, a fellow said, "Are you Lionel Mussell?"
This man had been reading my writings for a lot of years but we hadn't met before.
EL CHEAPO FOR OVERNIGHT GUESTS
I was very impressed by the provision for self-sufficient campers who just want somewhere to park overnight in safety. It costs just $11 a night and campers are welcome to join in happy hours and use the park's facilities. Andrew told me that people often stay an extra night and book in on a powered site.
38 Goan Street, Trangie, NSW
Powered site: $30 per night for two people; no charge for children under 14
Unpowered site: $25 per night for two people
Self-contained site: This is a no service site for $110 per night
Cabins: $90 per night for two people person. The park now has four new cabins with four single beds for groups. Guests in these cabins use the park bathroom – phone for a price