In mid 2018, Pioneer Campers was purchased by Gason, the company that also owns Trakmaster Caravans. And we all wanted to know how the well-regarded Pioneer range would change, particularly the hybrid Pioneer Mitchell.
This rear-fold, hard-floor unit entered the competitive camper trailer market in 2015. Though its teardrop shape was familiar to market-watchers, the Pioneer Mitchell was readily welcomed by the RV public.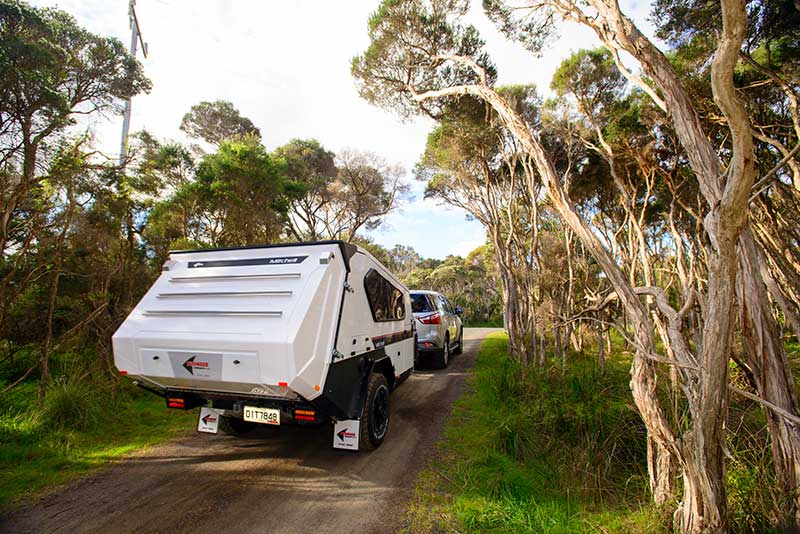 The Mitchell is now built in-house on the same premises as Trakmaster. Rather than overhaul what was already a capable, well-sorted camper, Gason has overseen a number of refinements designed to increase its offroad appeal and ability.
PIONEER MITCHELL HAS TRAKMASTER DNA
One of the first orders of business was to swap out the old independent trailing arm suspension with the Trakmaster-designed Trak 2 independent system. This is also a coil, trailing-arm setup that offers numerous advantages over the old design.
First, the stub axle is an integral component of each trailing arm – it's not bolted on as with the previous system – and each trailing arm (with stub axle) is 5kg lighter than what was used before. Testing, I'm told, has also shown the Trak 2 system to be stronger. As importantly, the offset of Trak 2 can be ordered to suit the tow vehicle's wheels and offset.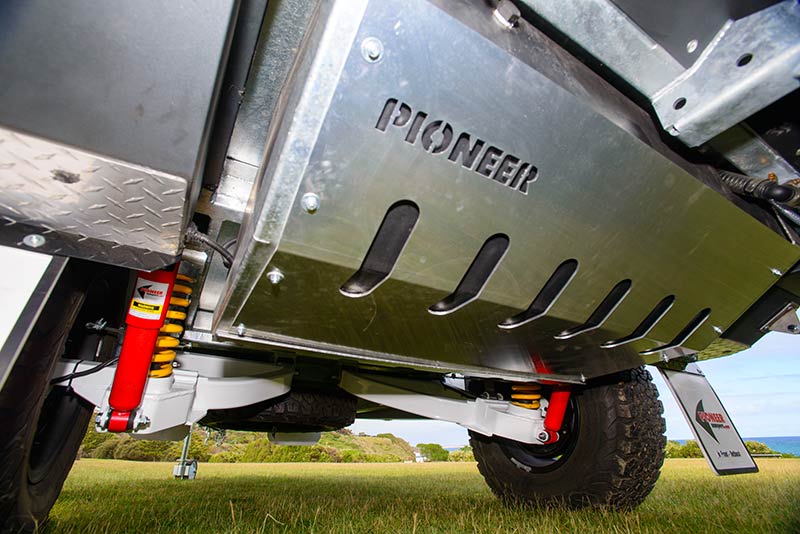 The other large change: the previous stainless steel water tank has been stripped out in favour of a polyplastic tank. It's still a 120L tank but it has no joins and it's a massive 21kg lighter than the stainless number. Gason has also fitted a steel bash plate (nicely etched with the Pioneer logo) at the rear of the water tank to protect it when departing creek crossings and the like. A 70L auxiliary tank can be fitted as an option for extra water capacity.
The rear pod, which lowers to become the rear deck, is no longer black. Instead, it's now only available in white to match the rest of the camper with the added benefit of reflecting heat.
The Mitchell is built on a hot-dipped-galvanised chassis riding on 16in alloy wheels. The shell is built from marine-grade aluminium and fibreglass.
The external kitchen is all class. It slides out from the nearside, with part of it swinging longitudinally so that it's secured against the side of the camper. This stainless steel unit has hot and cold running water, a two-burner stove, some drawers, and plenty of room for preparing meals.
Meanwhile, just in front of the kitchen is the pantry which, in our model, was optioned with a larger lower pantry drawer. Forward of the pantry is a slide-out tray for a portable fridge (not included). This tray should easily accommodate an 80-100L unit.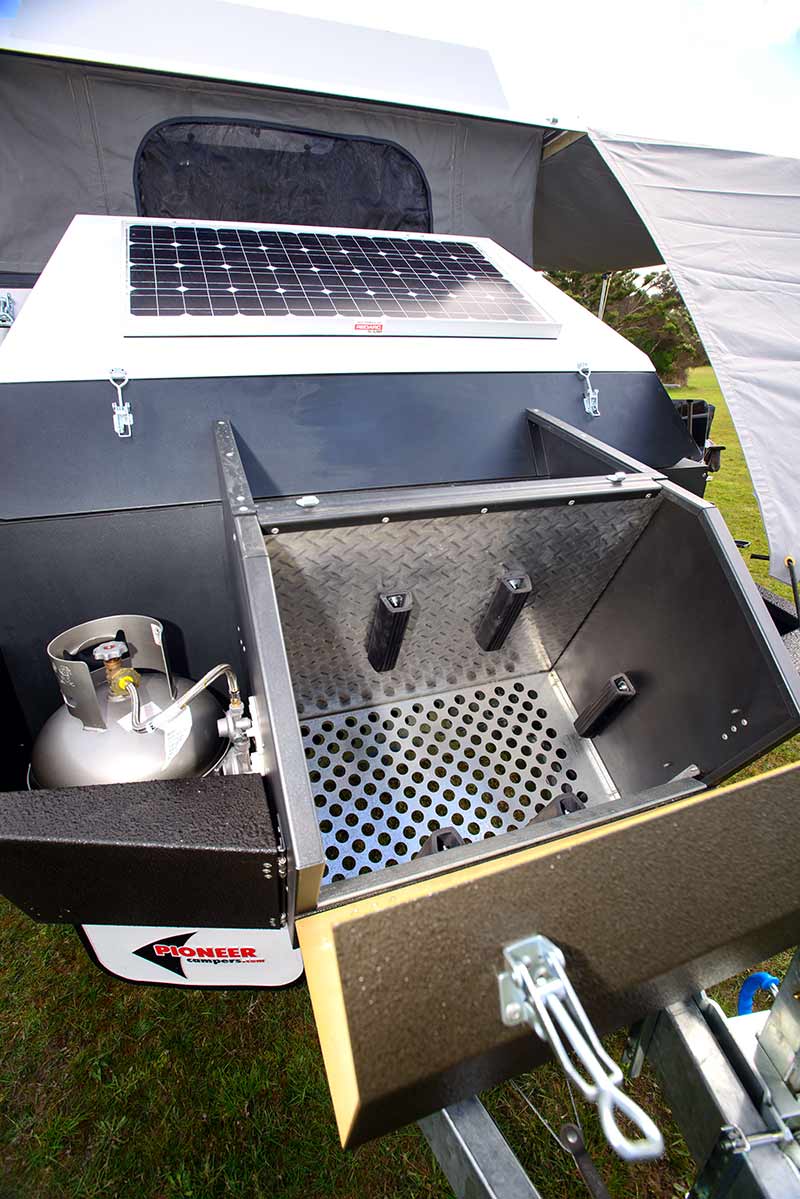 The nose of the camper is all business. It has a storage pod for firewood incorporating a couple of separate compartments, with two 8.5kg gas cylinders either side. These cylinders are well protected behind Rhino-coated shields. A cold-water-only hand-operated water pump is fitted next to the nearside gas cylinder so you can wash the mud off your hands before heading inside.
Mounted to the lid of yet another storage bin is an 80L solar panel. This lid is designed to be removed so that, with the aid of an extension lead, you can move the solar panel according to the position of the sun – a nice touch. I'd still pack a second portable panel, though – Gason has fitted a merit plug to the offside of the camper for just such an accessory.
Speaking of the offside, there's also a hand-held shower and a number of additional storage bins. Truly, the Mitchell does well on the storage front.
EASY AWNING
As standard, the Pioneer Mitchell gets a 'quick awning' which, as we discovered, lives up to its name. Without instructions, we had it set-up in 10 minutes on our first try. On our second attempt, it was up in three. Not bad. A full awning is available as an option.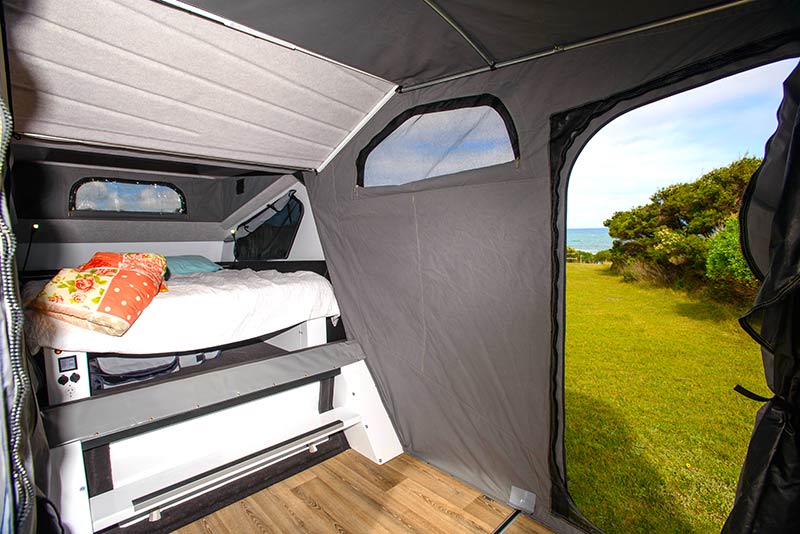 The rest of the camper goes up pretty quickly, too. Just release a series of over-centre catches, pop the roof, open the rear pod, lower the deck and fit a couple of feet. Then, it's just a matter of securing a couple of internal tent poles. If the entire process takes more than five minutes, it's taking too long.
Thanks to the pop-top roof, the Mitchell offers plenty of head room. Other features include a handful of 12V points, a 240V outlet, a large under-bed storage compartment (which can also be accessed when the camper is closed, thanks to a special hatch in the rear pod), a 120Ah deep-cycle battery in a side storage bin, and removable window flyscreens.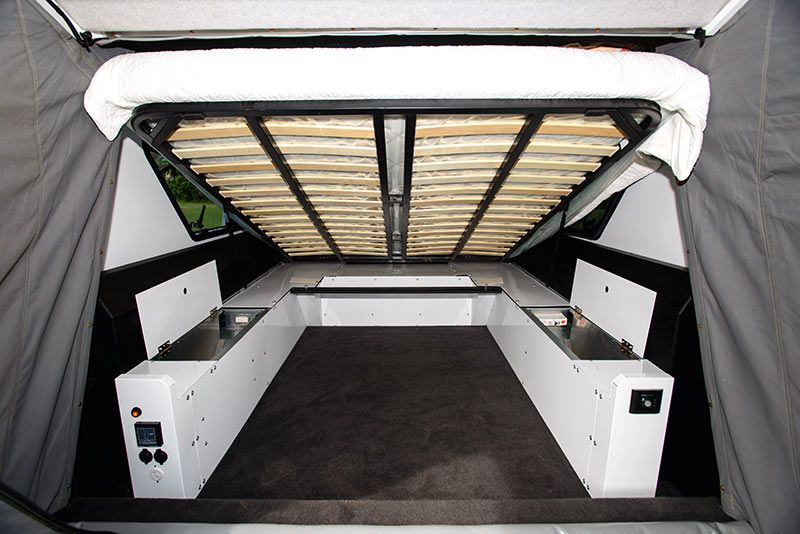 There are some more compartments at the head of the bed, and because the external pantry uses some of this space, it can sort of double as a delivery system for morning coffee – just send someone outside to boil the kettle while you stay warm in bed.
A Redarc battery management system is included in the Pioneer Mitchell package, and each 12V electrical system, from the lights to the fridge, can be isolated at an external control panel. I'd like, however, a main switch to turn off all 12V systems at once in addition to the individual systems. The Mitchell could also do with a sound system, as some of its competitors have.
Its towing performance is exemplary. Weighing 1576kg unladen, and with a respectable 424kg of payload capacity, the Mitchell would suit a large range of potential tow vehicles. Heck, even my wife's old Commodore wagon could do the job. Better to sit it behind a 4WD, though, since this camper is designed for genuine offroad work…
GORV'S VERDICT
Easy to tow, reasonably versatile around camp, and refined by the same company responsible for Trakmaster Caravans, that legendary name in Australian offroad touring. That's the Pioneer Mitchell hybrid camper.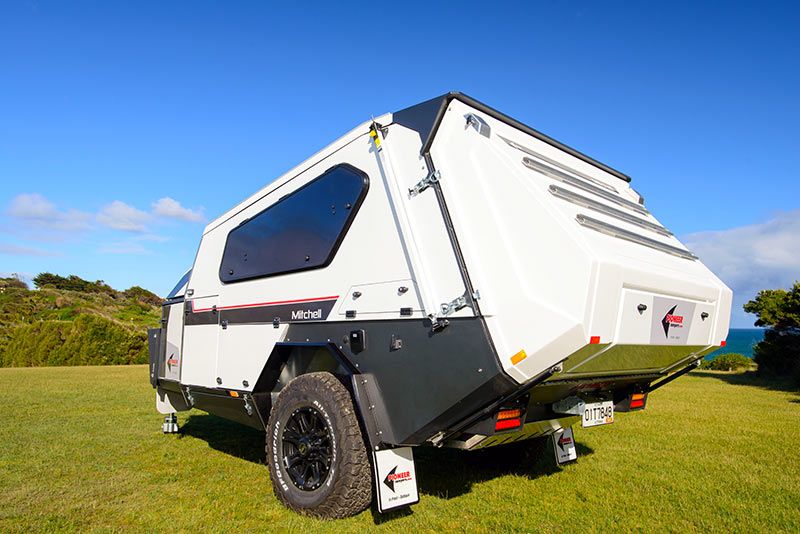 In standard form, it's good for a few days worth of off-grid camping. Fitting the optional 70L water tank – or carrying a few jerry cans on the roof rack – and a secondary solar panel would extend that to over a week.
In the world of camper trailers, set-up speed rules. Forward or rear-fold, soft or hard-floor, after a long day on the road, nobody wants to wrestle with endless tent poles and canvas.
In this regard, the Mitchell shines. It's as tough as it is easy to set-up.
THE SCORE
FIT AND FINISH –

LAYOUT –

INNOVATION –

HITS & MISSES
Gason's refinements, including the new suspension system
Relative easy of setting up
Overall strength – the Mitchell appears capable of tackling all types of offroad terrain
Greater solar capacity and a larger water tank as standard would be appreciated
I'd like a single switch to turn off all 12V systems at once
A sound system of some variety wouldn't go astray