If you've got a couple of kids and a strong desire to explore Australia, you'll need a family van. Sure, you could do it with a camper trailer or even just a tent. But I'm talking about seeing the country in comfort. And for that, nothing beats a caravan with a couple of bunks and an onboard bathroom.
My family and I were in need of a break. A quick getaway to one of my favourite Victorian destinations, Phillip Island, was in order. Coincidentally, I was offered the chance to hitch up the Newlands Caravans Luxe 675 bunk van for a review. I wasted no time.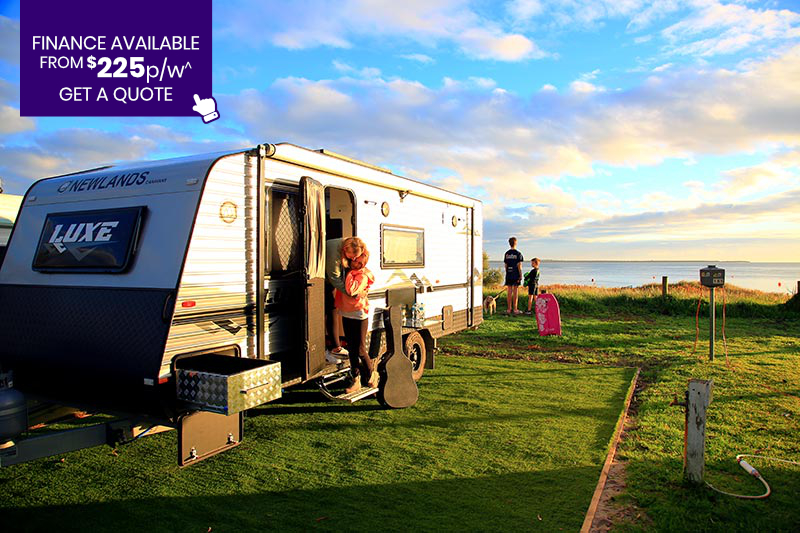 The Newlands Luxe range is based on the popular Tourister caravan. It comes with numerous upgrades that add, as the name suggest, extra luxuries to the Tourister, from the CNC-cut cabinetry to the bike racks on the back of the van.
TOWING THE NEWLANDS CARAVANS LUXE 675
I picked the van up from the company's factory in Campbellfield, Vic. The first thing I noticed was just how easy it was to tow behind my MU-X. On the South Gippsland Highway, headed towards Phillip Island, the Newlands Luxe 675 tracked steady and true.
With its body length of 6.83m, the Luxe is a mid to large family caravan. I found it to be nonetheless quite manoeuvrable and easy enough to reverse – a Waeco reversing camera is fitted to the van too, with the in-car display kit supplied to the customer to fit themselves.
The Newlands Caravans Luxe 675 is built on a SupaGal chassis riding on tandem-axle leaf-spring suspension. In some ways, it appears quite 'traditional', with its ribbed aluminium sides over a meranti timber frame. However, it does sport composite aluminium in the front, rear and on the roof, not to mention some black checkerplate protection.
As standard, the Newlands Caravans Luxe 675 is equipped with dual 95L water tanks protected by galvanised sheet metal, two 9kg gas cylinders (mounted to the A-frame), and a 100Ah AGM deep-cycle house battery that's kept charged by a 170W roof-mounted solar panel.
While it's certainly capable of a couple of nights of off-grid adventures, the Luxe 675 struck me as a caravan that would be more at home in holiday parks. With that in mind, I found a beautiful beachside park in Phillip Island and set-up camp. Because I was only there for two nights, there was no need to connect the Newlands Caravans Luxe to mains water – the 180L of onboard storage was more than adequate.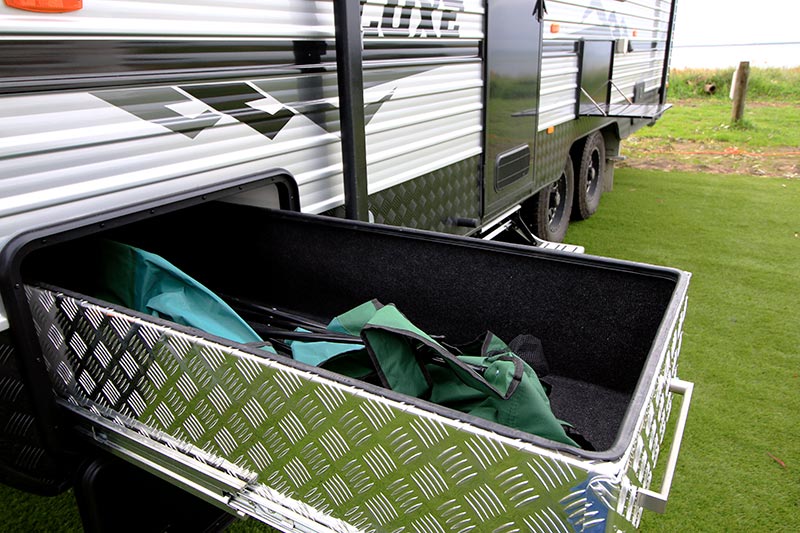 The caravan's main external storage compartment is a slide-out box on the nearside, rather than a front or tunnel boot. It's a large compartment that easily accommodates things like camping chairs and power leads.
I loved that Luxe 675 comes with a bike rack (for up to three bikes) on the back of the van. I didn't use it; however, I know from extensive experience strapping bikes to roof racks just how handy a proper bike rack would be.
Other external equipment includes a full-length roll-out awning, a couple of speakers, a fold-down picnic table, and a 12V point. There's a 50mm ball coupling and a tap plumbed to the water tanks on the A-frame.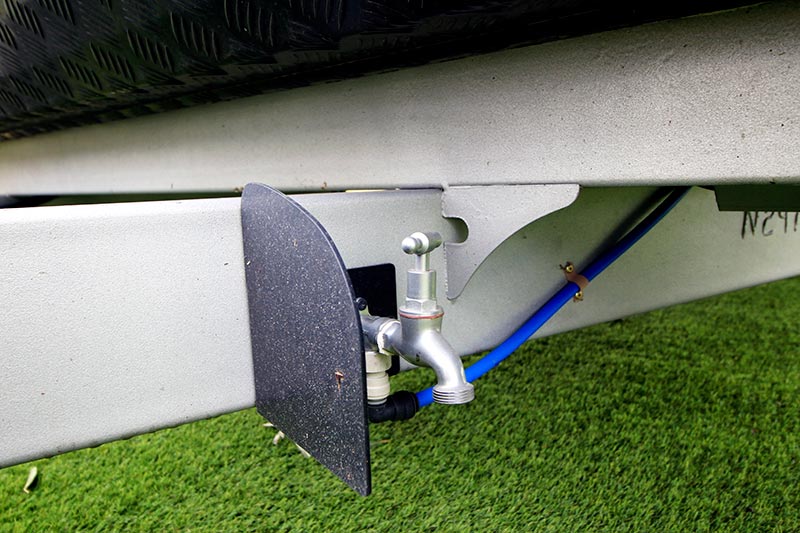 The external joinery is very neat and tidy – I spotted no unsightly gobs of silastic or low-hanging wiring underneath. For this van's intended purpose of mostly blacktop touring and holiday park stays, it covers all bases nicely.
SHINING INTERIOR
It's on the inside that the Newlands Caravans Luxe 675 really shines. I really couldn't fault the fit and finish and the layout worked well for our weekend away.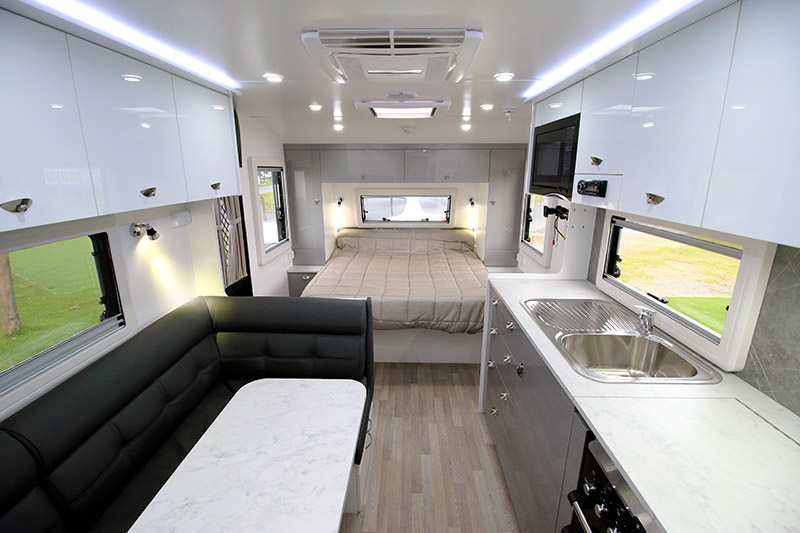 It's comprised of a front bed for the parents, an amidships kitchen on the offside, a large club lounge on the nearside, and a rear kids' bedroom with three bunks and a separate bathroom.
The main bedroom has wardrobes either side of the bed and a few overhead lockers. However, it really needs a 12V point either side, too. There were a few occasions where I needed to charge my phone and, to do so, had to plug it in to the 12V point that's supplied for the 22in flatscreen TV (using a cigarette-style adaptor), or directly to the USB point in the stereo system, which is mounted to the overhead cabinetry in the kitchen.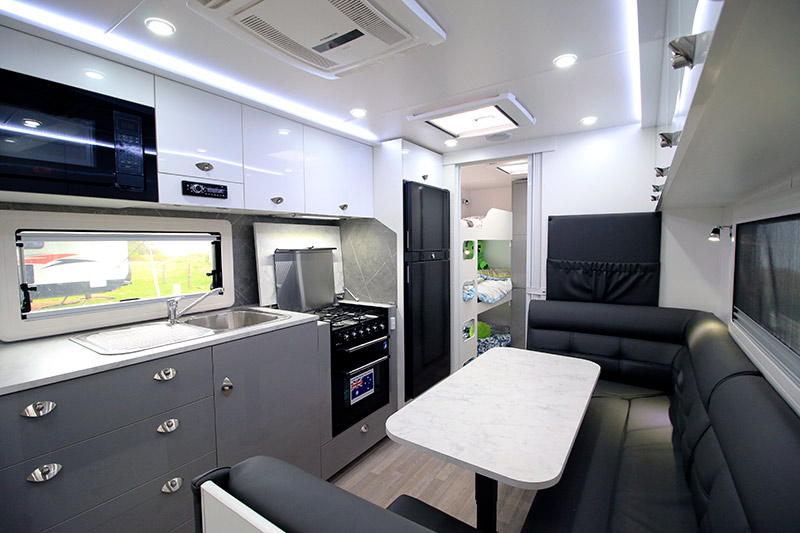 The club lounge, with its microfibre 'leather-look' upholstery, is a real highlight of this van. It's spacious and comfortable, easily accommodating two adults and two or three kids. The table can also be lowered to form the base of another bed, thanks to the included cushion infill. I also liked the slide-out 'trays' at either end of the lounge. By inserting the supplied cushions, these trays provide comfortable footrests.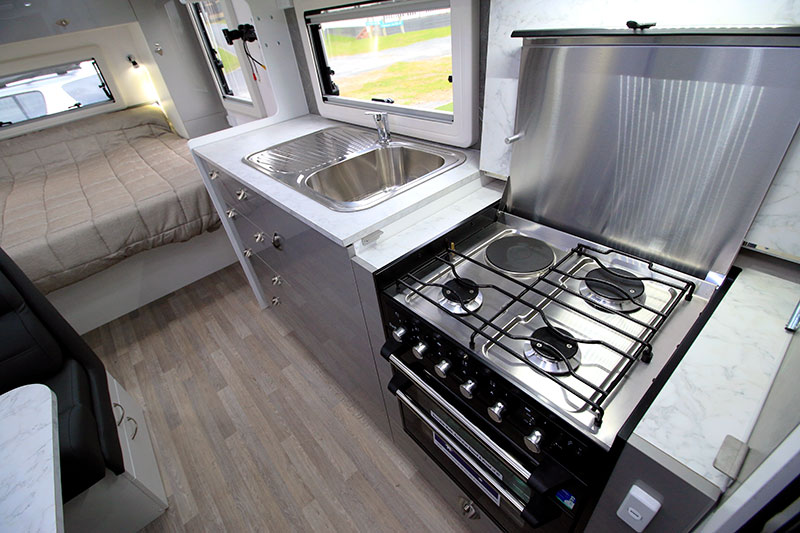 The kitchen, meanwhile, is equipped with a four-burner cooktop, griller and oven, a stainless steel sink with flick-mixer tap, an array of cupboards and drawers, and overhead lockers. The manufacturer has neatly recessed a microwave into the forward end of the overhead cabinetry. The cabin entry and exit points for the grey water plumbing, beneath the sink, is also neatly finished off – again, no globs of silastic to be found.
The rear bedroom of our review van had three bunks. Each bunk had a 12V point with an integrated USB charging point. It would be great to see these same lights used for the main bed and the dinette!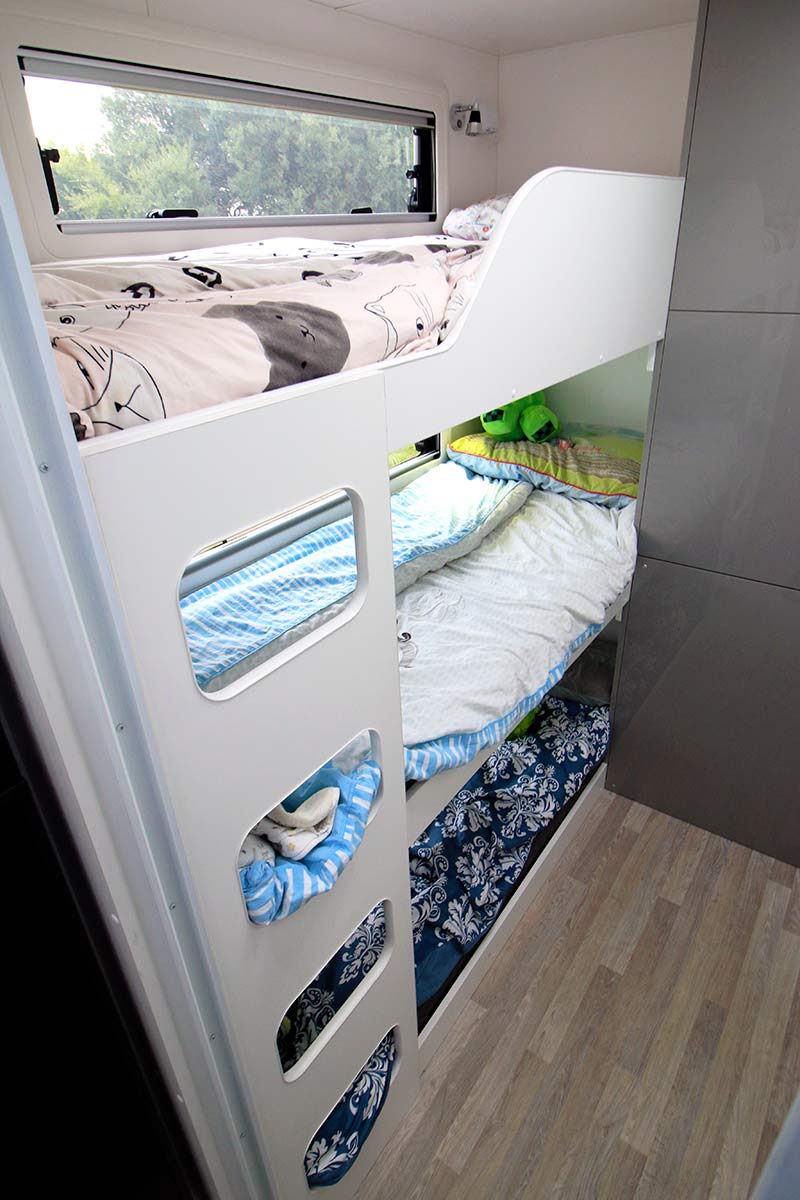 The bunks are a good size for young kids and teenagers. My eldest son, however, is as tall as his dad – 6ft 2in – and he struggled a little with the size.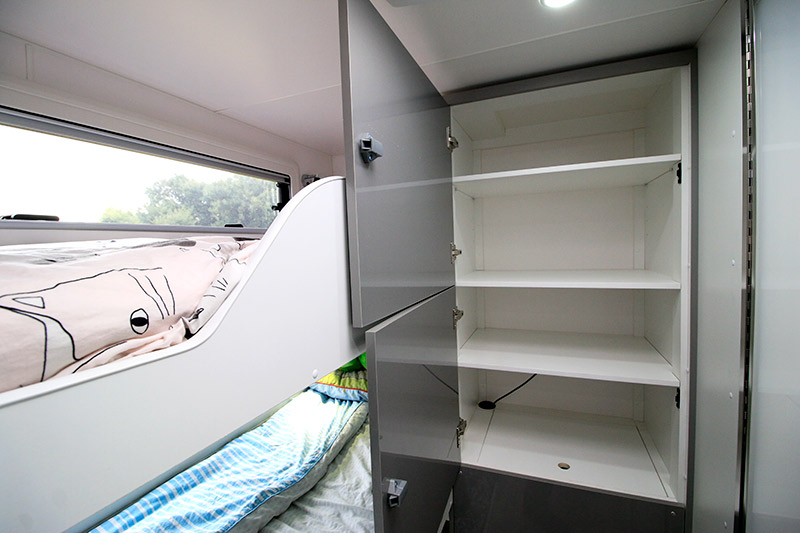 Between the bunks and the nearside bathroom is a wardrobe complete with a few shelves. There's also a 'false bottom' covering a top-loading washing machine.
The bathroom contains a cassette toilet, a vanity unit with some storage, a couple of towel rails, and a fully-moulded fibreglass shower. It all appeared to be nicely finished off.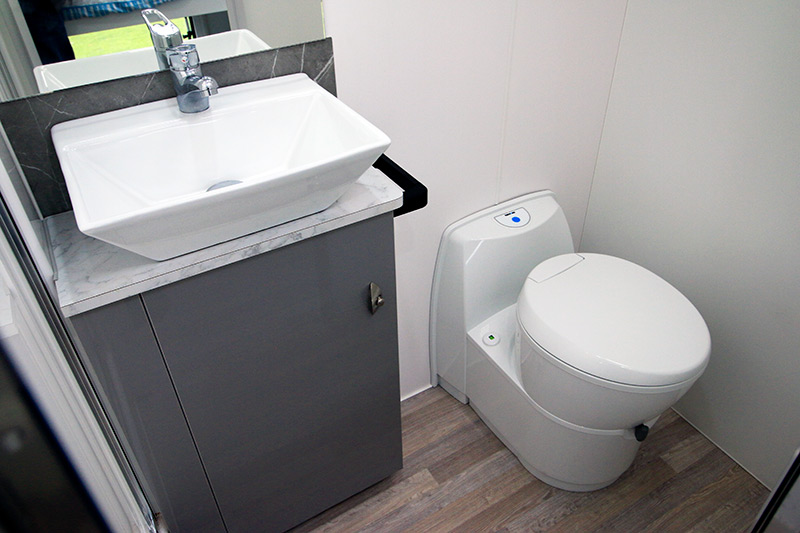 The Newlands Luxe 675 is also equipped with a Dometic Ibis 4 reverse-cycle air-conditioner. We made good use of this system's heat function at night. Phillip Island in winter gets… cold. We were very glad to have the heater.
GORV'S VERDICT
This caravan has an average Tare weight of 2420kg and an ATM of 2950kg, giving it an average payload capacity of 50kg, which seems perfectly adequate for a van such as this. It will, of course, need a tow vehicle to suit – most mid-size 4WDs, such as the Pajero Sport and, of course, the MU-X are good candidates for the job.
At the end of my family's weekend away, the verdict was in: the Newlands Luxe 675 is a great option for families that will be mostly sticking to the blacktop as they explore Australia. It is a very comfortable, easy-towing caravan.
THE SCORE
FIT AND FINISH –

LAYOUT –

INNOVATION –

HITS & MISSES