Fact: there are some places in Australia that are absolutely worth visiting which are unsuitable for caravans. Or, these places require a high-clearance 4WD and serious offroad caravan or camper trailer – and we don't all have those.
To my mind, it's therefore sometimes worth taking a tent along. I've been using the Oztent RV-5 for a couple of months now and have spent quite a few nights sleeping inside its canvas walls at my property on the Ninety Mile Beach, Vic.
SETTING UP
The Oztent RV-5 is a billed as a 30-second tent. That's true for the main part of the tent; however, by the time you get it off the roof rack, peg it out, set-up the awning, etc., it's more like a five to 10-minute job.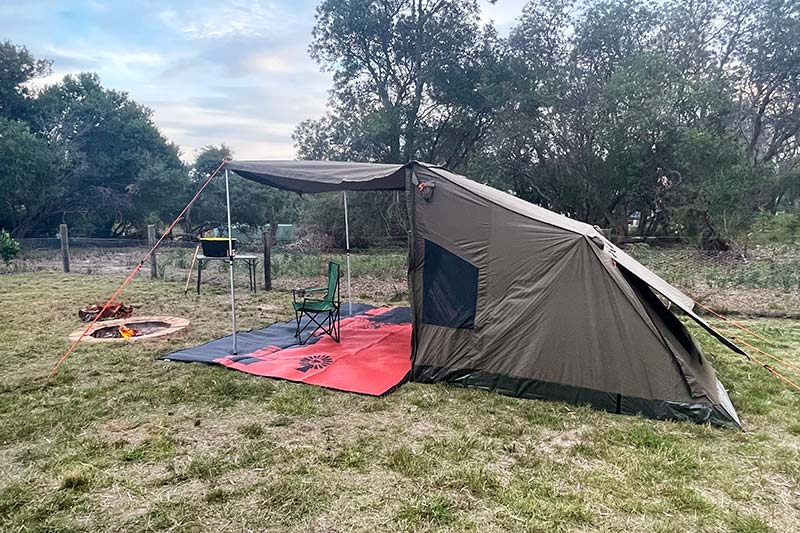 The Oztent RV-5 employs 8oz ripstop polycotton canvas, taped seams, YKK zippers and a heavy-duty PVC floor. There's a couple of windows complete with fine mesh, and the 'door' is large – the canvas flaps can be rolled back for maximum airflow and of course there are mesh screens as well.
High-vis guy ropes are provided, as are pegs and a couple of aluminium twist-lock poles for the canvas awning (2.6x2m), which simply rolls up, back towards the tent, when it's time to pack up.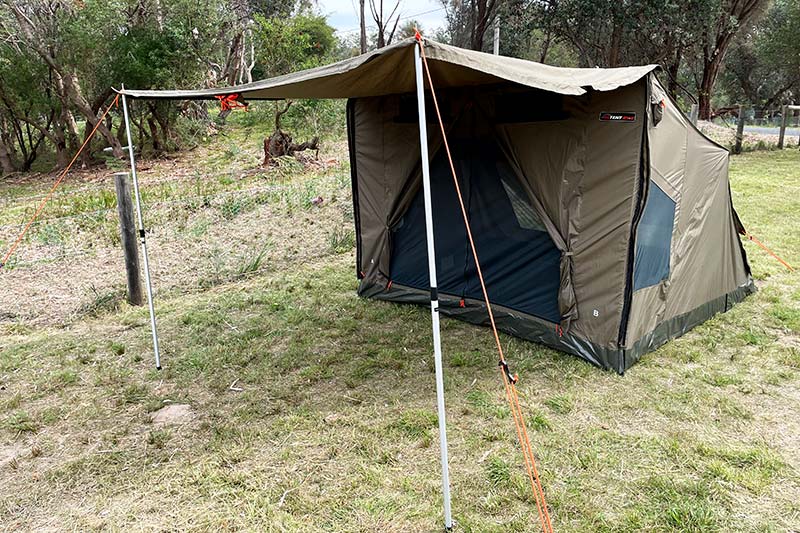 The materials and construction of the Oztent RV-5 are clearly high quality. This tent is made for serious camping, from the High Country to Purnululu National Park.
The main thing to be aware of is that it does not pack down into a small bag. Instead, it folds away into a heavy-duty carry bag. In this state, it measures 2.02×0.27×0.38m – quite long, in other words. It's unlikely to fit inside your vehicle – you'll need to think about how you're going to transport it. It also weighs almost 25kg, so getting it onto the roof rack is preferably a two-person job.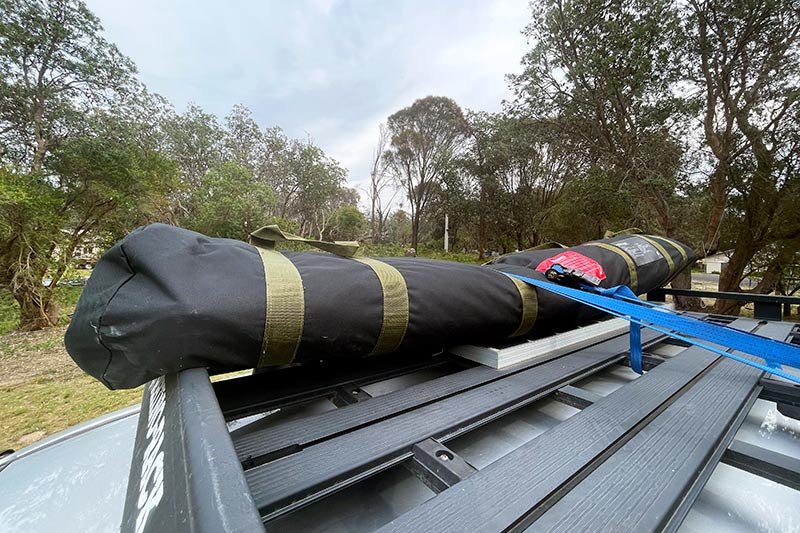 That said, I have been immensely pleased with this tent. When set-up, it measures 2.6×2.6×1.9m and is said to sleep five people.
In truth, it would be a squeeze with five inside, especially if everyone was sleeping on stretcher beds – two adults on an air mattress and one child on a stretcher bed is quite realistic, however. 
All that said, the quality of this tent really is hard to fault. It feels particularly secure, even in high winds and storms, and I've come to appreciate how well thought-out it is.
At $1529.99, it's certainly not the cheapest tent on the market but so far, it's one of the best I've ever owned or used.
More information: https://www.shoprvparts.com.au/oztent-rv-5-30-second-tent