I have been doing a lot of tent camping lately. Aiming to trim unnecessary gear from my travel kit, I reasoned that camping in my tent rather than a caravan would force me to reassess what was important and what was not. However, I think I have found the perfect compromise. I'm talking about the Flynn pod-style camper by OurGen RV.
Founded by Zane Williams and his mate, Justin Chilcott, OurGen is not your usual manufacturer. In fact, OurGen not only stands for 'Our Generation', it also stands for 'Our Generosity', and under this name the company supports the special needs community.
"Last year we had the amazing opportunity to hand out presents at special schools in Victoria," Zane said. "We now have in the pipeline a program of work experience for kids growing up with different special needs, giving them the opportunity to work with tools, office administration and customers. These people are amazing and if we can find what they love doing they will better that anyone else at it."
There are three campers in the range, each named after Zane's kids. The Ella is the entry-level camper; the Flynn is the mid-level van; and the Leo is the top-ender. However, following the birth of Zane's newest child, a Noah will be soon added to the range.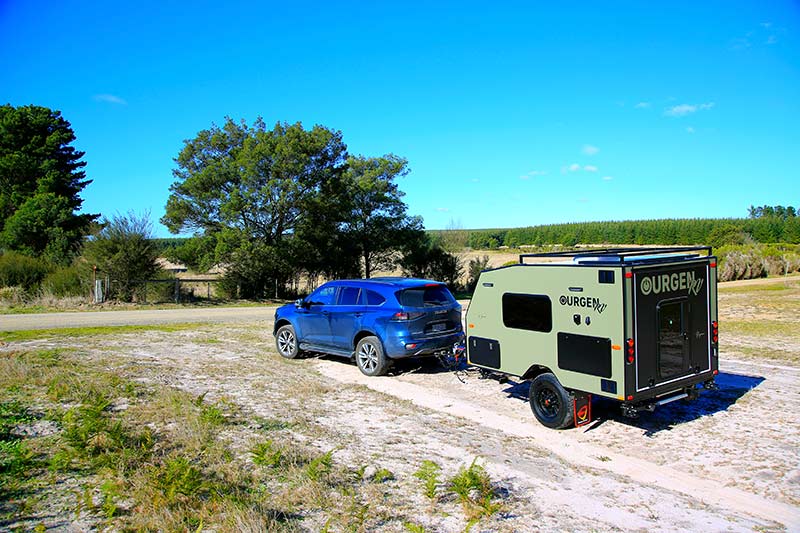 Recently, I had the chance to take the OurGen RV Flynn away for a couple of nights. The experience was instructive…
OURGEN RV: COMFORTABLE CAMPING
In some ways, the Flynn is about 'back to basics' camping – with a modern, comfortable twist. Unlike a full caravan, which has scope to pack loads of equipment, and comes with every feature under the sun, the OurGen RV Flynn, like the other campers in the range, forces you to re-evaluate things – in the best possible way.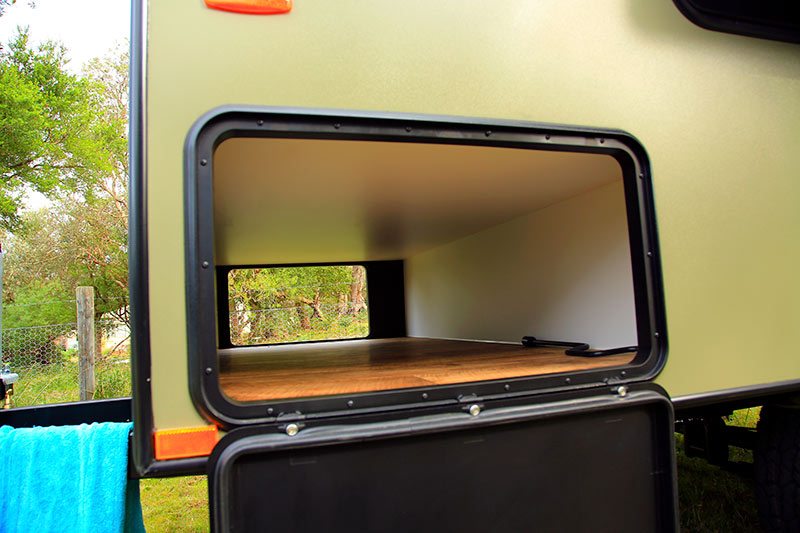 Framed with meranti timber and clad with composite aluminium, this single-axle camper offers a tunnel boot with a 12V point and light inside, a picnic table and LED light bars. On the A-frame, you'll find a spare wheel and a holder to suit a 9kg gas cylinder. However, it doesn't come with a regulator. You see, the Flynn doesn't have a gas system. However, should you decide to later fit a barbecue to the tunnel boot, you've got somewhere to store the cylinder – but you'd have to connect it directly to the barbie. Fortunately, OurGen does provide a regulator hose long enough to reach from the gas bottle holder to the tunnel boot. 
There's also no sink. So, when it's time to do the washing, you'd need to use a portable tub – just like you would if tent camping. The difference: there's easy access to plenty of water, thanks to the tap on the A-frame and the dual 59L water tanks mounted underneath. Not having a hot water system, though, means boiling water the old fashioned way.
These areas – cooking and cleaning – are perhaps the main 'compromises' involved in the OurGen Flynn when compared to a conventional caravan. However, it would not be fair to compare the two. Pod campers aren't intended to have every feature under the sun. Rather, they're designed to offer a camping experience that's a massive step up from a tent, while offering light and easy towing characteristics. Being quite small, they're easier to store at home, too.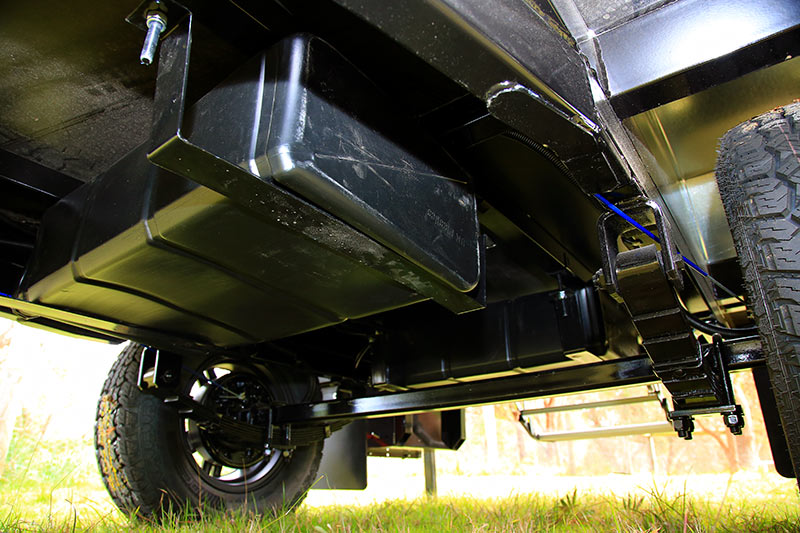 When looking at the Flynn, it's therefore important to keep everything in perspective. No, there's no hot water system. But there is a microwave, a small oven, a comfortable bed for two, storage space and more. The Tare is a light 800kg, while the ATM is 1600kg. Therefore, even it it was fully loaded, it would still be lighter than almost any full caravan on the market. The unladen ball weight was just 60kg, which sounds light but in all honesty, I didn't notice any instability on the towball as I hauled it along at highway speeds.
The Flynn's 12V system is comprised of a 105Ah deep-cycle battery and a roof-mounted solar panel. A roof rack is included, too.
Not being a hard-core offroad camper, the Flynn is equipped with beam-axle seven-leaf suspension. I was pleased to note that the electric brake wiring was protected by conduit terminating directly at the wheel hub – thankfully, no dangling terminal blocks to be seen.
SETTING UP THE OURGEN RV
There's nothing too difficult about setting up the Flynn. However, with the axle located centrally, it is important to deploy the rear corner stabilisers when unhitched. If you don't, the front will tend to see-saw upwards when you climb aboard through the back door. This is not unique to the Flynn – a number of pod campers require the rear stabilisers to be lowered.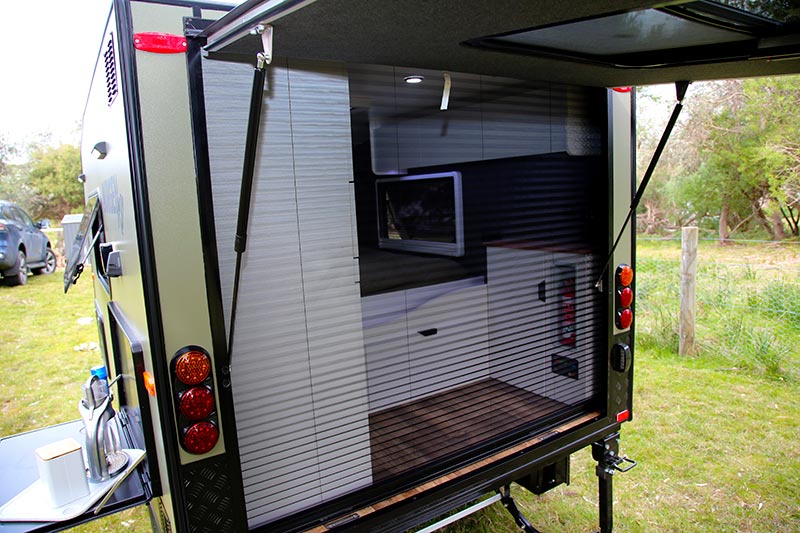 The rear door setup is terrific. The main door is lockable and lifts on gas struts. Effectively, the entire rear panel lifts up and in this way, it works as an awning. However, you could easily fit a Foxwing awning or similar to the roof rack if you wanted to. Nonetheless, there's also a large fly screen that can be pulled down from the roof when this door is open. However, there's also a 'hatch' built into the main door, which you can clamber through when lifting the main door isn't necessary. This hatch, though, really needs a catch to keep it open, or a stopper at the very least – on a few occasions, the hatch door swung against the tail-lights of the Flynn. It also needs a blind or curtain; however, I'm told that OurGen is fitting a curtain to future models.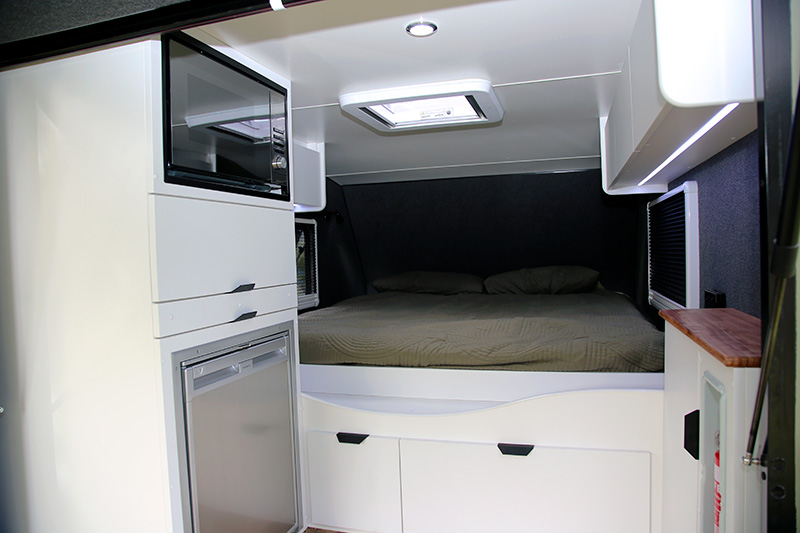 Inside, the bed fills out the vast majority of the camper. However, there are some overhead lockers, a couple of cupboards, reading lights with integrated USB points, 240V powerpoints, and the aforementioned microwave and fridge. It's a compressor unit running on 12V or 240V. There's even a slide-out table on the nearside beneath a cupboard. This table, as I discovered, was particularly useful!
I hadn't much experience with OurGen RV before this test; however, I was quite impressed by the quality of the Flynn. It really does present as a well-built camper.
GORV'S VERDICT
While the OurGen Flynn offers a very comfortable 'back to basics' approach to camping, I could see the potential for owners to add features down the track according to their needs and budget.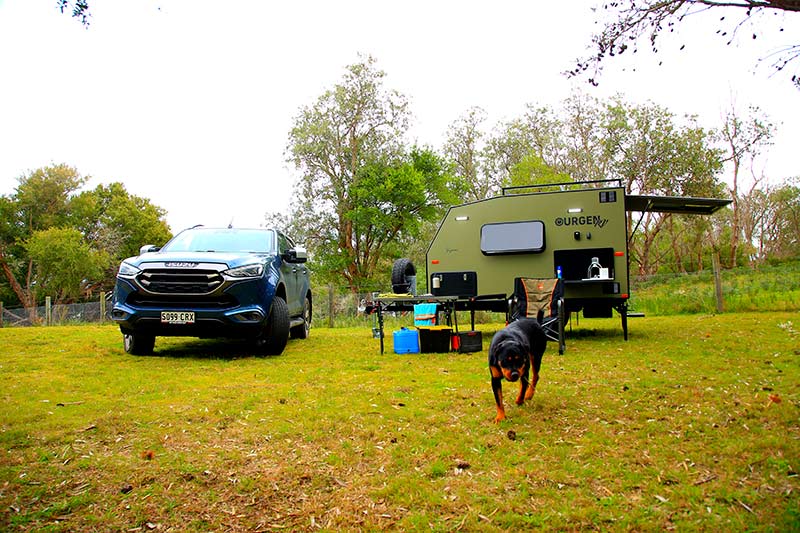 It wouldn't be difficult to add a barbecue, or an awning, for example, and you could easily pack a portable hot water service and shower. However, if you want many of these features straight from the factory, then you could opt for the OurGen Leo instead. Otherwise, all models are upgrade-ready.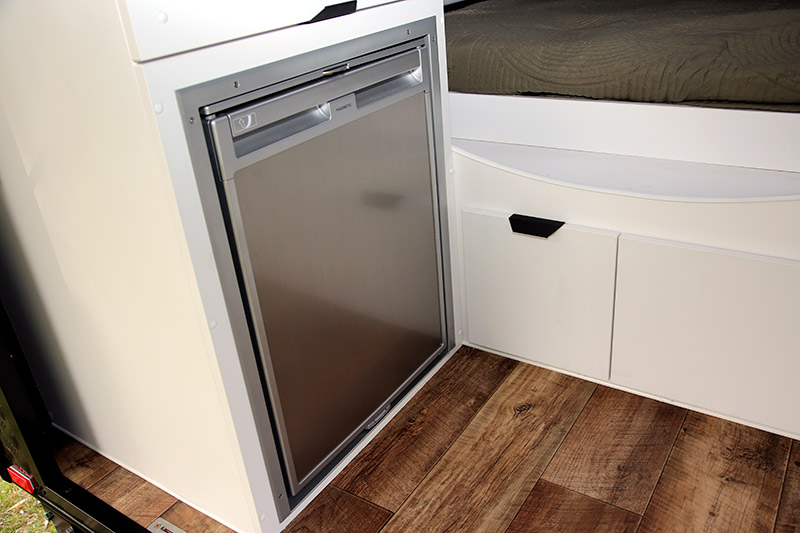 So if you're on a budget, or just want something light because you don't own a 200 Series, the OurGen Flynn is truly something to think about. In fact, I've been thinking about it a lot since I got back from my trip… and I have decided I want one!
THE SCORE
FIT AND FINISH –

LAYOUT –

INNOVATION –

HITS & MISSES