Chris and Carol Brett met in Guernsey (one of the Channel Islands) when she went there as a nurse. Chris had recently returned to his home there after getting his degree in England.
I suppose you could get further away from each other, but Chris from Guernsey and Carol from Durham in Britain's north, solved that problem in 1970 when they married in Durham and 10 days later sailed to a new life in Australia aboard RHMS Ellinis.
AUSTRALIA BOUND
The Bretts arrived in Australia with good qualifications. Chris had a degree in chemical engineering from Loughborough University and Carol was a qualified nurse. The university at Loughborough is known for its academic and sporting curriculum.
The first place in Australia where Chris found a job was at the steelworks at Port Kembla near Wollongong, south of Sydney, and he followed this with a stint at an alumina refinery in Gladstone, Qld. Later, they moved to Cairns, Qld, where Chris was involved with the sugar industry.
Living in Queensland gave them a liking for warmer winter climates and, now retired, they wander northwards as soon as winter comes to their home in Stanley near Myrtleford, Vic.
A CARAVAN ENTERS THE SCENE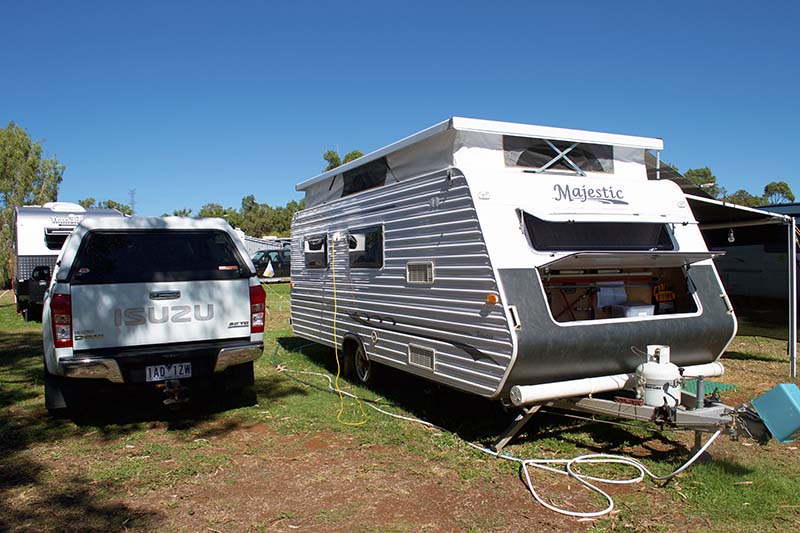 Ten years ago, the Bretts bought an 18ft Majestic single-axle pop-top and still love it. They have modified it to suit their nomadic lifestyle and have no thoughts of trading it for a more modern van any time soon as it does everything they need.
KEEPING THE WEIGHT DOWN
The Bretts travel with empty water tanks to keep weight down and have a water filter on the kitchen bench. They refill their water bottles from that and as they have no shower they don't need a grey water tank.
They mainly use caravan parks but can manage a few days of bush camping when it suits them. They try to travel without any fixed plan or deadlines and did a clockwise trip around Australia in 2016 and just stopped where and when it suited them.
With the Weber Baby Q and a small gas ring, Carol does most of their cooking outside, although they have a gas cooktop, griller and a microwave in the kitchen.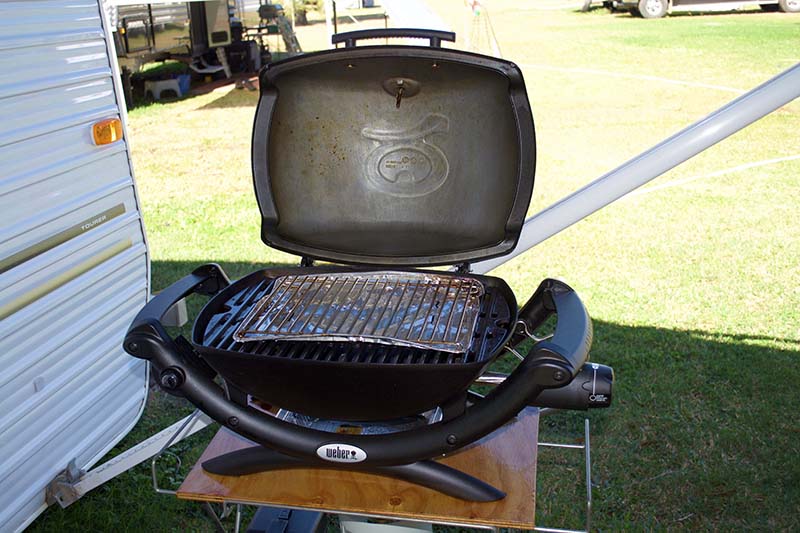 SINGLE BED OPTION
Chris and Carol chose the single bed option because it gives them more room, lets one person read in bed without disturbing their partner and is cooler when visiting our northern parts in summer.
They also opted for comfortable, roomy couches so they could both stretch out and relax. They dispensed with a TV after a problem with an antenna some years ago but they do watch DVDs on a monitor. They also have internet access with a lap-top Apple computer and iPhones.
ORGANISED!
I was impressed by Chris' organising talent – he has a laminated list of what's in all the storage areas that tells him exactly where to find  things. The extra shelf he has fitted in the back of their two-wheel-drive Isuzu twin-cab ute with a canopy has given them a great deal more storage space and saves weight in the van.
A GENIUS AS DAD
Carol's dad was a clever person – she said he should have been born into the age of computers as he would have had a ball.
With a sewing machine he made a tent and they used this for camping holidays including a memorable camping trip to Berlin where dad, a surgical and psychiatric nurse, was stationed during the war. He also built a trailer that they used for camping in England.
Before they got into caravanning, Chris and Carol often camped with tents, including a camping trip to both the North and South islands of New Zealand.
FAMILY
Despite being on the road for months each year, Chris and Carol keep in touch with their family by the internet using Whatsapp, a social media platform, and phone. They have two daughters and a son, and six grandchildren.
MODIFICATIONS
Chris is very proud of the modifications they've made to make the Majestic so suitable to their needs:
Hatches on the passenger side to give access to storage space under a seat and under a bed.
Clips in the front boot to hold tools, etc.
A 100Ah 12V battery under a seat to run their small 12V appliances.
A magnetic light to shine into the storage space under the kitchen bench, a space they call the 'black hole'.
Loose solar panels to charge the house battery during rare off-grid stops.
A water tap on the A-frame.
Reversing cameras for both the Isuzu and the van.
A Waeco fridge for extra cold storage.
A bracket on the front of the pop-top roof for the antenna for their mobile phone.
A Weber Baby Q barbecue.
LED lights including an external LED strip.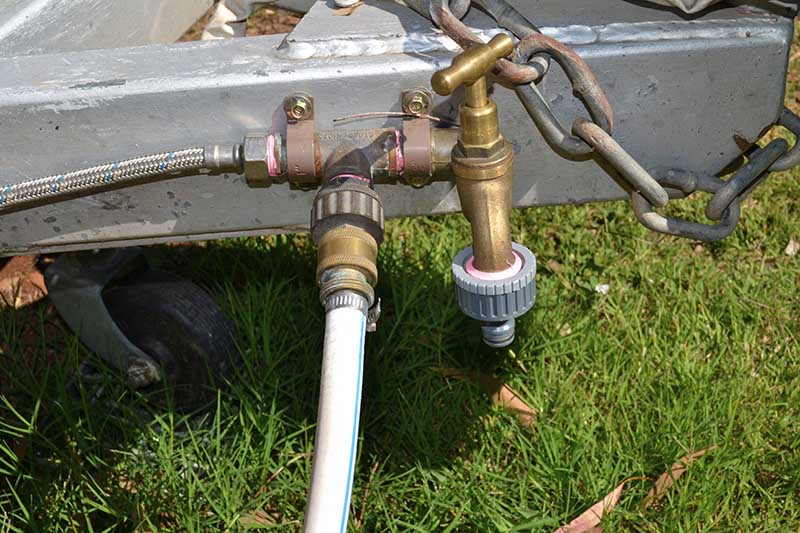 WHO NEEDS A BIG VAN?
Chris and Carol's 10-year old, medium sized Majestic van is proof that you don't need a big, expensive, modern van to live the dream. With a few simple modifications, they have turned it into their own magic carpet that takes them wherever their fancy chooses.