A true family adventure calls for a true family caravan, such as this Kokoda Cadet. If you've ever tried to make do with a caravan that sleeps two, perhaps by pitching a tent off to the side or getting the kids to sleep in the annexe, you might be able to appreciate the difference a couple of onboard bunks can make.
Yes, a properly equipped family caravan will help to ensure a holiday that's memorable for the entire tribe for the right reasons.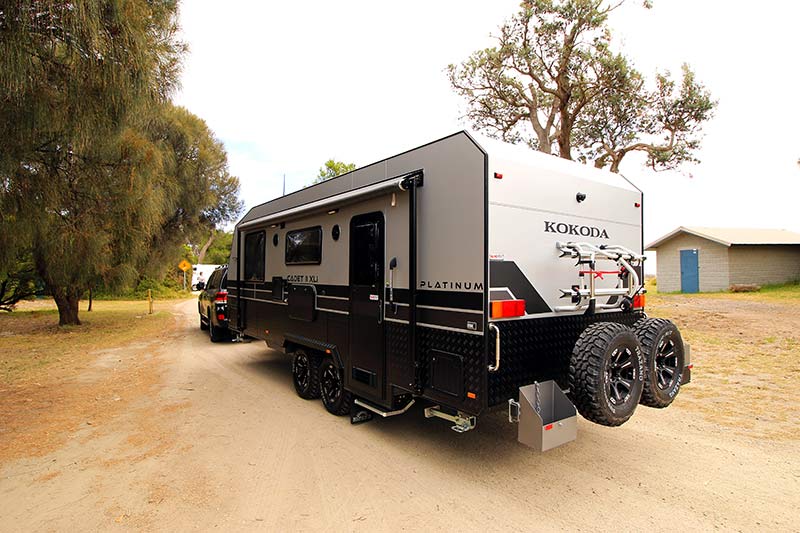 These were the thoughts cycling through my mind as I looked over the Cadet II XLi Platinum. We had hitched it up for a run to Rosebud, one of Victoria's most popular summer caravanning destinations. And straight away, the van showed itself to be a very faithful companion.
KOKODA CADET FEATURES
The Kokoda Cadet II XLi Platinum has semi-offroad touring intentions. With a DO35 coupling, 3.3-tonne independent coil suspension, a waist of checkerplate that also travels halfway up the front, not to mention some protection underneath the van, it should be right at home in national parks and on corrugated travel tracks.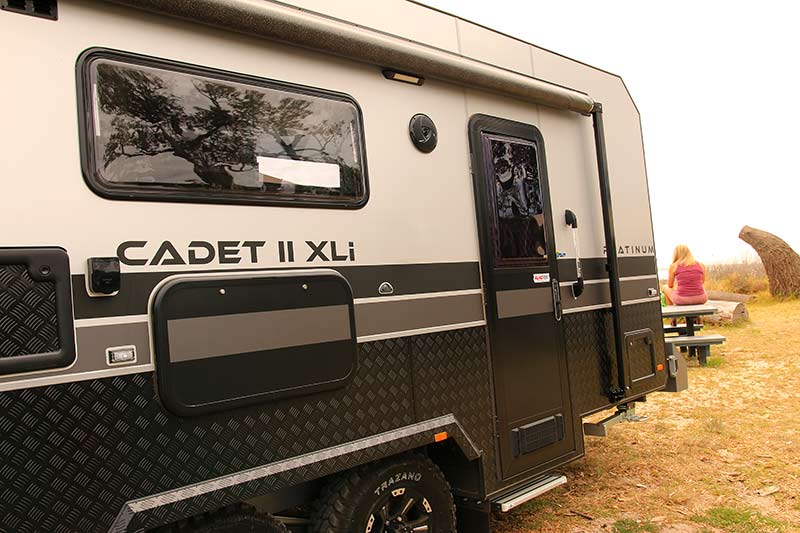 And, of course, no family van worth its salt would have a low payload capacity. The Kokoda, I'm pleased to report, can be loaded with 680kg worth of food, clothes, bikes, water, and all that stuff kids just can't do without. And, frankly, why should they do without? That's the point of a van such as this.
Now, the van has an ATM of 3300kg, so we hitched it to a Land Cruiser 200 Series for our test travels. At various speeds, from a laconic crawl along Rosebud's main street to 100km/h as we opened the throttle on the highway, the Cadet II XLi Platinum tracked steady and true, as we expected. We didn't experience any strong crosswinds on the day but we see no reason the van wouldn't perform well, especially when you consider it's fitted with Al-Ko ESC.
Up front, the van is equipped with two 9kg gas cylinders on the drawbar, in front of a checkerplate storage box. Just behind is a tunnel boot with access either side; however, our review van had a slide-out barbecue on the nearside within the tunnel. It just wouldn't be a family van without one.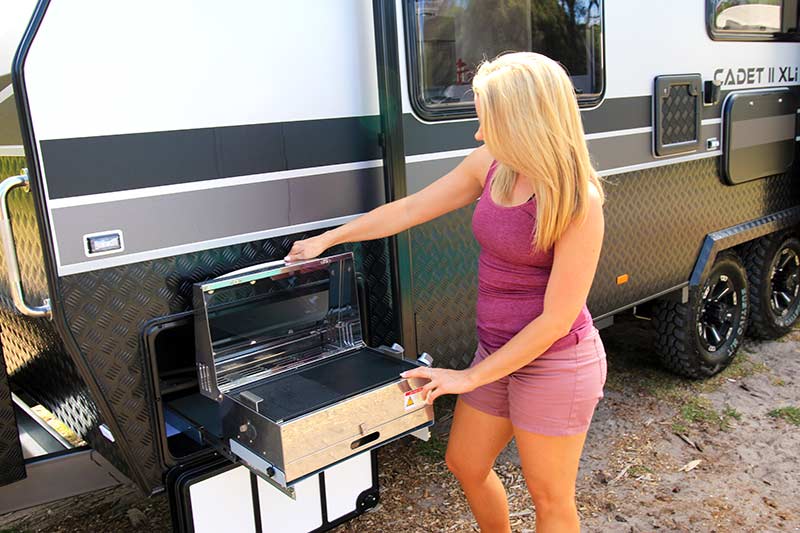 The van also has an external entertainment hatch – just bring the TV outside, mount it and plug it – as well as a fold-down picnic table, a couple of speakers, and a roll-out awning with dual LED awning lights (and an LED light further forward).
When you're touring with your family, safety matters more than ever. Aside from sway control, the Cadet II XLi Platinum has a gas detector and a reversing camera – particularly important in caravan parks and other places where kids are bound to be running about.
I also liked the water storage capacity of this van. Its two 95L tanks
(as well as a 95L grey water tank) should give the family five or six days off-grid (provided the shower isn't used each day!).
I appreciated, too, the 12V setup, which is comprised of dual 100Ah deep-cycle batteries and 300W worth of solar (two 150W panels).
Oh, did I mention the Kokoda Cadet II XLi Platinum also has a bike rack with clothesline fitted to the rear? Could this van get any more family-friendly?
WELCOME ABOARD
There's a certain understated elegance to the interior of the van, and not just in terms of its decor. It's tasteful but not garish. The layout, meanwhile, seems quite practical, especially considering the van could theoretically sleep six people: two in the main bed up front, two in either rear corner bunk, and two kids or young teenagers in the converted dinette.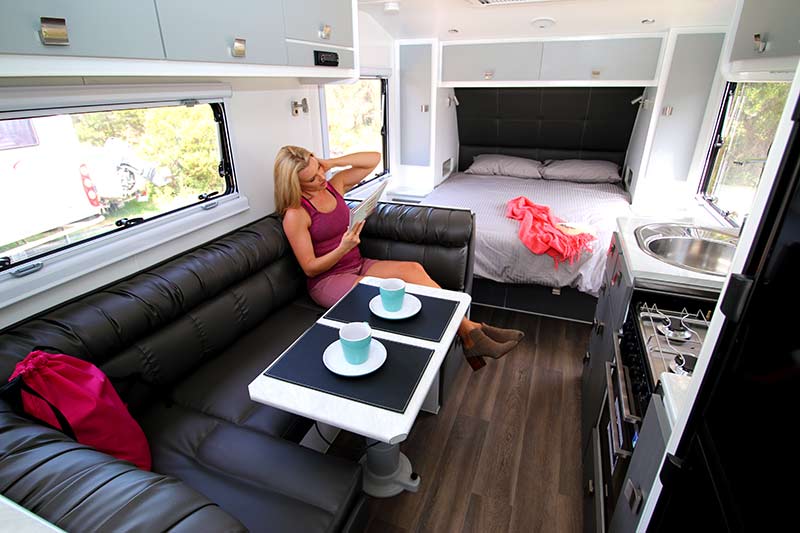 I have, over time, come to admire the interiors of Kokoda caravans, and this one lived up to my expectations. While any family van could always use more storage, the Cadet II XLi Platinum uses its space efficiently, with as many storage nooks, crannies and cupboards as possible, including a storage unit near the bunks.
Those bunks, by the way, rest in the offside rear corner, and there's even a front-loader Dometic washing machine beneath. I did wonder if these bunks would each benefit from inbuilt DVD players… but then again, the world is moving on from DVDs. Let's not forget, this van has RV wi-fi, so wherever you have reception, the kids can stream TV and movies to their heart's content, and download content ready to watch when you're truly off-grid.
The van also has a 24in smart TV (naturally, it's wi-fi compatible), as well as USB points for each bunk and in niches either side of the main bed. That way, everyone can keep their mobile devices charging minus the arguments over whose turn it is to use the charger – arguments I know only too well.
Aside from the offside kitchen, which has a four-burner cooktop, griller and oven, a deep sink with classy tapware, a slide-out pantry and more, there's the bathroom.
This bathroom fits neatly in a rear corner, between the bunks and nearside wall. It feels spacious even though it doesn't run the full width of the van, and it's undeniably attractive. Included is a cassette toilete, small but functional vanity, a large mirror, a towel rail, and a separate moulded-fibreglass shower. Of course, there a sliding door for privacy.
Have I covered everything inside the Kokoda Cadet II XLi Platinum? No – there's lots more, from the roof-mounted air-conditioner to the storage space under the bed with its neat cover and two drawers for easy access.
GORV'S VERDICT
Above all, it's the family-friendliness of the van, from the sensible safety features to the layout and storage arrangement, that appealed to me. If interior decorating is your thing, you can even colour-coordinate the kitchen splashback.
Ultimately, the Kokoda Cadet II XLi Platinum is a very intriguing, well-presented package. I think my kids would like it, too. The only question is, where are we taking it?
THE SCORE
FIT AND FINISH –

LAYOUT –

INNOVATION –

HITS & MISSES