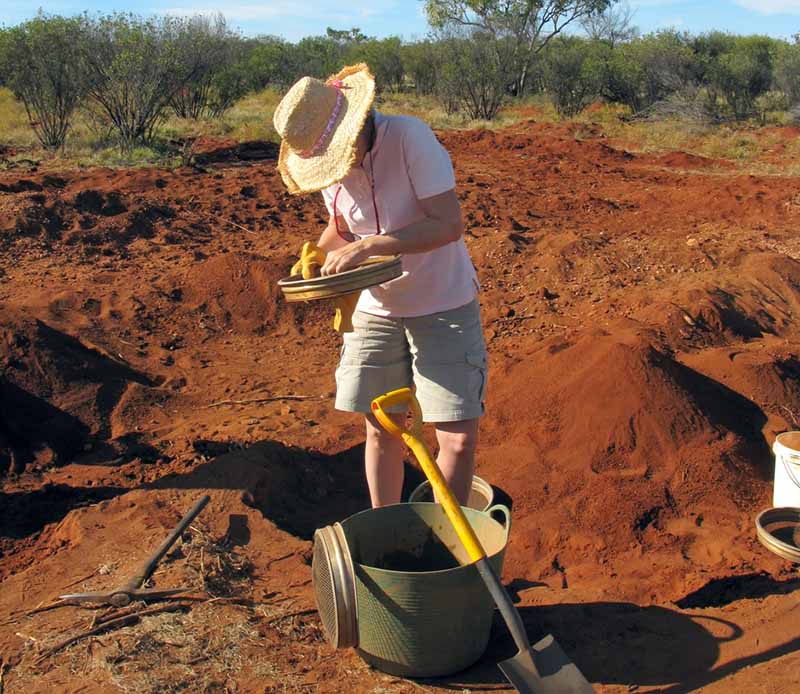 With the caravanning lifestyle becoming more popular than ever, that personal touch of a family-run caravan park is harder and harder to find. However, less than two hours north-east of Alice Springs is such a park, owned and run by the Chalmers family, now into their fifth generation of settlement along the Plenty Highway. Cameron and Carmel Chalmers have handed over management to their daughter, Kate, and son-in-law Aaron. They will welcome you to Gemtree with open arms and after a few days there, you'll leave as a friend.
GETTING TO GEMTREE
As with most worthwhile side trips, a bit of planning is required. Ring Gemtree from Alice Springs (or from Tennant Creek if you are travelling south) and book a site in advance. Also book a tagalong garnet tour if you want to try a bit of fossicking. Stock up on food, fuel and plenty of water; in other words, plan to be self-sufficient even though some supplies are available at Gemtree.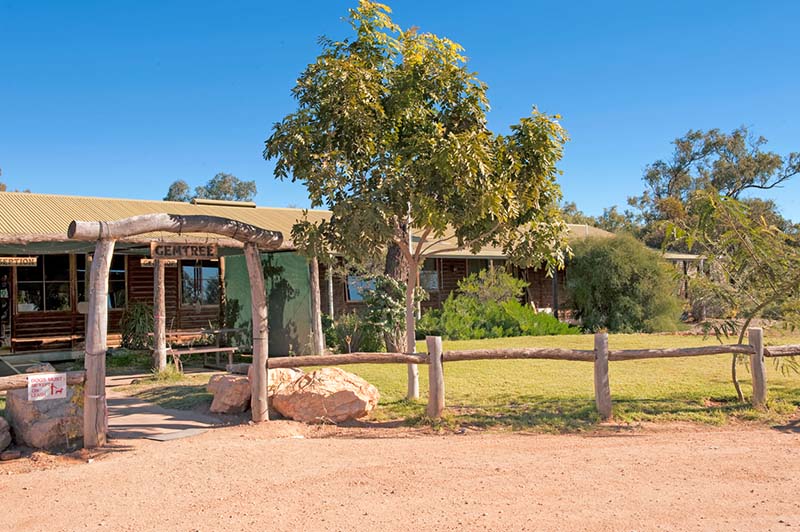 Travel 70km north on the Stuart from Alice and turn east on the Plenty Highway. The road is sealed to the park; however, it is single-lane only and requires that you pull over onto the unsealed shoulder to let other vehicles pass. Another 70km on, and there you are. With plenty of room up in the campground offering both powered and unpowered sites, it only takes a short while to settle in and then decide what to do first.
FINDING GEMS
There is a lot to choose from. Tagalong garnet tours are on offer almost every day; sign up ASAP if you haven't booked in advance. These high-grade garnets were at first thought to be rubies, causing a ruby rush to the region in the mid-1880s. By the time buyers realised that the rubies were only garnets, gold was discovered at nearby Arltunga as a sort of consolation prize. For the Gemtree garnet tour, vehicles line up by the shed at 8.30am to collect sieves, a pick and shovel, a washing bowl and a 20L container of water per person. A Gemtree guide will lead you 28km along the Plenty Highway before it becomes unsealed, and then a further 2km along an unsealed track.
After a lesson in garnet fossicking and identification, you and the other guests are left to fossick for up to five hours if you wish. Bring drinking water, lunch and wear clothes and shoes that will get very, very dirty. Then it's back to Gemtree you go with your little tin of treasures. In the gem store, someone will sort through your loot, picking out and grading the best garnets, and you can select a piece of jewellery that your garnet can be set into: it will be cut on site, sent to a jeweller to be set, then mailed to your home.
The other option is to just have the garnet(s) cut by the resident stonecutter and sent to you, or you can simply leave with your uncut stones as a souvenir.
If hacking away at dirt to find a bunch of shiny rocks doesn't sound like fun, then there is the option of sorting through a bucket of garnet-bearing gravel without even leaving Gemtree; as with the tour, your garnets can be sorted and cut at the store. Garnet Gully is also right on the property with the chance to sieve for garnets and to discover other regional rock specimens.
Zircon tours are also available from Gemtree but you are not guaranteed to find stones and the work is much harder; the zircon field can also be accessed on your own with a mud map and a permit from Gemtree. Dedicated gem hunters have been known to return to Gemtree frequently to find these more valuable stones.
EXPLORING TOWN
For four-wheel-drivers, Gemtree can send you off with a mud map for a bit of self-guided driving in the Harts Range area; in fact, 4WDs can also access Gemtree via the Arltunga Historical Reserve, once a thriving gold town. If this is the case, be sure to ask at Gemtree about Arltunga's original gold weighing scales on display in the gem store. For the golfer, there is a rocky, bush nine-hole course: be sure to use their clubs and keep in mind the term 'vermiculite' applies (as opposed to 'greens').
For the bushwalker, a 3.5km self-guided nature trail provides an excellent introduction to the flora of the region; Carmel Chalmers did an impressive job of putting together an illustrated guidebook that also includes points of interest and a bird list.
Speaking of birds, they are abundant at Gemtree, including flocks of budgies that descend on the billabong every morning like a fluttering green cloud. For the mountain biker, there is a track offering a cycling challenge and some great scenery. You can easily fill one day with a gem tour and another with a bit of relaxation and a sticky-beak around to make for a fun-filled couple of days.
STATION LIFE
For anyone interested in station life, Gemtree frequently shows a short film featuring Cameron Chalmers' younger brother when he was a boy growing up on the family grazing property near the Plenty. The family is justifiably proud of their settlement history. Cameron's grandfather engaged in an amazing penetration through the Centre in 1921. With the help of an Aboriginal guide, Charles and Cory Chalmers took their four children in a horse-drawn covered wagon, while driving 400 sheep, 13 horses and a few goats across 2300km of desert over a two-year period. They settled north of the Plenty Highway to become closely linked to that region over the following generations of Chalmers. To find out more, join the Gemtree local history day tour, but be sure to ask in advance about bookings.
For entertainment, there is a big screen down by the billabong with regular showings of footy matches, concerts and so on. Sunday night is karaoke night and Friday nights offer paddymelon bowls. Kate's Campoven Kitchen features camp oven meals including a delicious shepherd's pie, a Saturday and Wednesday roast dinner or, on other nights, a set menu might include a hot spud with the works.
So, all in all, in these times of ever-increasing travellers where we all sometimes feel a certain charm has been lost in the shuffle, a place like Gemtree brings back the fun of a destination that may not be as flash as some but most certainly has more heart that most. If you get the chance, give it a try.
Pics: Steven David Miller / Natural Wanders