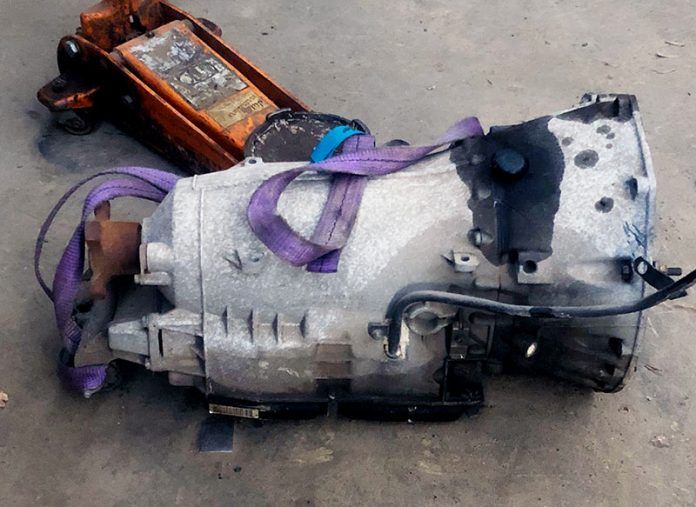 Have you ever tried to get duplicates of precious documents such as marriage certificates and proof of citizenship? Getting involved in government departments is a frustrating business.
There have been many natural disasters early this summer and people have been evacuated at very short notice. I believe it's very important to have all your important documents together in a case, or similar, ready to grab should the worst happen and you lose your home.
One thing people lose sight of is their photos. In this computer age it's easy to reprint photos but what about all those early ones of the kids growing up, or your first trip away camping? I believe you should keep them just as safe as your documents because, while you can get copies of certificates, you will never be able to get copies of those precious memories.
YEMMY'S LATEST
Since getting back from the west, Yemmy has had a transmission transplant that cured his gear-changing problem and, although he behaves beautifully when on the open road, he has developed a funny noise at about 2000rpm. So far we haven't pinned it down but will keep trying! 
CHRISTMAS FUN
Our ACC Gippsland Gypsies Christmas Muster was great as usual despite bad weather. Santa appeared on the Saturday afternoon to give out Kris Kringle pressies and later phoned a little girl who told her grandma that she would love to talk to Santa. Grandma told Santa and, being a kind old gentleman, he gave her a ring.
LOOKOUT FOR BEARS
It's not very likely that you will come across any rampaging bears on the roads this holiday season but our American cousins can have a slight problem with them, as seen in the picture.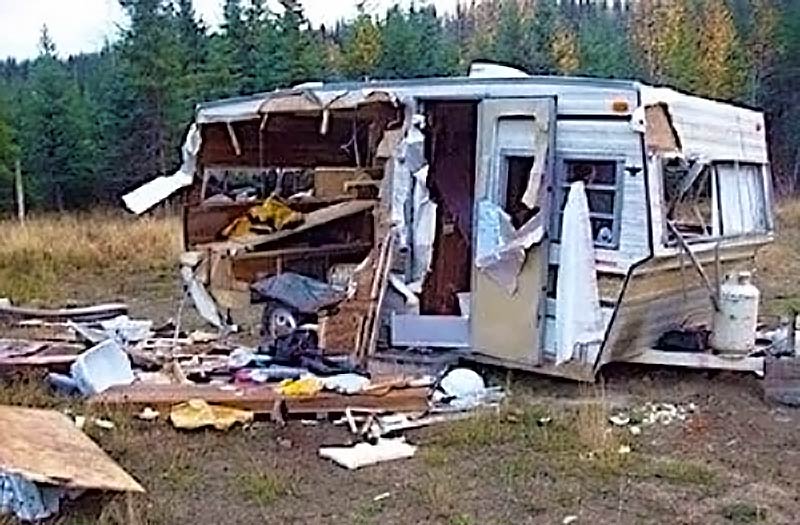 Apparently the bear smelled something very appetising in the van and decided to help himself without bothering with the door. 
Fortunately our own native bears – the koalas – are content to sit all day in trees and munch on leaves.
ANYONE SPEAK PORTUGUESE?
I've become Facebook friends with someone who is the organiser of a large Portuguese caravan club and I get copies of all the Facebook posts. It is a very active club and some of the members are reading GoRV since I put the link on their page.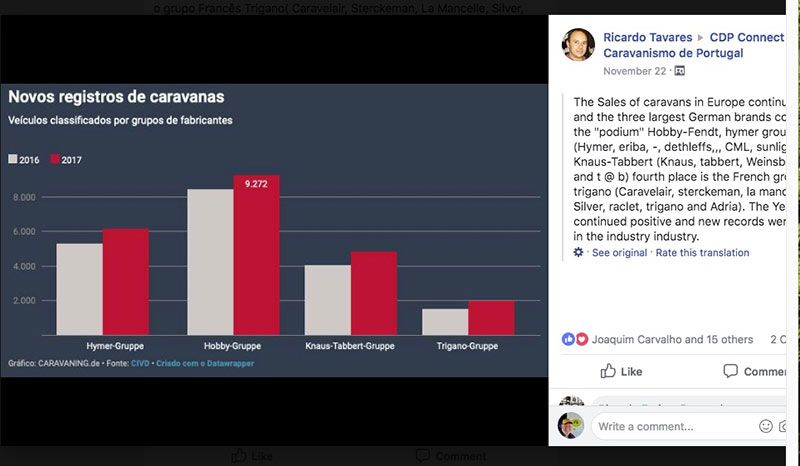 Fortunately, Facebook provides a translation so you can read an approximation of what they are saying. The picture shows the recent growth in sales of caravans in Europe.
ORLANDO, ANYONE?
The other day I had a phone call telling me I was one of the lucky people picked out to get a promotional vacation for four people to Florida worth at least $3000! The accomodation was in Orlando, Fort Lauderdale, and a resort in Mexico, plus a cruise and tickets for two to a tour of Universal Studios.
It sounded too good to be true – and was!
The persuasive young lady insisted I give her my credit card numbers before she could send the brochure and reluctantly I gave them to her. I hadn't noticed that the deposit was in US dollars so was nearly twice as much as I'd thought.
When I checked the details I found that it was quite expensive when you added airfares, transfers from place to place plus meals and tips. I decided to cancel as there was no way I would be able to afford the trip!
I rang my bank to cancel the payment but I was too late – the payment had gone through already and there was a 'no refund' clause!
The package can be transferred or extended… so if anyone wants a discounted trip to Florida some time next year I could give you mine at a cut rate. It can be added too and there's a choice of accomodation.
In the meantime. I'll stick with winter trips to Far North Queensland with Yemmy and will keep my credit card numbers under lock and key. No one to blame but me – silly old duffer!
MOBILE ROAD BLOCKS
I'm so glad I live in the country these day as I've had two close encounters recently with Melbourne's mobile road blocks, the first when I left Ballarat at 3.30pm and the GPS said I'd be in Officer by 5.30pm. 
Having to sit stationary for long periods on the Westgate Freeway and then again on the Gippsland Freeway, I noticed the GPS now said 6.30pm and I'd lost an hour somewhere along the way!
The next day I had to go to Ringwood and the GPS wanted nothing to do with Whitehorse Road! I rang a mate who told me they call that part Maroondah Highway! That fixed it and I arrived on time for lunch with Apex 40 friends.
They told me the easiest way was to bypass the city and sure enough I soon found myself travelling at 100km/h in reasonably light traffic. I laughed too soon as at one V intersection I accidentally turned off the freeway and found myself in Hoddle Street. From there, it got progressively worse until I finally found myself back in the Westgate road block!
Somewhere past Melton the traffic eased and the rest of the trip was sheer pleasure in the lovely afternoon sunshine.
I hope you and yours have a good Christmas and that 2019 turns out well for you.