I know Christmas is well and truly over but I must tell you about the wonderful gift my grandsons dreamed up for me. It was a half-hour helicopter trip for two over the Grampians mountains!
They know my love of flying in choppers and, in fact, I'd been talking about flights I'd done just before being handed the gift. I'd been wondering about the conspiratorial looks that had passed between them as I spoke.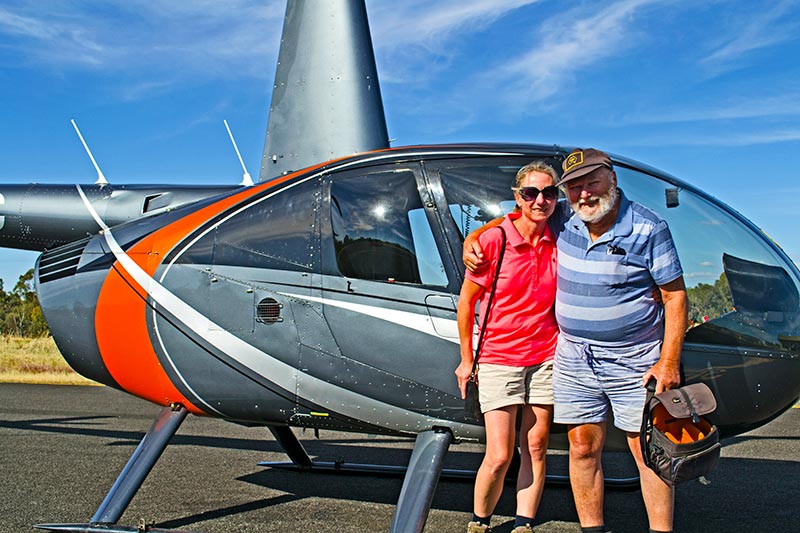 My youngest daughter was quickly by my side as I read the gift card and, of course, she was the one with me when I cashed in the voucher on Boxing Day.
Grampians Helicopters has a range of flights on offer, including food and wine tours, but ours was for a scenic flight over the Grampians National Park. It was scenic alright and the views of the majestic Grampians were outstanding. Although driving in the mountains is great, the views don't compare with the scenes that unfold as you see them from the air.
Justin, our friendly pilot, kept up a running commentary as we passed over points of interest and I just wish I could remember all he told us. He, and his partner Justine, can be found at www.grampianshelicopters.com.au
GRAMPIANS LANDMARKS
Living nearby, we were able to pick out a few familiar landmarks, like the Halls Gap Lakeside Caravan Park downstream of Lake Byfield – Stawell's main water supply and the Grampians Old Man Emu Stay, which we'll feature in GoRV in the next issue. I'm pleased I'd ordered a red roof for my house as it was easier to pick out from the air! It showed just how close we are to Lake Lonsdale as the crow flies, though it's a few kilometres by road.
Looking across the lake from the air, you couldn't see all the campers in caravans, tents and other RVs who were enjoying the free-camping by the water but were completely hidden by the trees.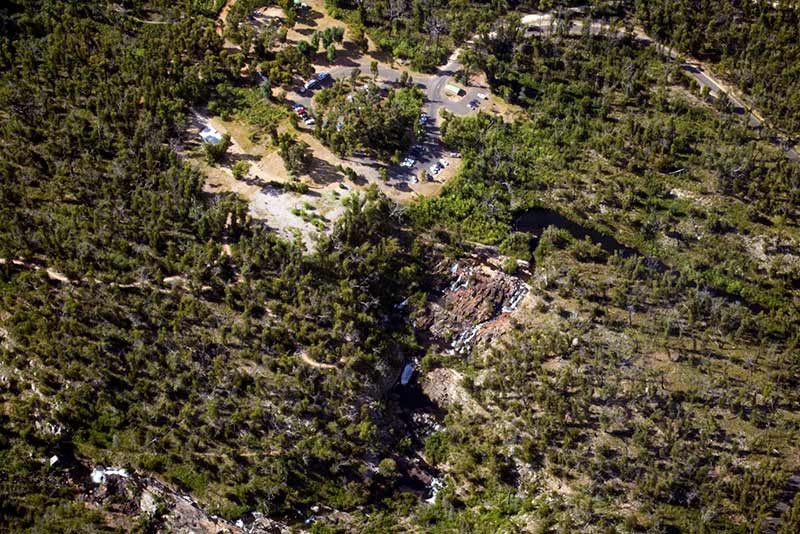 Other highlights were McKenzie Falls, Koala Island and Lake Fyans as we completed the loop and headed back to the Stawell Airfield after a lovely and most enjoyable experience.
WHERE IT ALL STARTED
I was visiting my eldest daughter one day many years ago and a helicopter was flying over Hong Kong Harbour on the telly. "Gee, I'd love to fly in one of those," I said. "I've got 2000 hours in my logbook flying in aeroplanes but I've never been in a chopper."
"We can soon fix that," said son-in-law Gary. "I've got a mate who flies them."
I was a bit sceptical but, sure enough, a few Saturdays later we were airborne over the Mornington Peninsula, Vic. Jackie and Gary, plus seven-year-old grandson Cameron, came with me for the ride. Now, some 30-odd years later, Cam was one of the instigators of my incredible Christmas gift.
Since then I've jumped into choppers and light aircraft at every opportunity and one day, two years ago during happy hour at the Walkamin Caravan Park, owner Lucy asked if anyone wanted a helicopter ride in the morning. My hand shot up followed a split second later by my Tassie mate Bernie, and then we were joined by another camper sitting nearby.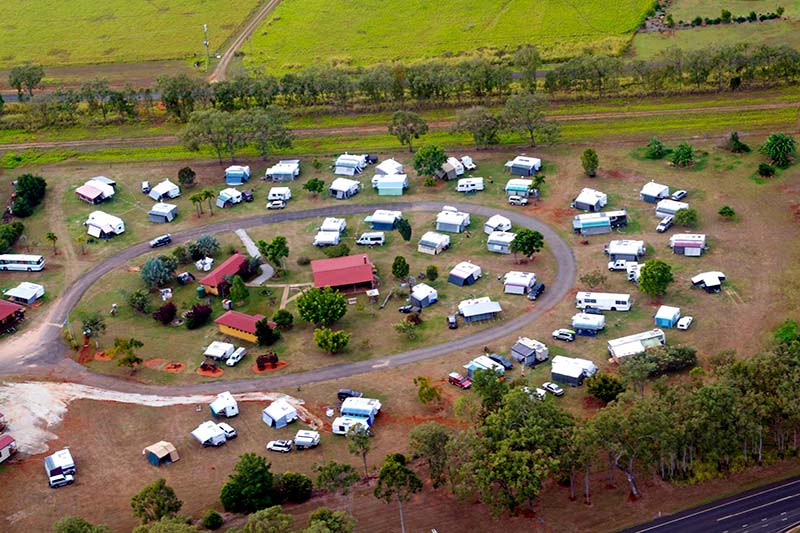 It was a bit cool for our flight the next day as the doors were off but it was a great trip just the same. The pilot had been visiting FNQ on business and was staying in a cabin in the park. I took some good photos, including a lovely shot of the caravan park that has been shared far and wide and was even printed on a pillow case. Some people, including me, just love Walkamin!
ANY RV'ERS ON THIS COUNCIL?
Whenever I hear of councils bowing to pressure from local caravan parks to stop free-camping in their area, it makes me wonder if any of the councillors have ever been on trips with a caravan or other RV.
There are many councils that have opened their area to free-camping and this has resulted in accolades from local traders who have benefited from travellers shopping for food and fuel, etc.
The Liverpool Plains Shire is one area that springs to mind, with the council welcoming RVers by making a number of free stops available in the area. On a recent tagalong trip with the Australian Caravan Club we took advantage of one of these stops – and I even got a lift home by the local publican after we had had a lovely meal at his establishment.
Another is the council at Home Hill, Qld, which allows free-camping in a side street right in town. Home Hill traders are very pleased with this arrangement as their shops are just across the road and are well patronised by travellers.
The latest council to stop free-camping is Bundaberg and this provoked a lot of negative correspondence in the local paper. Most letters from residents supported the council decision but there were a lot of rants about local ratepayers paying for their council to clean up after 'bludgers'.
Most free stops I've used have been kept fairly tidy, where there is provision for rubbish in bins, and I believe that most free-campers are responsible folk. However, there is a small minority that spoils it for the rest of us and should be reported for littering.
In a country as big as Australia, it's hard to understand why there isn't more spaces for camping overnight or longer – I don't mean in cities or large towns, but in our vast countryside. I personally love bush camping and don't like stopping overnight in crowded rest areas. I'd rather find space on a little-used bush track with just the birds for company.
See you down the track.