There are a couple of ways to measure value in a caravan: the amount and quality of the gear that's been fitted, and the time and material behind the build. The Malibu Caravans Family Adventure fits into the first category. For its price point, it has a lot of equipment coupled with what appears to be sound build quality.
It is quite traditional in that it uses meranti timber, ribbed aluminium side cladding, composite aluminium front and rear cladding, and a smattering of black checkerplate; however, that's not a criticism – most vans use these materials, or a combination of them.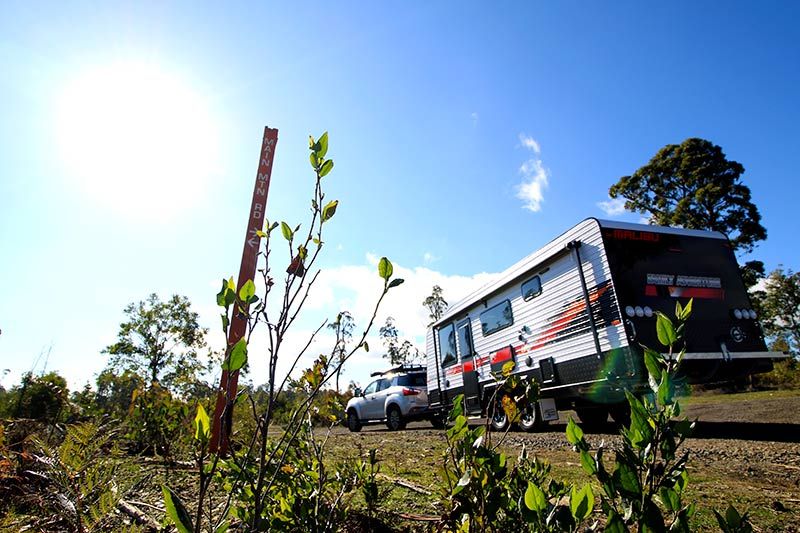 The Malibu Caravans Family Adventure is available in two variations: a 19ft 6in tandem-axle rig and this 21ft 4in van under review. The principle layout difference is a larger bathroom in the 21-footer. Both are also available in an offroad version, with upgraded suspension, known as the Wild Tracker.
EXTERNAL FEATURES
The van, which was released at the start of 2019, has an unladen ball weight of 180kg and weighs 2320kg Tare. Behind my MU-X, without any towing aids fitted, it towed without drama. 
The standard suspension is a beam-axle leafspring setup and both 95L water tanks are mounted forward of the axles. The van rides on a 6in chassis with a 6in drawbar and a 3in chassis raiser.
I liked that the wiring to the electric brakes was neat and tidy, with no terminal block dangling in the wind, but there is some exposed grey water plumbing. Given this van, in standard format, isn't designed for offroad use, that's not a deal-breaker.
The 21t 4in Family Adventurer comes with dual 105Ah deep-cycle batteries (along with a charger and dual 175W roof-mounted solar panels). The batteries are secured in a checkerplate box mounted to the offside chassis rail.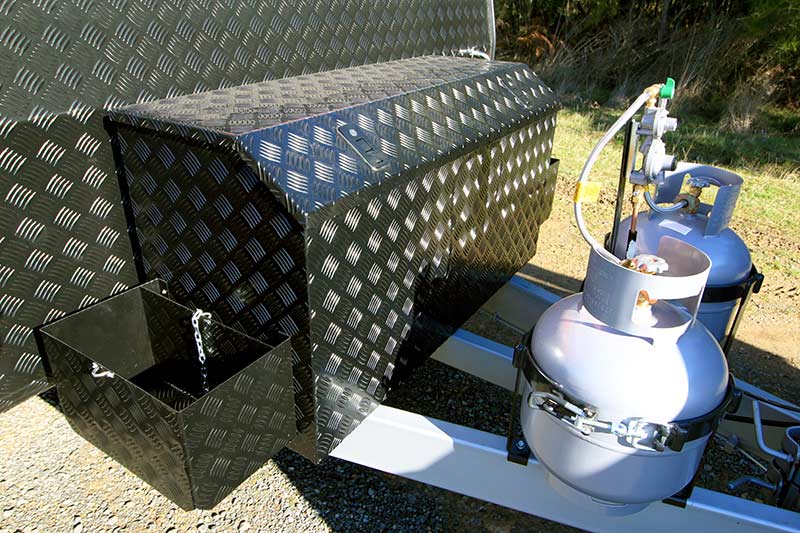 Up front, there's a checkerplate toolbox with a jerry can holder either side, as well as dual 9kg gas cylinders. Behind these, Malibu Caravans has installed a gal-lined tunnel boot, while additional storage exists in an offside rear locker. Overall, there's little to complain about when it comes to external storage options.
A reversing camera has also been fitted, and I should point out that although our review van didn't have the spare wheel fitted to the rear arm, one is included.
A fold-down picnic table and entry step, a couple of speakers, a 12V point and a roll-out awning complete the external setup.
INSIDE THE MALIBU CARAVANS FAMILY ADVENTURER
Inside is where the Malibu Family Adventurer really shines. As its name suggests, it is a bunk van. These are positioned in a separate kids' bedroom in the rear, opposite the nearside corner bathroom.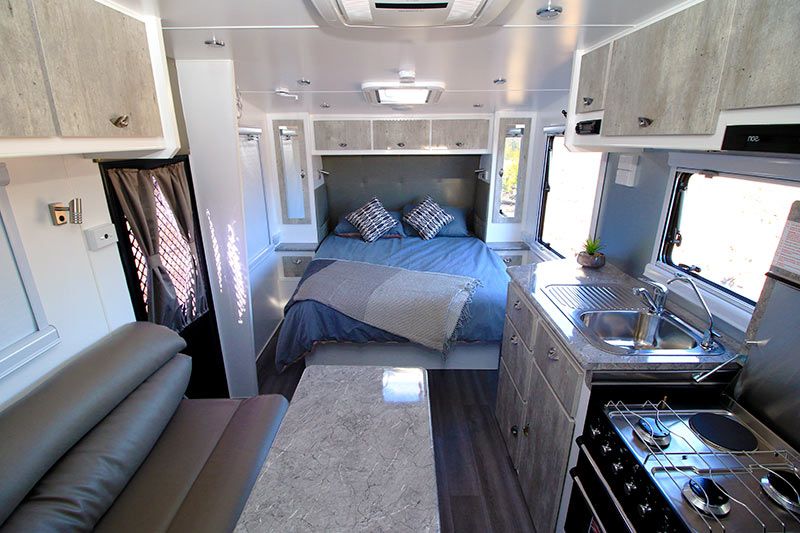 I liked that Malibu Caravans included a 12V Sirocco fan for each bunk as well as dual 12V powerpoints and 240V points. This seems like a common sense and fairly inexpensive inclusion on behalf of the manufacturer; however, it's surprising how many family vans overlook these 21st century essentials.
Between the bunks and bathroom, Malibu Caravans has fitted a full-height cupboard with a front-loader washing machine hidden at the bottom.
The bathroom, meanwhile, gets a cassette toilet, a vanity with large mirror, and a moulded-fibreglass shower in a separate stall with separate door.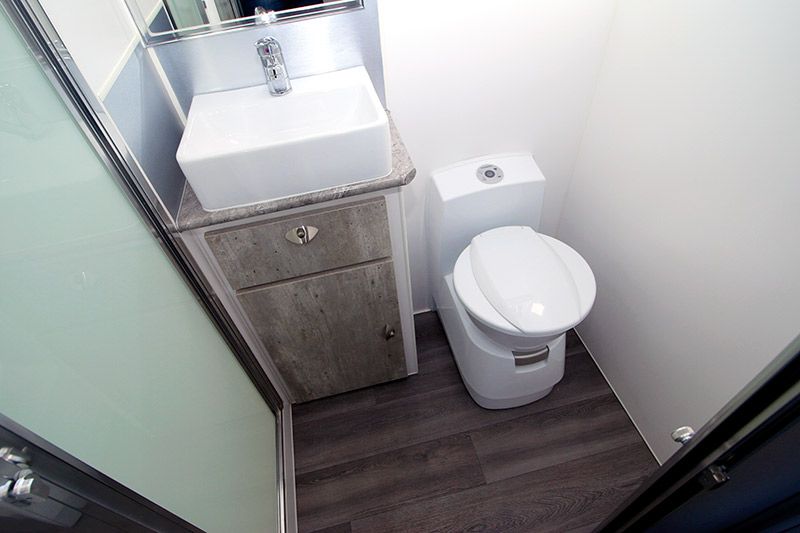 The amidships kitchen comes complete with a Dometic three-way fridge, a microwave, a four-burner cooktop with griller and oven, some pantry storage, as well as overhead lockers. Bench space is somewhat limited but with the hinged bench section over the cooktop closed, there's enough room to chop the veggies.
(The catch of one kitchen draw didn't work properly during our review, resulting in the draw opening when the van was under tow, but this would probably only require an adjustment.)
Pleasingly, all switches and controls have been centralised in a locker above the kitchen bench, along with a Genius BMPRO battery management system, the water level indicator and solar regulator. Aside from a handful of powerpoints, this has resulted in a clean, uncluttered look to the van.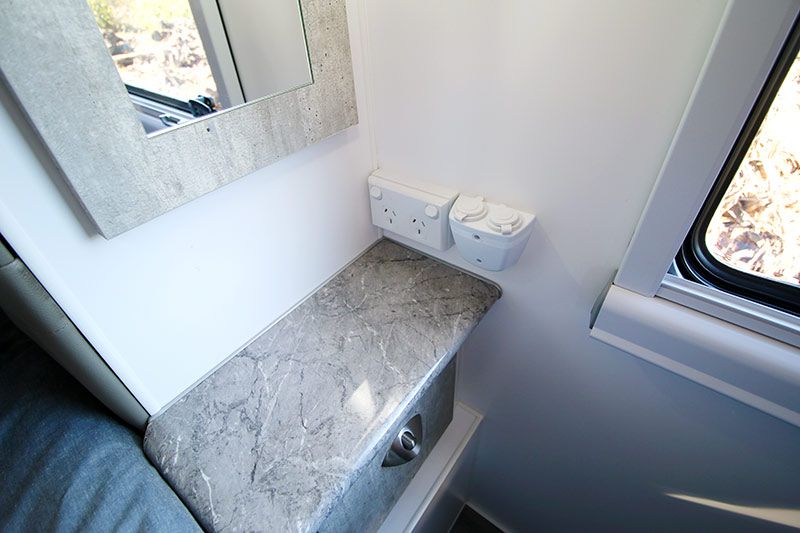 The front bedroom is fairly standard in that it contains all of the usual features and fittings; however, like the kids' room, each side of the bed has dual 12V and 240V powerpoint, but only one fan is fitted here. There is no front window, but the side windows let in lots of natural light – especially the large offside window. 
Lift the bed base on its gas struts and you'll find a decent storage space; however, some of this area is taken up by the tunnel boot – a common compromise.
The overall fit and finish of the van seems sound. I didn't come across any rough edges or dodgy-looking joins, bodgy silicone, etc. Each locker door, too, is on piano hinges.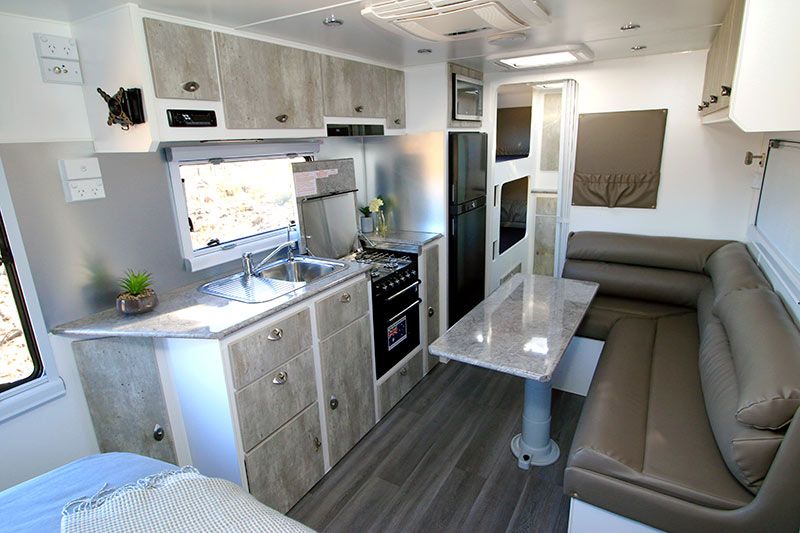 Adding to the value factor, the new Domestic Ibis 4 reverse-cycle air-conditioner is standard fitment, as is a 24in flatscreen TV on a swivel arm and a sound system with internal speakers.
GORV'S VERDICT
At $56,990 out of Victorian Malibu Caravans dealer Tango Caravans, the Family Adventurer 21ft 4in offers great bang for buck.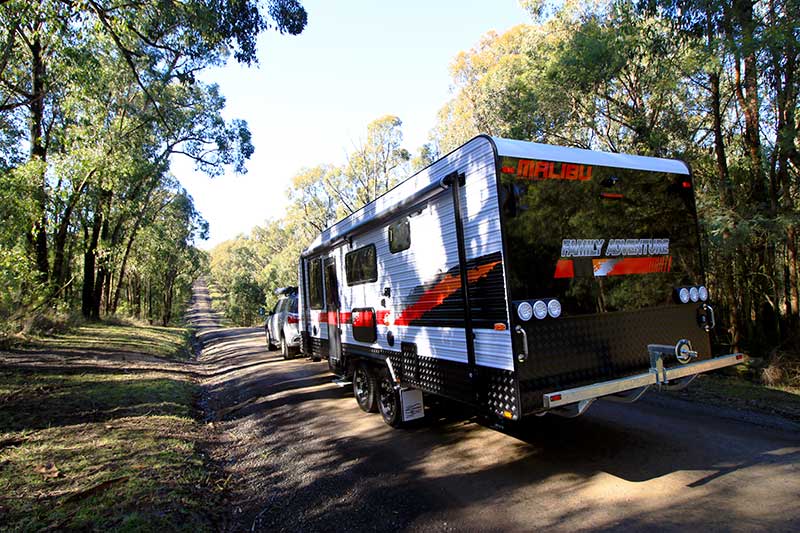 No moulds are being broken here. The layout isn't revolutionary, and nor is the way the van is built. However, it presents as a good, honest caravan with a generous payload capacity. Given its weight, it's also a suitable prospect for many mid-size 3000kg-plus capable 4WDs.
THE SCORE
FIT AND FINISH –

LAYOUT –

INNOVATION –

HITS & MISSES